Chocolate Peanut Butter Cookies
This recipe (adapted from Giddy Gastronome) appeared in Christmas Cookies…Mmm!!! on 17 Dec 2009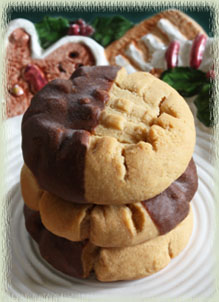 8 oz unsalted butter
2/3 cup brown sugar, minus 4 tablespoons
2/3 cup granulated sugar, minus 4 tablespoons
2/3 cup natural peanut butter
3 teaspoons pure vanilla extract
Zest of half a lemon
2–1/2 cups all purpose flour
1 teaspoon baking soda
1 bag Reese's miniature peanut butter cups (dark or regular chocolate)
Cream or milk (about 1 tablespoon)

Preheat oven to 350° F.
Cream the butter, both sugars, peanut butter, vanilla and lemon zest until pale. Set aside.
In another bowl, sift the flour and the baking soda together. Carefully add the flour to the butter–sugar mixture, omitting some of it if you see that the dough is becoming too stiff. The dough should be somewhat stiff, yet very pliable.
Measure out the dough (1 tablespoon for small cookies; 2 tablespoons for large cookies) and roll into balls. Space the dough balls 2 inches apart on baking sheets.
Mark each dough ball with a criss–cross pattern by using a fork or potato masher.
Bake for 20–25 minutes or until lightly golden brown. Allow the cookies to cool on their baking sheets for 2 minutes before removing to wire racks to finish cooling.
Meanwhile, melt about half the bag of Reese's peanut butter cups with a little cream or milk (about 1 tablespoon; add a little more—only if necessary—to achieve a smooth consistency). My chocolate set up a little on the soft side, so I'm guessing that I used too much milk.
Dip half of each cooled cookie in the chocolate mixture.
Place dipped cookies on waxed paper to dry. Note: Don't use wire racks for the drying process—the melted chocolate tends to seep through the wire and leave imprints on the cookie bottoms.
Makes 26–27 cookies (if using 2 tablespoon–sized dough balls).