TJT: Fuyu Persimmon Bundt Cake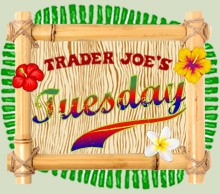 Have you ever cooked or baked with persimmons? I haven't. I've never even tasted one. I've always wondered, are they fruit or vegetable? They look like oddly colored tomatoes…but they grow on trees…so they must be fruit. What do you do with them? Once you cut them open, what will you find? A bunch of stinky, stringy stuff surrounding seeds? Or worse yet, maybe they'll be like pomegranates and have messy seeds that require painstaking extraction from their peel and pulp membranes. After dismissing all of my inhibitive thoughts on a recent trip to Trader Joe's, I finally purchased my first persimmons.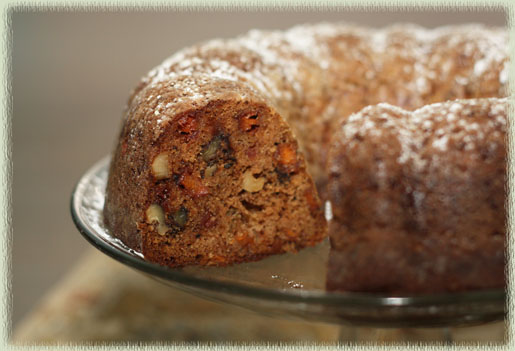 So, what to do with this mystery fruit? My fellow Los Angelean blogger, Mary (The Food Librarian) recently posted one of her favorite bundt recipes, and don't cha know it just happens to have persimmons in it! BTW, she is about to conclude a month long marathon of bundt recipes on November 15th. If you find yourself in the need of a good bundt cake recipe, check out her website. She will have test–driven 30 recipes by this Sunday, and if they're as good as the Fuyu Persimmon Bundt recipe she posted, then you'll have a good resource to refer to next time you want to get your bundt on.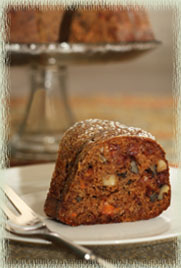 I was pleasantly surprised by my first Fuyu persimmon experience. They cut up nicely and don't require the hassle of dealing with pulp or seeds. I don't think I'll ever feel the urge to eat one like an apple (which you can do only with Fuyu, not with Hachiya, persimmons; they need to be soft). My TJ's only carried the Fuyu, so luckily it didn't matter that I didn't know the difference at the time. The California Fuyu Growers Association's website has everything you need to know about Fuyu persimmons and also has a list of suggestions for eating and cooking with them.
This recipe was originally posted many years ago in Sunset Magazine. Mary found it in her library's Sunset Magazine collection and it is also listed on the CALIFUYU website. I followed it exactly, except that I omitted the raisins and bumped up the walnut amount. I didn't feel the need to glaze it or even drizzle icing on top of it as it is plenty sweet on its own. A quick dusting of powdered sugar on top was all that was needed to finish it off.
Give this cake a try. It's a total burst of fall flavor with the persimmon, spices and walnuts. It didn't last long around here (in fact, it was gone less than 12 hours later!).
WI wine recommendation: Champagne or sparkling wine, of course!


Fuyu Persimmon Bundt Cake
(originally from Sunset Magazine)

3 cups chopped Fuyu persimmons (one Fuyu is approximately 1 cup chopped)
2 teaspoons baking soda
1/2 cup butter, softened (I used unsalted)
1–2/3 cups sugar
2 eggs
2 teaspoons lemon juice
2 teaspoons vanilla extract
2 cups flour
1 teaspoon baking powder
1 teaspoon salt
1 teaspoon ground cloves
1 teaspoon ground cinnamon
1/2 teaspoon nutmeg (I used freshly grated)
1 cup chopped walnuts (I used about 1–1/2 cups)
3/4 cup raisins (I omitted)
Optional: powdered sugar for dusting top

Preheat oven to 350° F. Grease and flour a bundt cake pan.
In a medium bowl, blend together the chopped persimmons and baking soda. Set aside.
In a large bowl, beat the softened butter with the sugar. Add the eggs, lemon juice, and vanilla extract and beat until fluffy. Stir in persimmon mix.
Sift together the flour, baking powder, salt, ground cloves, ground cinnamon, and nutmeg. Stir flour into persimmon mixture just until blended. Add 1 cup chopped walnuts and 3/4 cup raisins.
Pour into prepared bundt pan. Bake for 55–60 minutes or until toothpick tests clean. Cool in pan 15 minutes. Turn onto rack or serving platter. Dust the top of cake with powdered sugar after cake has completely cooled.
Comments (4)
November 11, 2009 at 6:44 am
food librarian
said:
Leah, I love it! Both that you tried a persimmon for the first time and made a Bundt! Awesome. I love this Bundt and you can see why people have been making it since the late 70's! Thanks for the shout out…sorry I haven't been around commenting…yeah, been a bit busy! But I have been reading your blog in the reader. Go forth and Bundt! Thanks, mary the food librarian

November 11, 2009 at 9:04 pm
Larissa said:
Wow! This looks (and sounds) like a delicious coffee cake alternative for my holiday guests this year. I love persimmons and think this recipe will just hit the spot! Thanks <:-)

November 22, 2009 at 2:38 pm
Milly Yamada said:
Thanks for the recipe.

December 5, 2009 at 10:47 pm
Jay B. said:
This recipe was delicious and went quickly. Wish that I could have more! Thanks for this amazing recipe. I recommend a nice scoop of vanilla ice cream with a warm slice of the bundt. Good job and great pictures. – Jay B.