Fuyu Persimmon Bundt Cake
This recipe (originally from Sunset Magazine) appeared in TJT: Fuyu Persimmon Bundt Cake on 10 Nov 2009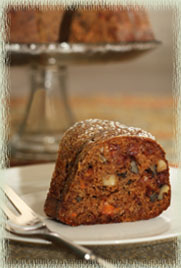 3 cups chopped Fuyu persimmons (one Fuyu is approximately 1 cup chopped)
2 teaspoons baking soda
1/2 cup butter, softened (I used unsalted)
1–2/3 cups sugar
2 eggs
2 teaspoons lemon juice
2 teaspoons vanilla extract
2 cups flour
1 teaspoon baking powder
1 teaspoon salt
1 teaspoon ground cloves
1 teaspoon ground cinnamon
1/2 teaspoon nutmeg (I used freshly grated)
1 cup chopped walnuts (I used about 1–1/2 cups)
3/4 cup raisins (I omitted)
Optional: powdered sugar for dusting top

Preheat oven to 350° F. Grease and flour a bundt cake pan.
In a medium bowl, blend together the chopped persimmons and baking soda. Set aside.
In a large bowl, beat the softened butter with the sugar. Add the eggs, lemon juice, and vanilla extract and beat until fluffy. Stir in persimmon mix.
Sift together the flour, baking powder, salt, ground cloves, ground cinnamon, and nutmeg. Stir flour into persimmon mixture just until blended. Add 1 cup chopped walnuts and 3/4 cup raisins.
Pour into prepared bundt pan. Bake for 55–60 minutes or until toothpick tests clean. Cool in pan 15 minutes. Turn onto rack or serving platter. Dust the top of cake with powdered sugar after cake has completely cooled.
Comments (1)
November 22, 2009 at 2:38 pm
Milly Yamada said:
Thanks for the recipe.