Cocoa Cinnamon Cake With Mocha Mint Icing
This recipe (Icing recipe from Bon Appétit) appeared in I'm Dreaming of a…Dinner in New York City! on 27 Nov 2009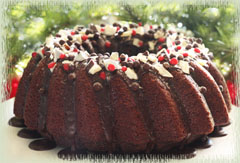 1/2 cup butter
1/2 cup light–colored oil (I always use grapeseed oil)
1 cup water
2 cups flour
1/2 cup unsweetened cocoa powder
2 teaspoons ground cinnamon
2 cups sugar
1/2 teaspoon salt
1 teaspoon baking soda
1/2 cup buttermilk
2 eggs, lightly beaten
1 teaspoon vanilla extract

1/2 cup brown sugar
2 teaspoons instant espresso powder
2 tablespoons water
1/4 cup (1/2 stick) unsalted butter
1/4 cup semisweet chocolate chips

2–3 ounces of chopped white/dark chocolate peppermint bark
1–2 tablespoons of little red cinnamon candies
1–2 tablespoons of chocolate pearls (I used the crispy variety)
1 tablespoon of clear glitter flakes

Preheat oven to 350° F. Generously grease a large (12–15 cup) bundt pan with cooking spray or oil.
Bring the butter, oil and water to a boil in a saucepan. Remove from heat and set aside.
Sift the next six ingredients together in a mixing bowl. Pour the hot butter mixture into the bowl and stir well.
Mix together the last 3 ingredients in a small bowl and then add into the bowl of batter and stir.
Pour the batter into the prepared bundt pan and bake for 40 minutes (or until a toothpick tests clean).
Allow the cake to cool completely in the pan before attempting removal (otherwise it could break).
Meanwhile, stir the brown sugar, espresso powder and 2 tablespoons of water together in a small saucepan over medium heat until the sugar melts. Remove from heat. Add butter and the chocolate chips; stir until butter and chocolate melt. Cool slightly.
Once it has cooled, turn the cake onto a serving plate and drizzle the icing on with a spoon. Sprinkle the chopped chocolate peppermint bark, cinnamon candies, chocolate pearls and glitter flakes on top of the icing before it has a chance to set up. Serve it up!
WI wine recommendation: With its cinnamon spice as a base and the mocha mint on top, this cake pairs well with an off–dry Riesling.