Chile Cheese Corn Muffins
This recipe appeared in TJT: Chile Cheese Corn Muffins on 03 Nov 2009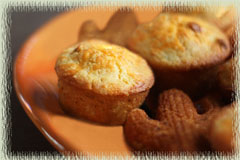 15 ounce box TJ's Cornbread Mix
1 egg
1/2 cup Canola or vegetable oil
3/4 cup milk or buttermilk
TJ's canned Hatch Valley Fire Roasted Diced Green Chile
TJ's frozen Fire Roasted or Sweet White Corn or canned corn
TJ's Shredded Lite Mexican Blend cheese or sharp cheddar or pepper jack cheese

Preheat oven according to directions on box and grease the muffin pan.
Mix the contents of the box with the next 3 ingredients.
Add in desired amounts of green chile, corn and shredded cheese and mix well.
Pour mixture into muffin pan, filling about 3/4 full.
Sprinkle shredded cheese on top of the batter and bake according to box instructions (you might have to shorten the baking time depending on the size and shape of your muffin mold). If the center of the muffins spring back when touched and are golden in color (and slightly brown around the edges), then they're done.
Cool the muffins for a minute or two, then loosen the edges of the muffins with a butter knife and remove them (carefully) to a wire rack to cool.
WI wine recommendation: Hey, you're having these muffins with chili, so you have to have a beer! Sorry, Wine Imbiber.