Our four winners in the Holiday Giveaway (see the end of this post) are Winey Mommy, KarateKrate, Teal Myre & Catherine. Congratulations to all of you and thanks to all who entered!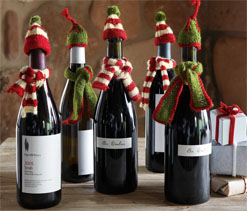 I know what you're thinking. We just put away the Halloween decorations and it isn't even Thanksgiving week yet. So, why are we talking about Christmas? Well, the Christmas tree lots are already popping up throughout Los Angeles. (Who says we don't have seasons here?) Desperate retailers are trying a new approach—"Due to the Great Recession, we've ordered less inventory. So, you'd better do your holiday shopping early; the last–minute shoppers won't find anything on the shelves!" Leah gets a ton (literally) of mail order catalogs (so much, we worry about our postal delivery person). So, in the spirit of stimulative spending, we thought we'd offer some wine–themed holiday shopping suggestions. We don't receive anything from any of the retailers for mentioning their products in this post. We just wanted to highlight some items that sparked our interest this year.
What do you do with all your wine bottle corks? We've used them to fill hurricane lamps, table baskets and large glass containers. We filled out cork boards and displays. We've used them to make wine bottle candle holders. We're always searching for new ways to use those corks. Now, the Wine Enthusiast carries a Wine Cork Wreath for $79.95, a great way to adorn an entry door. It just shouts out, "Come on in. We've got some great wine here!"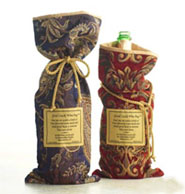 If you're going to give your host or hostess a really nice bottle of wine, be sure to dress it up. In the "pass it forward" category, Cambria Cove features a set of two Good Luck Wine Bags by Deborah Ross Designs. Constructed of rich tapestry fabric, the gold label sports a "Good Luck" message that reads, "Pass me on with a bottle of your favorite wine inside and send good luck to someone you care about". The gold cord serves as a tie closure. At $32 a set, these bags present the ultimate guiltless regifting opportunity.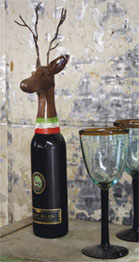 You may need the perfect item for that big game hunter on your gift list. A stuffed trophy head or a large box of 12 gauge shotgun shells wouldn't sit right with some gift–givers. We've all seen snowmen, angels, santas, Christmas trees and other holiday objects on top of wine bottles, but what about a deer head handcrafted of metal to sit atop that perfect bottle of wine? Offered by At West End, a "green" purveyor of rustic and recycled gifts, this Deer Head Wine Topper, at ten inches tall, is head and shoulders above so many other bottle toppers. We think this venison vino veil is best paired with a full–bodied red wine with earthy and leather notes. Just be sure there isn't too much sediment in the bottle, as you don't want the recipient to have that deer–in–the–headlights appearance! And 15 bucks isn't much doe for this item.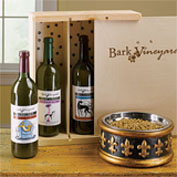 We love wine and we love dogs, so you just knew we had to find a gift to address both objects of our desire and affection. Orvis offers this dog food supplement called Sauvignon Bark, a "delicious blend of chicken broth, spices, and vegetables that turns ordinary dog food into an extrordinary meal. Simply pour over your dog's food." Packaged in a 750ml wine bottle, it is produced from all human–grade ingredients, so you can enjoy it right along with Fido. At $98 for a set of three bottles, it certainly is a gourmet canine experience. Woof!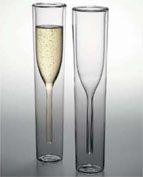 After Christmas, we know that New Year's Eve is just around the corner and we wanted to find an elegant gift that could serve both holidays. So, of course, we turned to the MoMA Design Store for an idea. What could be better than a set of Inside Out Champagne Glasses? These champagne glasses have "a simple water glass–shaped exterior yet iconic glass silhouettes are revealed when filled." They are "made of durable mouth–blown borosilicate glass which has an insulating effect." They're even dishwasher safe (if you dare, at $65 per pair). Cheers!
Holiday Giveaway: What do you like to bring to holiday parties to give as a host or hostess gift? Tell us in a comment to this post before November 30th December 3rd and we'll randomly choose three four of you to receive a set of striped Wine Bottle Attire (seen in the picture at the top of this post) so you can dress up your wine gift this year.