All I Want For Christmas Is…
Our four winners in the Holiday Giveaway (see the end of this post) are Winey Mommy, KarateKrate, Teal Myre & Catherine. Congratulations to all of you and thanks to all who entered!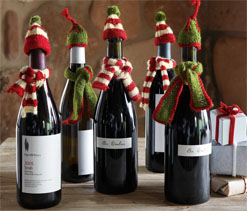 I know what you're thinking. We just put away the Halloween decorations and it isn't even Thanksgiving week yet. So, why are we talking about Christmas? Well, the Christmas tree lots are already popping up throughout Los Angeles. (Who says we don't have seasons here?) Desperate retailers are trying a new approach—"Due to the Great Recession, we've ordered less inventory. So, you'd better do your holiday shopping early; the last–minute shoppers won't find anything on the shelves!" Leah gets a ton (literally) of mail order catalogs (so much, we worry about our postal delivery person). So, in the spirit of stimulative spending, we thought we'd offer some wine–themed holiday shopping suggestions. We don't receive anything from any of the retailers for mentioning their products in this post. We just wanted to highlight some items that sparked our interest this year.
What do you do with all your wine bottle corks? We've used them to fill hurricane lamps, table baskets and large glass containers. We filled out cork boards and displays. We've used them to make wine bottle candle holders. We're always searching for new ways to use those corks. Now, the Wine Enthusiast carries a Wine Cork Wreath for $79.95, a great way to adorn an entry door. It just shouts out, "Come on in. We've got some great wine here!"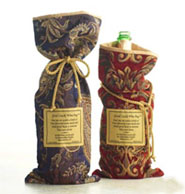 If you're going to give your host or hostess a really nice bottle of wine, be sure to dress it up. In the "pass it forward" category, Cambria Cove features a set of two Good Luck Wine Bags by Deborah Ross Designs. Constructed of rich tapestry fabric, the gold label sports a "Good Luck" message that reads, "Pass me on with a bottle of your favorite wine inside and send good luck to someone you care about". The gold cord serves as a tie closure. At $32 a set, these bags present the ultimate guiltless regifting opportunity.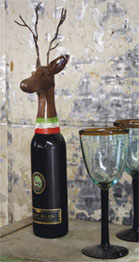 You may need the perfect item for that big game hunter on your gift list. A stuffed trophy head or a large box of 12 gauge shotgun shells wouldn't sit right with some gift–givers. We've all seen snowmen, angels, santas, Christmas trees and other holiday objects on top of wine bottles, but what about a deer head handcrafted of metal to sit atop that perfect bottle of wine? Offered by At West End, a "green" purveyor of rustic and recycled gifts, this Deer Head Wine Topper, at ten inches tall, is head and shoulders above so many other bottle toppers. We think this venison vino veil is best paired with a full–bodied red wine with earthy and leather notes. Just be sure there isn't too much sediment in the bottle, as you don't want the recipient to have that deer–in–the–headlights appearance! And 15 bucks isn't much doe for this item.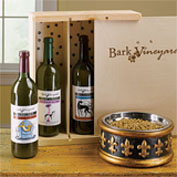 We love wine and we love dogs, so you just knew we had to find a gift to address both objects of our desire and affection. Orvis offers this dog food supplement called Sauvignon Bark, a "delicious blend of chicken broth, spices, and vegetables that turns ordinary dog food into an extrordinary meal. Simply pour over your dog's food." Packaged in a 750ml wine bottle, it is produced from all human–grade ingredients, so you can enjoy it right along with Fido. At $98 for a set of three bottles, it certainly is a gourmet canine experience. Woof!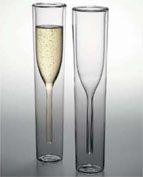 After Christmas, we know that New Year's Eve is just around the corner and we wanted to find an elegant gift that could serve both holidays. So, of course, we turned to the MoMA Design Store for an idea. What could be better than a set of Inside Out Champagne Glasses? These champagne glasses have "a simple water glass–shaped exterior yet iconic glass silhouettes are revealed when filled." They are "made of durable mouth–blown borosilicate glass which has an insulating effect." They're even dishwasher safe (if you dare, at $65 per pair). Cheers!
Holiday Giveaway: What do you like to bring to holiday parties to give as a host or hostess gift? Tell us in a comment to this post before November 30th December 3rd and we'll randomly choose three four of you to receive a set of striped Wine Bottle Attire (seen in the picture at the top of this post) so you can dress up your wine gift this year.
Comments (32)
November 18, 2009 at 10:48 am
Jane said:
We usually bring a bottle of wine and fresh-cut flowers. I'd love to dress my wine bottle up this year!

November 18, 2009 at 11:09 am
David said:
I like to bring my lucky host a tray of my famous homemade fudge brownies. I also include a bottle of Merlot or sometimes a good Cab. Either of these go well with these rich chocolate babies!

November 18, 2009 at 11:29 am
Elyse B said:
Champagne all the way! Gotta give the hostess something to reward herself with after the party guests have all gone. Do you think the hat will fit a Champagne bottle?

November 18, 2009 at 8:51 pm
Niecey
said:
I like to bring a box of chocolates. Because everyone is happier when they have chocolate.

November 19, 2009 at 10:06 pm
Lana from Napa said:
Wine, of course. I live in Napa Valley. It's the law!

November 19, 2009 at 10:50 pm
E E Cummings said:
Mostly candy, or some kind of dessert wine. Great way to end the evening.

November 21, 2009 at 1:55 pm
Jean Badgley said:
Wine of course is my first choice and I always add a tin of whatever special candy I have made that season….

November 21, 2009 at 5:06 pm
junie12e said:
Wine and panna cotta. YUM!

November 21, 2009 at 7:55 pm
Catherine said:
A great bottle of wine from Chateau Ste. Michelle in my hometown and a homemade fruit cake (not your average brick-like version!) – that wine bottle attire would be the icing on the cake!

November 21, 2009 at 9:56 pm
Catie said:
Hello
We try to take a bottle of the hosts favorite Wine and also something different like Baileys or Ameretto.
Happy Holidays
Cheers

November 22, 2009 at 4:41 am
sofie said:
A bottle of red wine and biscottis

November 22, 2009 at 8:37 am
Romana said:
Tiramisu or Panna Cotta

November 23, 2009 at 2:16 pm
Jackie said:
I usually bring a bottle of wine or some desserts. If I have the time, I try to make a customized gift basket of their favorite snacks and shelf/pantry items such as tea, coffee, etc.

November 23, 2009 at 2:57 pm
alexson said:
So cute! I ususally bring a bottle of wine to parties.

November 23, 2009 at 4:28 pm
Morgan
said:
Always a good bottle of wine! Maybe some secret family recipe chocolate chip cookies!

November 23, 2009 at 6:03 pm
Winey Mommy
said:
We always bring a bottle of white wine with us. Our hosts are always happy to see wine! And I LOVE it when someone brings me a bottle of yummy vino. Yum.
Awesome giveaway! Thank you so much!

November 23, 2009 at 6:07 pm
Sarah said:
We love to take fresh baked cookies.

November 23, 2009 at 7:27 pm
KarateKrate said:
I love to bring a cheap game like UNO or Yahtzee to spice up the party! Also, I always always always bring Olive Cheese Nuggets…they are so delish and go great with any wine. Heres the recipe: http://allrecipes.com/recipe/olive-cheese-nuggets/detail.aspx

November 23, 2009 at 7:45 pm
motleymade said:
We always bring a homemade cookie platter and pretty stationary. Thank you!

November 23, 2009 at 8:35 pm
Kristi said:
I usually bring something from the local farmer's market – local wines, goat cheeses, or some kind of deliciously crusty baked good.

November 23, 2009 at 9:32 pm
celina said:
I like to bring a plant or flowers!

November 23, 2009 at 9:54 pm
Hilary Adams said:
I like to bring handmade gifts of any sort, really! everybody appreciates something handmade.

November 23, 2009 at 10:07 pm
Van said:
I usually bring a good bottle of red wine.

November 24, 2009 at 4:20 am
Shannon said:
I'm famous for bringing yummy desserts!

November 24, 2009 at 11:58 am
Teal Myre said:
Wine of course! And some kind of gourmet food item – olives, cheese, whatever!

November 24, 2009 at 6:28 pm
Janelle said:
I like to bring a batch of cookies in a tin, with a cookie cutter or two attached, and I include the recipe in a card.

November 24, 2009 at 7:04 pm
sarah said:
ok, those are cute!! i always bring wine or cookies

November 25, 2009 at 6:41 am
Jackie said:
I usually bring homemade chocolate truffles and wine (of course!)

November 26, 2009 at 8:19 am
Stef
said:
I like to bring whatever the host/hostess needs – wine, an app, a dessert, soap, candles…whatever they would like.

Stef

November 28, 2009 at 2:14 pm
Bettie Infante
said:
I like to bring a fresh pine cross wreath. This reminds everyone of the reason for the season…and also smells like Christmas.

November 28, 2009 at 5:23 pm
Susan Flint said:
In the spirit of the season we often take a bottle of Proseca with an ornament around its neck or nestle it in a basket with a poinsettia. If we ever get invited that is.

November 29, 2009 at 6:01 am
Kelsea said:
My family usually brings some kind of delicious dish for everyone to munch on.