The Food Event 09—From the Vine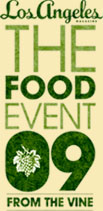 One of our sons played in a basketball game this past Sunday morning and his team won, putting us in a celebratory mood. Good thing, because by 12:50 pm, we were winding our way along Kanan Road towards Saddlerock Ranch (home to Malibu Family Wines, with its Semler and Saddlerock labels) in Malibu's Santa Monica Mountains. Once inside the ranch property, we progressed in slow motion along the white fence–lined entry road, intrigued by the unique rock formations in the distance and a surreal creature collection in the foreground—zebras, bison and even a camel—unusual for a horse ranch, even by Los Angeles standards. We arrived just as Los Angeles Magazine's fourth annual foodie happening, The Food Event 09, began.
This year's event was entitled "From the Vine", so we knew there would be something to please us both. We parked our car in a field, hop scotched to avoid some dry road apples (strategically placed to enhance venue authenticity), checked in with the friendly person at the media desk and grabbed two sparkling Riedel wine glasses. We paused for a moment to embrace the scene—a carefully groomed lawn adjacent to the Semler Family residence, outlined by shade trees on one side and terraced vineyards on the other and dotted with a meandering string of nicely–draped tables presenting an array of food samples and wine bottles, all sufficiently protected from the sun by white umbrellas. There was also one large tent in an open area used for celebrity chef cooking demonstrations. We knew we were in exactly the right place.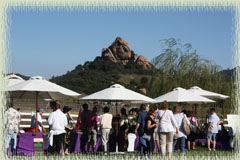 The event was advertised as a culinary extravaganza with celebrity chefs, top restaurants and a focus on California wines—a classic example of truth in advertising. There were many things to do and enjoy. The event was very well organized, with wine and food tables interspersed thoughtfully and spread out so we didn't have to wait in lines for tastings. Ian Blackburn's Learn About Wine organization sponsored a blind taste test to keep everyone focused. (I'm relieved to say I correctly identified the mystery varietal, snagging us two tickets to the upcoming STARS of Cabernet event sponsored by Los Angeles Magazine at The Peninsula Beverly Hills).
The very first wines we tasted were among our favorites of the day. We talked with Mike Brown, artisan winemaker for Cantara Cellars, who with his wife, Chris, has a production, cellaring and wine tasting facility in Camarillo. They source grapes mostly from the nearby Lodi area (starting with his parents' vineyard located there). We particularly enjoyed Cantara's 2007 Chardonnay (Lodi), 2007 Barbera (Lodi) and their Rhone–style 2006 Trio Sonata (Lodi). Another favorite of the day was Byron, pouring their 2007 Chardonnay (Santa Maria Valley) and 2008 Pinot Noir (Santa Maria Valley). An artisan producer located in Santa Maria, Byron's wines can be tasted at The Bench in Los Olivos. With all the food tables and cooking demonstrations, we didn't get to taste every wine presented that day, but we did sample some of our old favorites, including Artesa, Lincourt, Raymond and many others.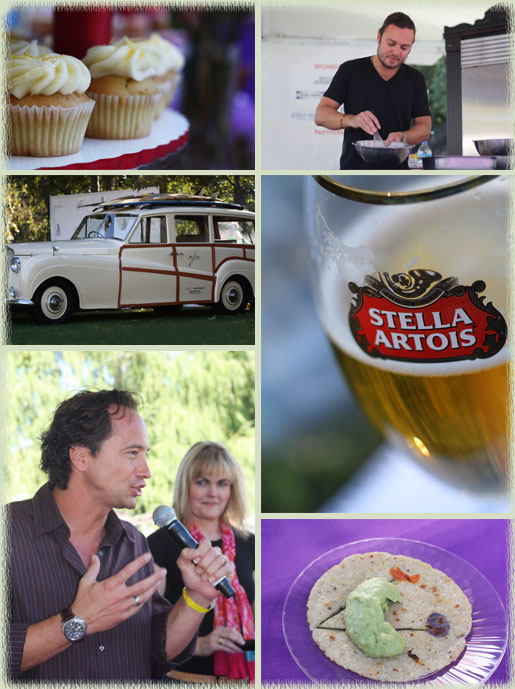 Wine wasn't the only featured libation available for imbibing. The "Beer Garden" was pouring Stella Artois, Hoegaarden and Leffe Belgian brews and even offered each visitor a drawstring bag containing a beer goblet to take home. Across the lawn, Karma Tequila sponsored a "Conversation Lounge", hosted by restaurant critic/radio host/author Merrill Shindler. Topics varied widely—from Wine & Chocolate Pairing to Organic, Sustainable Growing & Cooking—something for everybody to "chew on". Over at the Chef Demonstration Area, hosted by Cindy Dole and Jeffrey Saad of Food Network's The Next Food Network Star, some of LA's hottest chefs could be found whipping up signature dishes. Leah sat in on sessions with David Myers (Sona, Comme Ça), Ludo Lefebvre (Ludo Bites) and John Sedlar (Rivera). All the presentations (and chefs) were highly entertaining and informative, though it would be hard to top Sedlar's demo (good thing he was last on the schedule!), which he narrated as his assistants prepared guacamole and handmade tortillas. The tortillas were mini works of art, with fresh herbs and flower petals pressed into them. The artistry was no surprise—we've been Sedlar groupies since his early days at St. Estephe. How we missed him while he took a 15–year sabbatical from the restaurant biz. Welcome back, John!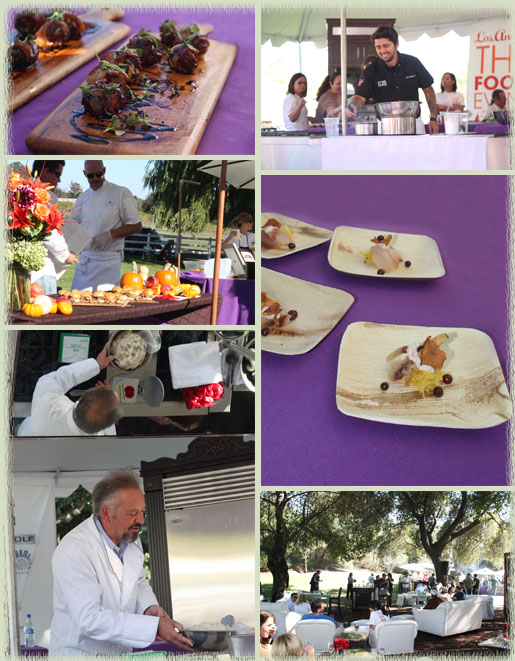 With over 30 food booths to sample, it was impossible to hit them all (especially with the chef demos going on). The best part of event was being able to check out new restaurants that we haven't been to yet and discovering new dishes at places we frequent. Two standouts were Beso (an Eva Longoria/Todd English collaboration) and Westside Tavern. Beso offered quite a varied sampling, ranging from Pulled Pork Tacos with Apple–Ginger Salsa to quite possibly the tastiest churros Leah has ever inhaled. Westside Tavern isn't new to us (happily, we live in the neighborhood) and we love most everything we've eaten there. One item from the menu that we were never enticed to order (Leah generally isn't a fan of lamb) but really grabbed the ol' taste buds was the Lamb French Dip with Caramelized Onion and Horseradish Cream. Ooh wee! Did that ever surprise us! We're looking forward to ordering the full size version of that dish on our next visit.
Stacked up against other food and wine events we've attended, this event was among the top ones. We had a thoroughly enjoyable afternoon, sated ourselves and made some new friends along the way. An added plus is that a portion of the proceeds from this event benefits the American Heart Association, American Stroke Association and Kids Courage, some very worthy charities. We're already looking forward to next year. The Food Network was filming at the event, so hopefully we won't have to wait a full year to relive the day!

Disclosure: We were granted complimentary media passes to this event.
Comments (3)
October 30, 2009 at 5:07 pm
Chris Brown
said:
Thanks for the lovely comments. We are so glad you enjoyed our wines.
Chris Brown
Cantara Cellars

October 30, 2009 at 5:20 pm
Rich & Leah
said:
We meant every word, Chris. Kudos to you and Mike.

November 3, 2009 at 11:56 pm
Grayson said:
It was a great event (my second year attending). Looking forward to next year's already!