Easy as Pie…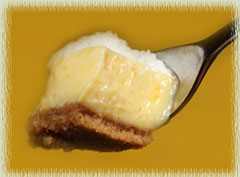 I can't believe October is half over. I barely made a dent in my summer must–try recipe pile and now I'm faced with an already mountainous stack of autumnal dishes that I really really have to try. But for some reason, I haven't been able to move on to the flavors of the season just yet. I'm guessing it might have something to do with Los Angeles' weather. We finally had our first rain of the season yesterday and today, but up until now, the weather has been quite hot. You know, the kind of climate that leaves you craving refreshment.
For me, that means anything fruity (preferably citrus). Let's not forget we have two trees growing outside the kitchen door that do a good job of satisfying my citrus–y desires. The lime tree is bursting at the branches with fruit right now, and the Meyer Lemon tree is coming along very nicely (thanks for asking). We should have a bumper crop of little pretties this winter and I'm anxiously awaiting the first opportunity to dip into my file of lemon recipes. But until then, I've got to settle for last season's lemons (in the form of juice ice cubes and fresh–frozen zest) in my recipes.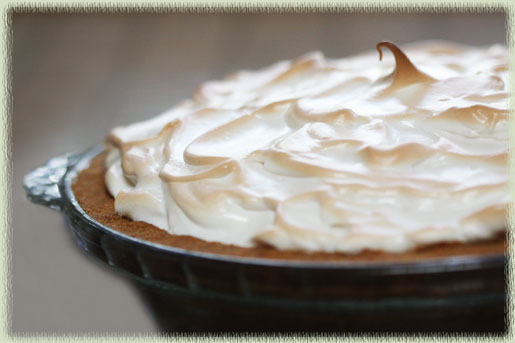 So, before I become distracted with apples and pumpkins, I thought I'd share one of my favorite lemon pie recipes. It's a meringue pie, but not the usual sort that first comes to mind. In fact, it is more similar in texture to what you typically get with a key lime pie. The filling isn't cooked (only the crust and meringue are baked), so it might be wise to use pasteurized eggs if you worry about that kind of thing or if you're serving this pie to someone in a high–risk health group.
WI wine recommendation: Lemony dishes don't work well with lower acid wines, so try a crisp white (like an unoaked Chablis). Others to consider would be a dry Riesling, Sauvignon Blanc or Grüner Veltliner.


Lemon Silk Meringue Pie

1/2 cup unsalted butter, melted
1/2 cup walnuts or pecans, finely chopped
2 cups graham cracker crumbs
3/4 cup fresh lemon juice
1 teaspoon lemon extract
4 pasteurized eggs, yolks separated from whites
2 14–ounce cans sweetened condensed milk
1/4 teaspoon cream of tartar
1/2 cup sugar

Preheat oven to 375° F. Combine the butter, nuts and crumbs in a bowl and mix well. Press the mixture into a 10–inch pie plate and bake for 9–11 minutes or until lightly browned and crust has set. Remove the crust from the oven and allow it to cool completely. Don't shut the oven off.
Combine the lemon juice, extract, 4 egg yolks and sweetened condensed milk in a medium bowl and mix well. Pour the mixture into the cooled pie crust and put in refrigerator.
Combine the 4 egg whites with the cream of tartar in a large bowl and beat with a hand held mixer until soft peaks form. Slowly add in the sugar and continue beating until stiff peaks form. Check the meringue to see that the sugar has completely dissolved by feeling it with your fingers. It should have a smooth consistency; not gritty or sandy feeling.
Spread the meringue on top of the lemon filling, making sure it seals the entire top by going to the inside edge of the crust. Make decorative swirls in the meringue with a spoon or offset spatula.
Bake the pie for 11–15 minutes or until the meringue turns golden brown. Remove from oven and allow to cool down a few minutes before placing it in the refrigerator to chill completely (about 4 or 5 hours).
Comments (3)
October 15, 2009 at 6:12 am
ciaochowlinda
said:
oh yum, what a luscious looking slice of pie. i'm ready to dig in.

October 15, 2009 at 11:26 am
Lynn said:
What a fitting name…definitely lemon SILK pie!

October 15, 2009 at 6:32 pm
Diana
said:
No lemons growing around here. That pie looks great!