Swine Flu Blues? You'll Like This Pork!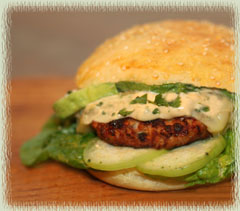 In less than one week, our oldest and only daughter will be leaving for her first year of college. She won't be going far (only about fifty minutes away), but it's a long enough distance from home that she won't be able to drop by for impromptu meals. Not that she would. She has been waiting a long time for this, and the sooner she moves into the dorm and starts attending classes, the better for her. She is even looking forward to using her campus meal card and getting to work on those "freshman fifteen". Actually, I don't expect her to have that problem so much. She plans on doing some cooking of her own in the dorm and plans on utilizing the local Trader Joe's (which is located right on her campus…yay!). She's already a pretty darn good cook and knows how to throw together a healthy meal, so I know she'll be well prepared when the cafeteria's carb–crazy meals start "weighing" on her.
This past summer she discovered a recipe for burgers that uses pork instead of beef. It also uses chipotle and tomatillo, which instantly puts this burger into a class of its own. She proclaimed that it was so good she would never eat another beef burger again. Since I doubt there will be anything but regular hamburgers available to her on campus, I'm sure she'll have some difficulty remaining true to her proclamation. Besides, sometimes a good ol' cheeseburger is the only thing that will hit the spot. But if you want to try something that will satisfy both your south–of–the–border and burger cravings at the same time, give this recipe a try. It is very easy to put together and won't disappoint.
Simple store–bought buns wouldn't do this recipe justice, so I decided to get in on the act by trying to find a good recipe for homemade burger buns. The recipe I came up with (via the New York Times) is from Comme Ça, a brasserie–style restaurant right here in Los Angeles. We've eaten at this place once before, but unfortunately didn't try the cheeseburger (which many food critics have claimed to be the best burger they've ever had). Apparently, the baker at Comme Ça came up with the recipe for his light brioche bun after 14 attempts at finding the perfect hamburger bun for their signature cheeseburger. My buns didn't rise as nicely as I had hoped, but the flavor and texture was better than store–bought, so I was satisfied.
Note: The only variation from the recipe for the burgers was chopping up the cilantro and mixing it into the mayonnaise. Also, don't leave out the sliced tomatillo. The flavor and texture is similar to pickle slices and would be greatly missed in this spicy recipe.
WI wine recommendation: These burgers pair well with an oaky Chardonnay or a Spanish Garnacha.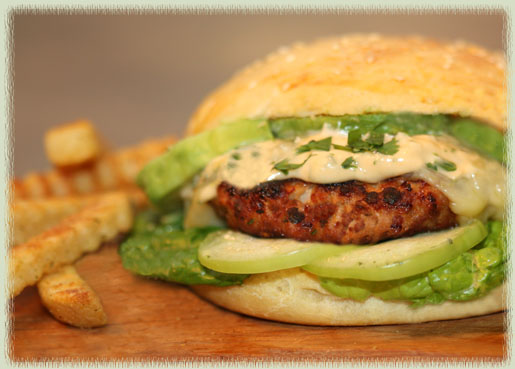 Chipotle Pork Cheeseburgers
(from epicurious.com)

1 pound ground pork (not lean)
2 teaspoons minced chipotle in adobo plus 1 teaspoon adobo sauce
2 garlic cloves, forced through a garlic press
4 slices Muenster cheese
4 hamburger buns, toasted
1/4 cup mayonnaise
1 large tomatillo (1/4 pound), husked and rinsed, then sliced
1/2 small avocado, sliced
1/2 cup cilantro sprigs

Prepare a gas grill for direct–heat cooking over medium heat; see Grilling Procedure.
Gently mix pork, chipotle, garlic, and a scant teaspoon salt until just combined. Form into 4 (1/2–inch–thick) patties.
Oil grill rack, then grill patties, covered, 4 minutes.
Flip patties and top with a slice of cheese. Grill, covered, until just cooked through, 1 to 2 minutes more.
Spread buns with mayonnaise and assemble burgers with tomatillo, avocado, and cilantro.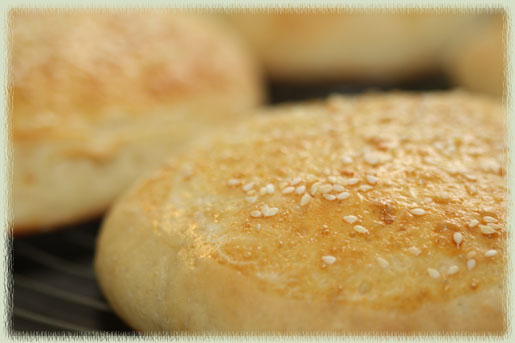 Light Brioche Buns
(adapted from Hidefumi Kubota of Comme Ça, Los Angeles)

3 tablespoons warm milk
2 teaspoons active dry yeast
2–1/2 tablespoons sugar
2 large eggs
3 cups bread flour
1/3 cup all–purpose flour
1–1/2 teaspoons salt
2–1/2 tablespoons unsalted butter, softened

In a glass measuring cup, combine 1 cup warm water, the milk, yeast and sugar. Let stand until foamy, about 5 minutes. Meanwhile, beat 1 egg.
In a large bowl, whisk flours with salt. Add butter and rub into flour between your fingers, making crumbs. Using a dough scraper, stir in yeast mixture and beaten egg until a dough forms. Scrape dough onto clean, unfloured counter and knead, scooping dough up, slapping it on counter and turning it, until smooth and elastic, 8 to 10 minutes.
Shape dough into a ball and return it to bowl. Cover bowl with plastic wrap and let rise in a warm place until doubled in bulk, 1 to 2 hours.
Line a baking sheet with parchment paper. Using dough scraper, divide dough into 8 equal parts. Gently roll each into a ball and arrange 2 to 3 inches apart on baking sheet. Cover loosely with a clean kitchen towel and let buns rise in a warm place for 1 to 2 hours.
Set a large shallow pan of water on oven floor. Preheat oven to 400 degrees with rack in center. Beat remaining egg with 1 tablespoon water and brush some on top of buns. Bake, turning sheet halfway through baking, until tops are golden brown, about 15 minutes. Transfer to a rack to cool completely.
Yields 8 buns.
Comments (1)
September 15, 2009 at 7:31 pm
Diana
said:
My daughter is in her second dorm year. She came home for dinner, ate the roast I prepared (2 hours) in 7 minutes and then forgot to say good bye when she left. I'm not sure she deserves any of your delicious burgers.