Malibu Wine Classic 2009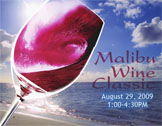 Some close friends came into town this past weekend and we decided to drop in on this year's Malibu Wine Classic. Despite the blazing heat wave that blanketed the Los Angeles area, attendance was very high and the event was an interesting blend of wine, food, spirits, fashion and a silent auction featuring a wide range of goodies from wine to sports memorabilia to jewelry to art, all to benefit Childhelp®, a leading national non–profit organization dedicated to helping victims of child abuse and neglect (celebrating its 50th anniversary).
As soon as we arrived, we rushed past the silent auction to fill our glasses and made a bee line to Beckmen Vineyards to sample their great wines and were rewarded with a two–fer! Kikael Sigouin, Beckmen's winemaker was at a table with his wife, who was pouring samples from Mikael's own label, Kaena Wine Company. Another standout that day was Stolpman Vineyards. Tom Stolpman was serving up his fantastic 2008 Sauvignon Blanc (with limited barrel fermentation), 2006 Estate Syrah, 2007 Grenache and 2006 L'Avion (90% Roussanne; 10% Viognier).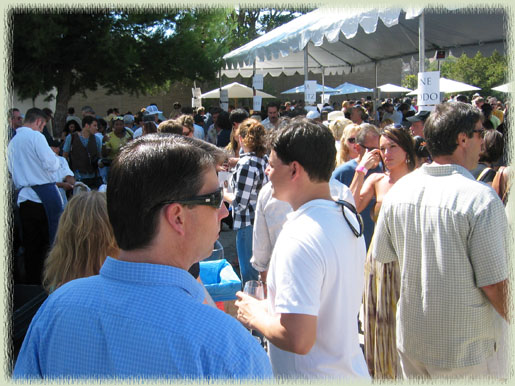 While we didn't have time to sample all of the wines that day, we visited some old favorites, including Alma Rosa, Brander (where we had a very good Merlot), Kenneth Volk and Lafond. We also discovered the Martellotto 2006 Reserve Cabernet Sauvignon and 2006 GSM.
The event also featured a variety of great food. We started with a generous pizza slice from Joe's Pizza of Bleeker Street. The bites from One Sunset/STK, Charlie's Malibu and Michael's Restaurant really hit the spot. The taste from Casa Escobar Malibu was a little spicy for a wine tasting event, but it was so good, we had to go back for seconds. Our favorite dessert tastes were the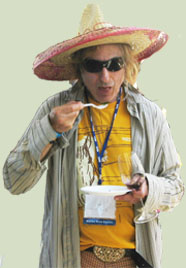 cupcakes from Luscious Organic Desserts and the toffee from Malibu Toffee. While we meandered through the silent auction, we sampled an interesting organic wheat vodka from Blue Ice Vodka and some very smooth diamante and reposado tequila from DeLeón Tequila.
The Malibu Wine Classic was organized by Ian Blackburn's Learn About Wine organization, and they did a terrific job. The layout was varied, there was sufficient shade for those of us who needed it and the selection of wine and food purveyors was excellent. The event attracted enthusiasts of almost every age bracket and, despite the very hot weather that day, the fashionistas were out in full force. All in all, a very nice afternoon.
Comments (3)
September 2, 2009 at 3:57 pm
Dave said:
Rich,
Had a great time at the festival and your recommended favorites were spot on. Well done on the wine recommendations and the entire festival was a very pleasant surprise for its variety of both food and wine. I would highly recommend if in the area next year to take it in, besides being for an excellent cause (Childhelp), its was a very good afternoon of good friends, good food and excellent wine.

September 2, 2009 at 6:38 pm
Leah said:
Hey Dave…Be sure to tell Linda that Tori and Mickey would love to hang with you guys again (just not for breakfast)!

September 16, 2009 at 10:58 am
Linda said:
Leah,
you set it up I'll be there