Chipotle Pork Cheeseburgers
This recipe (from epicurious.com) appeared in Swine Flu Blues? You'll Like This Pork! on 14 Sep 2009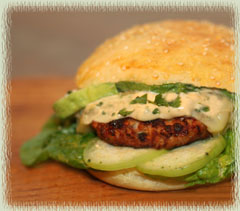 1 pound ground pork (not lean)
2 teaspoons minced chipotle in adobo plus 1 teaspoon adobo sauce
2 garlic cloves, forced through a garlic press
4 slices Muenster cheese
4 hamburger buns, toasted
1/4 cup mayonnaise
1 large tomatillo (1/4 pound), husked and rinsed, then sliced
1/2 small avocado, sliced
1/2 cup cilantro sprigs

Prepare a gas grill for direct–heat cooking over medium heat; see Grilling Procedure.
Gently mix pork, chipotle, garlic, and a scant teaspoon salt until just combined. Form into 4 (1/2–inch–thick) patties.
Oil grill rack, then grill patties, covered, 4 minutes.
Flip patties and top with a slice of cheese. Grill, covered, until just cooked through, 1 to 2 minutes more.
Spread buns with mayonnaise and assemble burgers with tomatillo, avocado, and cilantro.
WI wine recommendation: These burgers pair well with an oaky Chardonnay or a Spanish Garnacha.