TJT: Time to Salsa!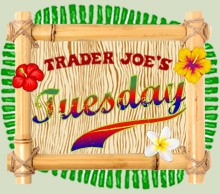 Warm summer weather always brings more opportunities for outdoor entertaining and easy, throw–together dishes. We (and thousands of other Angelenos) find ourselves paying homage to the beautiful LA weather we experience all summer long with barbecues. Finding something to complement barbecue fare can be as easy as a walk through the vegetable garden (if you are lucky enough to have one) or a walk through the produce section at Trader Joe's. They have a great selection of fresh summer fruits, veggies and herbs and it's hard for me to resist bringing home the whole department! I have a great garden growing this year, too, and somehow I always manage to find something I don't already have.
The other day I was watching one of my usual morning news shows and happened to catch one of Martha's (yes, that Martha) editors making a variety of dips that could be served at both formal and casual occasions. Since we were having a Mexican–themed barbecue this past weekend, I was particularly taken with the recipe for Mango–and–Avocado Salsa that she was preparing. (And, I just happened to notice mangoes front and center at TJ's during my last visit.) Perfect! The recipe on the site also mentions that this salsa goes well with grilled or broiled chicken, pork, seafood or beef. I served it as an appetizer with TJ's blue corn chips, but I can easily see it pairing with the mentioned items as a side dish or topping.
One note: the recipe calls for a habanero chile (which I've never seen at TJ's). But they do sell jalapeno peppers, which might be a tamer choice for those of you who are heat sensitive. I used half a habanero which was very finely minced, and it was plenty hot. So, pick your poison, but try not to omit the pepper altogether as the heat really gives a nice contrast to the sweetness of the mango and the creaminess of the avocado.

Mango–and–Avocado Salsa
(from Martha Stewart's Everyday Food)


1 avocado, halved, pitted, peeled, and diced medium
1 ripe mango, peeled, pitted, and diced medium
1 small red onion, diced small
1/4 cup finely chopped fresh cilantro leaves
1/2 to 1 habanero chile (stem and seeds removed), minced
2 tablespoons fresh lime juice
1 tablespoon extra–virgin olive oil
1/2 teaspoon coarse salt

In a bowl, combine all ingredients. Serve with your favorite tortilla chips.

Since I'm on the topic of salsa, I'm also going to include a recipe I created (courtesy of my garden and various departments at Trader Joe's). I call it Caprese Salsa, as it began as a simple Caprese salad. Once I began adding extra chopped goodies from my garden, I decided to get clever and turn it into a salsa and serve it alongside the fresh mozzarella. The mozzarella in the photos is from Costco (my favorite alternative to TJ's), but of course many forms of it are available you know where. I'm not going to include measurements, only the specific ingredients I used. Adjust or omit them to your liking.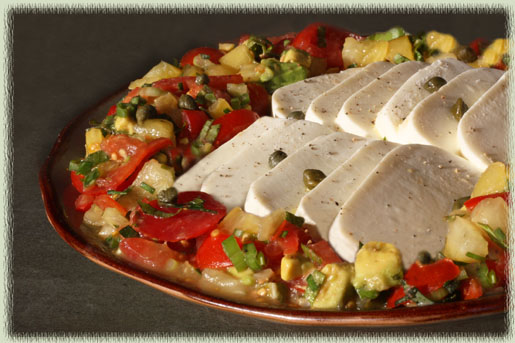 Caprese Salsa

Chopped tomatoes (I used regular reds and yellow Heirlooms)
Diced avocado
Chopped fresh herbs (I used basil, mint and chives)
Chopped green onion
Sliced fresh mozzarella cheese log(s)
Olive oil
Salt & Pepper
Capers

Gently toss the first four ingredients together (so not to mush up the tomatoes and avocado). Arrange the slices of fresh mozzarella on a serving plate and pile the salsa around them.
Drizzle the olive oil on top of the cheese; sprinkle salt and pepper on top next. Scatter capers over the cheese (or the whole plate, if desired).


I'm thrilled to announce the grand opening of yet another Trader Joe's in Los Angeles! (That's me in the artwork, dancing for joy!) Actually, it's a painting by artist Delilah Smith entitled "Salsa Dancing". I'm sure you get why I've included it in this particular post. This means we now have 3 TJ's in the West LA area. How lucky are we! The new Trader Joe's will be opening Friday, August 21st, at 9am sharp. I was told to expect planned festivities, and of course, food samples galore, so get there if you can!
Trader Joe's (Olympic): 11755 W. Olympic Blvd, WLA, CA 90064
Phone: (310) 477-5949 Trading Hours: 9am—9pm
Comments (5)
August 18, 2009 at 8:03 pm
Bettie
said:
Can't wait to try your Mango-Avocado Salsa. I have made (we too have a garden) and bought many varieties of salsa. For a party I have found this one to be a big hit. Combine Trader Joe's Spicy,Smoky, Peach Salsa with Trader Joe's Corn and Chilie Tomatoe-Less Salsa and serve with Trader Joe's Blue Corn Chips. Everyone will be asking for the recipe. Enjoy!

August 19, 2009 at 1:34 pm
Leah said:
Thanks, Bettie! I'm not familiar with the Peach Salsa at Tj's, but I'm definitely going to look for it and give your recipe a try. It sounds really good. I'm really liking fruit salsas this summer!

August 23, 2009 at 8:26 am
Diana
said:
I like the caprese salsa. Basil mint and chives – mmmm.

September 21, 2009 at 9:55 pm
Robin B. said:
I just found your wonderful website. I would like to make the Caprese, but how would I serve that — with water crackers? As a side dish/salad ? Please offer some suggestions. You're earliest response would be appreciated, since I'm preparing this for guests. Also, wine suggestion?

September 22, 2009 at 3:16 pm
Wine Imbiber
said:
Dear Robin,
The Caprese Salsa can be served as a side dish or as a dip or even a salad. Water crackers would work, but for something a little more substantial, we would suggest trying toasted sourdough baguette slices, like the bread used for bruschetta (or other sourdough loaf). If a baguette, slice the bread on the diagonal to yield larger, more interesting slices, spray with olive oil spray (or drizzle with olive oil) and then broil briefly on one side to toast them nicely. Spread the salsa on the toasted side (or let your guests do it) and serve. Alternatively, you could serve the salsa as a salad on top of lettuce of some sort. Or, treat is as a dip (with the water crackers or some other crackers).
This dish calls out for wine for sure. Try an Italian Pinot Grigio (or some other fresh white wine with relatively high acidity, such as an Austrian Gruner Veltliner or a Viognier, which may have a little more fruit flavor than some Pinot Grigios). There are a wide range of these wines in the $10-$20 a bottle range.
Good luck. Let us know how it goes!