This recipe appeared in TJT: Time to Salsa! on 18 Aug 2009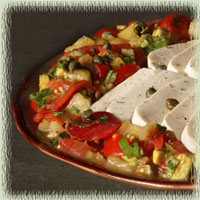 Chopped tomatoes (I used regular reds and yellow Heirlooms)
Diced avocado
Chopped fresh herbs (I used basil, mint and chives)
Chopped green onion
Sliced fresh mozzarella cheese log(s)
Olive oil
Salt & Pepper
Capers

Gently toss the first four ingredients together (so not to mush up the tomatoes and avocado). Arrange the slices of fresh mozzarella on a serving plate and pile the salsa around them.
Drizzle the olive oil on top of the cheese; sprinkle salt and pepper on top next. Scatter capers over the cheese (or the whole plate, if desired).