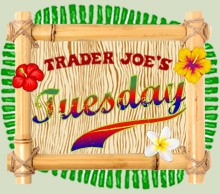 I'm not one to give in easily to recipes with the words "World's Best" or "Ultimate" in their titles (especially when it comes to chocolate chip cookie recipes). Whether it's soft, chewy, crispy or a combination; everybody has their own interpretation of what they think is best. Last summer, the New York Times set off a foodie frenzy with their article "The Quest for the Perfect Chocolate Chip Cookie". It seemed that every food blogger out there had to try it and see if, indeed, the perfect recipe had been discovered. I know that I succumbed to the hype and tried it, but I didn't bother writing about it. Was the recipe good? Yes, but was it perfect? Well, that of course depends on what your idea is of the perfect chocolate chip cookie. For me, the best recipe I've found to satisfy all of my chocolate chip cookie fantasies comes from Cook's Illustrated (find it here). It has the perfect amount of sweetness with its chocolate chip–to–dough–ratio and texturally speaking, it's ideal (at least by my standards). The texture isn't easily achieved, though, as it is the result of a fussy dough–forming technique. But it really does produce professional looking (and tasting) results.
You'd think, since I've already found a recipe that suits all my cookie needs, I wouldn't bother trying any others. But I couldn't resist giving just one more recipe a try. Food Gal was nice enough to post about one of my favorite chefs and his new book, Ad Hoc at Home, which won't be released until November. Thomas Keller is the genius behind many of our beloved restaurants in Napa Valley, so who was I to ignore his version of what he calls "arguably the best cookie ever"? I know. There's that word again. But still, I was immediately attracted to the recipe for its simplicity and use of two different cacao percentages. Obviously, chocolate is meant to be the sole star of these cookies. The noticeable omission of vanilla supposedly allows truer chocolate flavor to shine through (and did it ever!). I thought the cookies tasted best fresh and warm from the oven, when the melted chocolate clung to my tongue like silk. I could really taste the two distinct chocolates. However, the next day the flavors became one and the cookie's overall taste and texture wasn't distinguishable from that of any other chocolate chip cookie I've ever eaten. I also think the recipe would benefit from more salt. I'm one who likes the contrasting flavors of salty–sweet. I did try, as specified in the recipe, to strain out the bits of chocolate "dust" for the desired cleaner cookie look, but you'll still notice some showing in my photos. I wouldn't waste my time (or the chocolate) doing that again.
So, why did I choose to post about this recipe in Trader Joe's Tuesday? All of the ingredients are available at TJ's (except for molasses sugar, for which I substituted regular dark brown sugar anyway). Also, TJ's has a great selection of different types of chocolate. To satisfy the specified cacao percentages, I bought two bars of Trader Joe's brand Swiss Dark Chocolate (71%) and two bars of Valrhona brand Le Noir Cacao (56%). Only a bar–and–a–half was needed of each. So, if you're still looking for that perfect chocolate chip cookie recipe, this just might be the one. Or if you're like me, you'll be happy with the one you already have.
WI wine recommendation: Pairing wine and chocolate can be tricky. Read our earlier article, Wine & Chocolate, for some sound advice on this topic.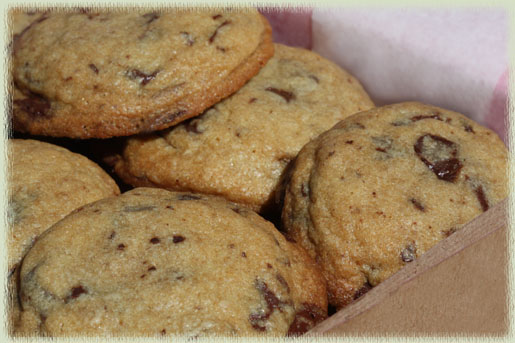 Chocolate Chip Cookies (by Thomas Keller)
(From Ad Hoc Cooking at Home)
Original post: Chocolate Chip Cookies
(makes about thirty 3-inch cookies)

Thomas Keller writes in the book: This is our version of what is arguably the best cookie ever. I like to use different chocolates, one sweeter, one with a more complex bittersweet balance. After you chop the chocolate, sift it to remove any tiny fragments to give the cookies a cleaner look. If you like softer cookies, don't underbake them, just mist them with water before baking.

2 1/3 cups plus 1 tablespoon all-purpose flour
3/4 teaspoon baking soda
1 teaspoon kosher salt
5 ounces 55 percent chocolate, cut into chip–sized pieces
5 ounces 70 to 72 percent chocolate, cut into chip-sized pieces
8 ounces (2 sticks) cold unsalted butter, cut into small pieces
1 cup packed dark brown sugar, preferably molasses sugar
3/4 cup granulated sugar
2 large eggs

Position racks in the lower and upper thirds of the oven and preheat oven to 350 degrees. Line two baking sheets with Silpats or parchment paper.
Sift flour and baking soda into a medium bowl. Stir in the salt.
Put chips in a fine-mesh basket strainer and shake to remove any chocolate "dust" (small fragments).
In the bowl of a stand mixer fitted with the paddle, beat half the butter on medium speed until fairly smooth. Add both sugars and the remaining butter, and beat until well combined, then beat for a few minutes, until mixture is light and creamy. Scrape down sides of the bowl. Add eggs one at a time, beating until the first one is incorporated before adding the next and scraping the bowl as necessary. Add dry ingredients and mix on low speed to combine. Mix in chocolate.
Remove bowl from mixer and fold dough with a spatula to be sure the chocolate is evenly incorporated. The dough or shaped cookies can be refrigerated, well wrapped, for up to 5 days or frozen for 2 weeks. Freeze shaped cookies on the baking sheets until firm, then transfer to freezer containers. (Defrost frozen cookies overnight in the refrigerator before baking.)
Using about 2 level tablespoons per cookie, shape dough into balls. Arrange 8 cookies on each pan, leaving about 2 inches between them, because the dough will spread. Bake for 12 minutes, or until the tops are no longer shiny, switching the position and rotating pans halfway through baking.
Cool cookies on the pans on cooling racks for about 2 minutes to firm up a bit, then transfer to the racks to cool completely. Repeat with second batch of cookies. (The cookies can be stored in an airtight container for up to 2 days.)
Publisher's Note: If your brown sugar has hardened, soften it in the microwave for 15 to 30 seconds.
Baker's Note: I got about 18 more cookies than he says even though I used the same measurements. I was also able to bake 12 on a sheet versus the recommended 8 with no problems.
Baker's Note: I got about 18 more cookies than he says even though I used the same measurements. I was also able to bake 12 on a sheet versus the recommended 8 with no problems.