This recipe appeared in Walk the Plank on 06 Jul 2009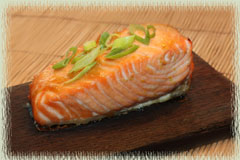 Plan ahead: Allow 60–90 minutes soaking time for wood planks
1–3/4 lbs salmon filets (preferably wild salmon)
2 tablespoons honey
2 tablespoons Dijon mustard
1 tablespoon lemon juice
2 teaspoons rice vinegar (unseasoned)
2 teaspoons lemon zest
Salt & pepper to taste
1 green onion (sliced thinly diagonally)

Cut the salmon into 6 filets. Place them on a platter and set aside.
Mix the next 5 ingredients together in a small bowl. Brush the sauce onto the filets.
Preheat barbecue to 400° F (medium–low).
Set pre-soaked planks on grill rack. Close the lid and heat for 2–3 minutes.
Turn the planks over and place 2 salmon filets on each of the 3 planks.
Close the lid and cook for 13–15 minutes (or until salmon turns pink and opaque). Try not to open the lid more than necessary while the salmon is cooking, as you will lose some of the smoke. Do not allow the planks to flame up–spritz them with water if necessary (well–soaked planks used at the recommended temperature should not catch fire).
Remove the salmon to serving plates. If desired, brush on any remaining sauce. Garnish with the green onion slices and serve.
Note: I served these with potato chive cakes, which were a nice foil to the sweet, tangy salmon sauce. Any kind of potato dish would work well with these, but we also liked the way the crispiness of the cakes contrasted with the salmon.
WI wine recommendation: A Sauvignon Blanc or Pinot Noir pairs nicely with this dish. If you try a Chardonnay, select an unoaked one, so it doesn't conflict with the oakiness of the salmon.