This past Saturday, we attended the first day of the two–day 2009 LA Wine Fest at Raleigh Studios in Hollywood. As advertised, there were about 100 wines, beers and spirits on hand for the crowd to sample, and the proceeds benefited some worthwhile charities. Although the LA weather had been intermittently rainy that week, the weather cooperated (no rain) and even offered some scattered clouds to moderate the temperature. We were on the prowl for something new and different, and we found several standout wines.
We enjoyed several wines that are worth mention, including the Demetria Estate 2006 Pinot Noir "Sta. Rita Hills", the Sylvester 2006 Sangiovese, and the Kiara 2006 Syrah (also offered by Sylvester). Leah also enjoyed the Kiara 2007 Sauvignon Blanc—"light and refreshing". Ventana Vineyards offered a very nice 2007 Pinot Noir and 2006 Rubystone (a Grenache/Syrah blend). We both really liked the Hall 2008 Sauvignon Blanc and 2005 Cabernet Sauvignon.
Some of the best wines of the Fest were five wines poured by Blue Danube Wine Company. The Citluk Winery 2007 Kameno from Bosnia Herzegovina (90% Zilavka and 10% Bena) was delightful. The Weinrieder Winery 2007 Gruner Veltliner from Austria is made from grapes grown at very high altitude and the resulting fruit flavor is very good. The Szõke Mátyás 2008 Irsai Oliver from Hungary had a slight sweetness and a hint of rose petals. The Svirce Coop 2006 Plavac Hvar from Croatia was a very nice red wine. Finally, the J. Heinrich 2008 Blaufränkisch had just arrived from Mittelburgenland, an area in the flatlands of eastern Austria near the Hungarian border. It was very good with its concentrated fruit and will be even better when it settles in a bit.
Another excellent entry at the Fest was Kiamie Wine Cellars, who poured four of their red blends, including their 2006 R'Own Style Blend, their 2005 Cabernet Sauvignon (25% Cabernet Franc), their 2006 Meritage and their 2005 Kiamie Kuvée (60% Cabernet Sauvignon, 15% Merlot, 11% Syrah, 8% Malbec and 5% Zinfandel). They were all very good. The winery was started by a family, to whom a key was significant to their first sale in their first business venture. That's how they came to name their winery.
One suggestion for next year's Fest is to offer more food samples. They did have a café where you could purchase food, but the line quickly became a long one. The few food samples spread about the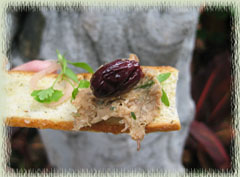 wine tables were not special, except for the excellent smoked meat crostini with cilantro offered by Palate Food & Wine of Glendale. The final suggestion for next year is to impose and enforce a "no smoking" rule. Smoking can really ruin wine tasting for most folks. The crowd at the Fest was younger than the average age at most wine festivals, and there were several people wandering around smoking cigars at the event—a severe "no–no".