Roast Salmon with Balsamic Honey Wine Reduction
This recipe (adapted from FromTheFarm.com) appeared in From the Farm to You! on 02 May 2009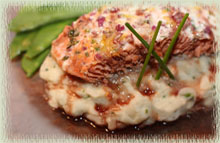 2 lbs. salmon fillet (preferably wild salmon)
1–2 tablespoons red onion, finely chopped
1 tablespoon lemon rind, grated
2 cloves garlic, finely chopped
2 tablespoons fresh thyme, chopped
3 tablespoons olive oil
1/2 cup Honey Ridge Farms Balsamic Honey Vinegar
1/2 cup red wine (see WI wine recommendation)
1 teaspoon granulated sugar
1/4 cup unsalted butter

Preheat oven to 350° F. Cut salmon fillet(s) into individual serving sizes. Do not grease the pan with butter or olive oil—this way, the skin of the salmon will stick to the pan and you won't have to remove it yourself. Place the salmon pieces in a baking dish, skin side down.
Mix together the red onion, lemon rind, garlic and thyme.
Brush the olive oil over the salmon. Rub the herb mixture over the salmon.
Roast up to 20 minutes or until white juices appear on top.
Meanwhile, combine balsamic vinegar, wine and sugar in a skillet. Bring to a boil and reduce until syrupy. Turn heat to low, whisk in butter and keep warm.
Remove salmon from baking dish to plate. Note: I served the salmon on top of Mashed Potatoes with Lemon and Chives (from Epicurious). I also quickly sautéed some snow peas in a little olive oil and served that alongside the salmon and potatoes.
Spoon the warm glaze over the top of the salmon and serve immediately.
Serves 6.

WI wine recommendation: I used Palumbo Family Vineyards 2006 Syrah for this recipe and to enjoy with the final dish. A Syrah or Shiraz has a sweet aspect that works very well in the reduction sauce and is a delicious pairing with the salmon.