Memorial Spirits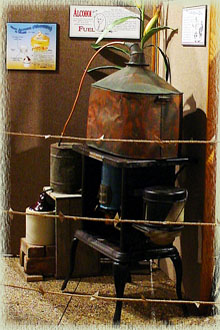 On Memorial Day, I often think about people who are no longer with us in body, but most certainly still are in spirit. People who went before us, who lived in a different time. Sometimes, these people are ancestors—people who, like it or not, still have something to do with who we are today in the here and now. History wasn't my favorite subject in elementary school, but as I aged and (hopefully) matured, I became increasingly interested in the subject. Alright, I'll admit it. I even watch this History Channel on television now and again. To me, it is intriguing to learn about a person doing something in an earlier time, and then consider what else was going on around that same time that adds more perspective to the person's situation. And, when I cross paths with someone whose ancestor may have crossed paths with one of my ancestors, I get that weird "Twilight Zone" sensation.
So, it was exciting for me to get an email towards the end of March (two days after my father's death) from my sister–in–law, Paty, forwarding me an email from my cousin, Mike, with a link to a recently–found copy of a long–lost manuscript written by Mike's father (one of my uncles) in 1988, about four years before his own death. My uncle, Don, was a professor at UC Berkeley and authored several academic books, including books about alcohol consumption practices, behaviors and consequences. Yeah, I know…the irony is not lost on me either.
In his "retirement", my uncle painstakingly researched and documented the history of the Irish branch of our family and penned a book about, and later published a "how to" genealogy book on tracing an Irish lineage. Towards the end of his life, he prepared yet another manuscript that might have been lost forever had Mike not visited his sister and gone through some boxes in her attic. The 448 page manuscript draws upon the sometimes colorful history of our Irish ancestors from the 900s in Ireland to the mid–1900s in the USA to illustrate a more universal story of economic struggle, invasion (by the Norse, the Normans and the English in succession), famine, pandemic illness, culture, migration, love, family, death, adaptation, survival and a near–obsession with farmland ownership forged during centuries of England's domination of Ireland, and how that family focus on terroir changed over time in America. Unfortunately, I had to leave on a trip to Italy to cover the Vinitaly wine show shortly after I received the link to the manuscript and I didn't want to print a ream of paper to lug with me on my trip. So, my uncle's opus would have to wait until my return home.
In Italy, I had the opportunity to tour the Francoli grappa distillery in the town of Ghemme in Piemonte with the proprietor, Alessandro Francoli. I learned about the history and modern process of distilling, which is all based on the theory of recycling and reuse—an increasingly important theme today. I absorbed this information with great interest, as my father had told us stories over the years about his uncles who had done some "experiments" in distilling in rural Iowa during the Prohibition era in America. I'll soon be writing a post about what I learned about modern distilling at Francoli's grappa distillery. In the meantime, enjoy a bit of the Francoli family history.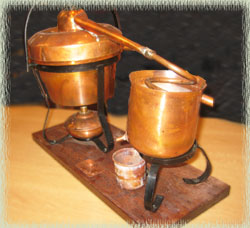 Alessandro Francoli's father established the modern Francoli family distillery in 1951, but the family's distilling roots trace back to a time prior to 1875. Alessandro's great–grandfather, Luigi Guglielmo Francoli, lived where the Francoli family originated, about five kilometers from the Swiss–Italian border in the Alpine town of Campodolcino, situated high above the Valley of Chiavenna in the Sondrio province of Italy's Lombardia region. In the mid-1800s, Luigi would periodically drive his horse–drawn cart down from the Alps to transport loads of lumber for sale in the valley below. Then, he would return up the mountainside with his empty cart. It occurred to him that it was a waste of resources to travel back up to the mountains with an empty cart, especially when there wasn't much to do during the winter months in the Alps, other than work on expanding your family. So, one day, he decided to fill his empty cart with vinaccia, the organic material left over from the autumn winemaking process. Back home, equipped with a basic alembic (a distilling pot) and his load of vinaccia, Luigi produced the first drops of his grappa. Due to government regulations (something having to do with alcohol taxes), Luigi Guglielmo Francoli never turned his distilling sideline into a "formal" business, despite the fact that his grappa was gaining notoriety. Eventually, his three sons (Gabriele, Guglielmo, and Bartolomeo) officially started the Francoli Brothers Distillery in 1895.
Four brothers in the next generation of distillers went in different geographical directions. Two of them, Giacomo and Nino, established a distillery in Ponti Sul Mincio in the Mantova province of Lombardia. The other two, Guglielmo and Severo, headed to the town of Ghemme in Piemonte to establish the Distillery Francoli in 1922. Severo eventually left the business, but his son, Luigi (Alessandro's father), came down from Campodolcino in 1948 to join his uncle Guglielmo as a grappa worker. After the hard winter season, Luigi tried to stow away on a ship bound for Australia, but was unable to secure passage. In 1951, when his uncle, Guglielmo, was planning to abandon the distillery business, Luigi made arrangements to take it over and he started the Luigi Francoli grappa distillery. Over time, Luigi called on his four younger brothers to come down from Campodolcino to work with him in the distillery.
Flash back to 1876, when Luigi Guglielmo Francoli was still driving his lumber cart up and down the Alpine mountainside. The youngest of his eight brothers, Gabriele Francoli, emigrated from Italy to the USA at the age of 21, bound for Wisconsin. Not speaking any English, he mistakenly ended up in San Francisco, but two years later he finally arrived in Wisconsin. During the U.S.'s Homestead boom that started in the late 1800s (President Abraham Lincoln signed the Homestead Act in 1862), Gabriele moved to the Dakotas and started a small distillery in South Dakota. At some point, the family dismantled Gabriele's original still that was located inside a grain elevator. In fact, some of that original distilling equipment is preserved to this day at the South Dakota State Agricultural Heritage Museum in Brookings, South Dakota. (See the top image at the lead of this post for a picture of Gabriele's original still equipment when it was on exhibit at the Museum. Many thanks to Museum archivist Carrie Van Buren for sending the picture to me on short notice.)
Back home in Los Angeles, I finally got a chance to read my uncle's manuscript. My great–grandfather, Patrick, emigrated from Ireland to America in the mid–1800s, settled in rural Iowa, got married, started his family and was about 43 years old by the time young Gabriele Francoli arrived in America in 1876 at the age of 21. By then, Patrick's oldest son, John, was just a few years younger than Garbrielle Francoli. With heightened interest, I read the chapter about how John and three of my other great–uncles distilled "hooch" (or moonshine) during America's "Noble Experiment" with Prohibition, which started in late 1919 when the U.S. Congress, overriding a Presidential veto, passed the Volstead Act and ended in late 1933 when that law was finally repealed. (If you think the Francoli ancestors had a lot of siblings, consider that my grandfather and great uncles and their sisters were a pack of seventeen siblings—apparently, there is even less to do in Iowa than in the Italian Alps during winter.) The prices of agricultural products had just plummeted following World War I when the Volstead Act was passed, so farmers (especially those with a lot of mouths to feed) were looking for something that could generate enough cash for them to survive a very nasty economic downturn that ultimately morphed into the Great Depression. I'll summon my uncle, Don, to tell the story from here:
"Within weeks after Prohibition struck, hoochmaking spontaneously sprung up all around the…area. The terrain was ideal for hooch–making because the woods offered concealment and the pure limestone–lined springs provided excellent water to make the mash, and the Chicago, Milwaukee, Saint Paul & Pacific Railroad branch line and railroad siding was a convenient point for the offloading of the granulated sugar so necessary in the making of good hooch. And also, the [location] was a good 26 miles from…the county seat and the locus of the…County sheriff, who had only one deputy to cover the whole county and who was usually one of the hoochmakers' best customers anyway.…So it is easy to understand that when a man was sent out from the home office of the California & Hawaii Sugar Company in Chicago to find out why the biggest market for sugar between Chicago and Seattle was [a] now–decaying [rural town in]…Iowa (pop. 25), he had the answer simply by stopping off…for an hour and then taking the next train back to Chicago. For, the moment he identified himself as a representative of the C & H Company, he was immediately surrounded by a bunch of men who shook his hand, saying, 'Best damn hooch sugar there is!' and shoving samples of C & H in liquid form at him from the unlabeled clear–glass pint bottles they all carried in their hip pockets."
"Jim was the first of the brothers to make hooch. He got the recipe and the know–how from a Frenchman who was making it on a Mississippi River island.…Very good, you know; really aged. Did you know that that aged whiskey buried three months in those kegs was better than any bonded whiskey you could buy over the counter?…Ahh, gee; that was the real taste and smell of aged whiskey.…It cost you a dollar to make a good gallon of whiskey. That was 85–90 proof. I would haul it…and sell it for four dollars."
But moonshining was demanding work—even more so than farming. "I worked in the woods all alone and boiled all night, for 57 nights in a row, starting in the spring and all through the summer, you know? You'd boil at night so nobody would see the smoke you made. Later, of course, I had the gasoline burner, which was really high–class; you could do it in the daytime so nobody'd walk up on you. We'd boil at night and carry it all up near the edge of the woods where nobody would steal it; and I'd hide it."
It turns out that one of my expert–distiller relatives (the son of one of my four distilling great–uncles) went to the Dakotas for a few months in the latter part of 1928 to do some harvesting work. So, as I sit here on Memorial Day sipping on some very excellent Francoli grappa, I'd like to think that, maybe, one of my ancestors crossed paths with Gabriele Francoli and, perhaps, they shared recipes and some tips on best practices for the distilling process. And, just maybe, they shared a glass or two of the exceptionally good stuff.
Comments (3)
November 12, 2009 at 2:37 am
Carl Francoli said:
I just came across "Memorial Spirits" 25 May 2009. I am very curious as to who is the author. I'm a 73 year old Australian who has visited Campodolcino since having an extended stay their in childhood. My late father–a Gabriele Francoli–emigrated to Australia in 1924.
Your piece–the Italian Francoli grappa story – is remarkably well written–and seems surprisingly accurate. I've have an interest in Campodolcino and family history–and have inevitably been given the Genoa/Campodolcino (Jim Venner of Denver Co) story. I also have had personal contact with Alessandro Francoli in Italy and Australia.
Oh! I'm going on!
It would be my pleasure to E meet you.
Carl Francoli

November 13, 2009 at 10:55 am
Rich
said:
Carl,
Nice to e-meet you. I am the author of the article. I spent some time with Alessandro in Italy in April this year (he's a great guy) and talked at length about his family. I learned about the museum from him and when I returned to the USA, I contacted the museum. They provided me a picture of the still and also some background information that had been provided to them by the local Francoli family.
I was very interested because of the parallels between the Francolis and my family history. In addition to that article, I also wrote one about the Francoli distillery in Gheme and about his Torraccia winery and the Francoli Center there. You can use the search box on my web site and put in "Francoli" and it will give you all the links to the articles.
Thanks for writing to me. Sometime, I wonder if anyone reads what I write!
Best regards,
Rich

November 14, 2009 at 2:24 am
Carl said:
Hi Rich
Thanks for the reply. I've tumbled to your website and the nature of its purpose. Your writing is enjoyable. Unfortunately we're a little distant from your US market. I'll be forwarding your site around to my few contacts in Australia and the US. I stayed with Alessandro in 2007 and in May this year. In 1947, I actually helped with the grappa production at Ponte sul Mincio–I was 10 years of age–so long ago! Sadly women often used to receive little credit for their work–an aunt with the ubiquitous name Maria was distillery manager. The only apparent error in your Francoli story is that there were eight brothers in the Francoli family–of the late 19C–that included the younger Gabriele who went to the US and Guglielmo Luigi who was Alessandro's great grandfather. My records from Campodolcino have three brothers and four sisters. The third brother–a Francesco–took his family to Rivoltella, a small town on lake Garda, and ran distilleries at that town. Incidentally there was an explosion (not literally) of grappa manufacturing out of the 'home town' of Campodolcino at the turn of the 19C.
A dignitary at Campodolcino has listed most of the distilleries out of Campodolcino. The histories of by-gone distilleries are still being discovered. Alessandro set up a story about it some years back–in Italian of course. I'll give you more info on this topic if you wish.
By the way. I'm Australian born–my parents emigrated to Australia in the early 1920's. A short visit to Italy with my mother at the end of 1946 turned into a 12 month stay–mostly in Campodolcino. As a 10/11 yearold Australian, I had a delightful time living in the Alps. In 2005 I wrote and published a memoir 'An Alpine Sojourn–Campodolcino 1947′. For libraries, family 'n friends.
Your writing about Ghemme and Gattinara was very detailed and informative. I went searching back to a diary I was writing after returning from Italy in 2007–I wrote intensively about my time with Alessandro–1000 words a day! He did inspire and is a truly NICE PERSON.
You described the grappa production process very well. Oh, I had a life as an industrial chemist when young. On the history of distillation there's stuff around crediting the Chinese doing basic distillation of spirits in 3000BC. Checking essentialspirits.com, I was blocked by my security parental controls!!!
Oh! on Irishness. When I was young, Australia was a British protestant country with the significant minority being Irish Catholics. As a member of the smaller minority of Italians, I was educated by Irish-Australian nuns and Irish Christian Brothers–and married a Joan McGrath. We have five daughters, fourteen grandchidren and are stunned at becoming great grandparents a month ago.
Best wishes,
Carl