It's the Thought That Counts!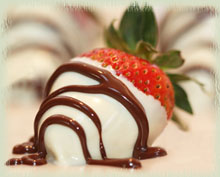 Mother's Day is coming up Sunday and this year I'm prepared. My preferred method of expressing daughterly love is good ol' Hallmark. Unfortunately, I usually forget to mail the card so that it is received in time for Mom to appreciate the holiday. But, this year I'm sending virtual Chocolate Dipped Strawberries (via this post). And while I'm at it, I might as well send some to Rich's mom, too. At least I know they'll arrive on time and in perfect condition through email (does anyone even use regular snail mail for important things anymore?).
Oh, I know what you're thinking. How cruel (and cheap) of me to send photos rather than the real deal. You see, I'm a firm believer of the sentiment, "It's the thought that counts." (If you'd seen prior Mother's Day gifts I've received from my brood, you'd understand.) Besides, this recipe is so easy to make, Mom wouldn't mind making her own. And knowing my Mom, she'll appreciate them even more because I didn't have to spend all that money on shipping! I've never understood how mail order companies ship chocolate dipped strawberries so that they arrive fresh–looking and picture–perfect as depicted in their photos. It couldn't possibly be cost effective. And when you consider all the fun you'd be missing out on if you didn't make them yourself, you really wouldn't be getting the best bang for your buck! (My editor thinks I should be using a less connotative phrase in a Mother's Day post, but I'm guessing it won't even register on my Mother's radar screen. Dad…Mum's the word!)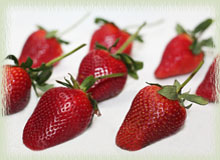 Speaking of cost effective, this recipe can be done as cheaply (or expensively) as you want. You can use regular size, run–of–the–mill strawberries from a grocery store (cheap), or huge, long–stemmed strawbs from farmers' markets (not so cheap). I found no difference in taste (as long as they're totally red), but found the larger ones to be more difficult to work with and not worth the extra cash.
As far as the chocolate goes, I always opt for the premium stuff (but it isn't necessary). The Wine Imbiber's mantra has always been, "Life is too short to drink cheap wine," and that's my attitude about low–quality chocolate. For the strawberries pictured here, I used E.Guittard chocolate wafers (dark chocolate) and Callebaut chips (white chocolate). I found the E.Guittard on sale ($7 for a one–pound box, down from $10) at World Market. I buy Callebaut "Callets" from Surfas, which also sells them online. They are priced more cost–effectively, but it is a chef/restaurant supply store, so you need to buy larger quantities. You can use Nestle's chocolate chips from a grocery store if you like for even greater savings; just make sure you buy real chocolate chips and not confectioner's coating. It, too, is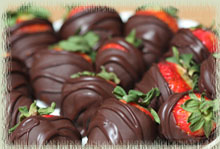 available in both dark and white, so be careful not to be tricked by the wording on the package. Confectioner's coating tastes nothing like good quality chocolate and I never use it for anything. Bleh!
I've seen recipes for chocolate dipped strawberries that also call for the addition of butter or cream. I've found that to be totally unnecessary. Other people have complained that the chocolate won't harden sufficiently with either of the additional ingredients, so I have never used them. As long as you temper the chocolate properly (check here and here for more info), you shouldn't have any problems. In fact, I find it is just as easy to melt the chocolate in a microwave oven. I use a small bowl for the dipping chocolate and a plastic bag for the decorating chocolate (cut the corner off the bag once the chocolate has melted and squeeze away). Just be careful not to over–microwave the chocolate (do it in 20–30 second increments and stir each time).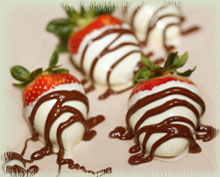 Pretty much all you need to make chocolate dipped strawberries is beautiful, fresh strawberries and high quality chocolate. You won't even need toothpicks or skewers (to stick in the strawberries for dipping purposes) or a piece of styrofoam (to hold the dipped strawberries upright). Everyday waxed paper accomplishes that task and might even add to the finished look of your strawberry (you can over–drizzle designs across the strawberries that will harden on the paper and remain attached to the strawberry once you peel the dipped strawberries off the waxed paper). Let your creative chocolate–doodling juices flow!
So, Anne and Dorothy; this one's for you! Happy Mom's Day! And don't forget…it really is the thought that counts!
WI wine recommendation: Champagne, of course! Nothing is too good for our Moms on Mother's Day!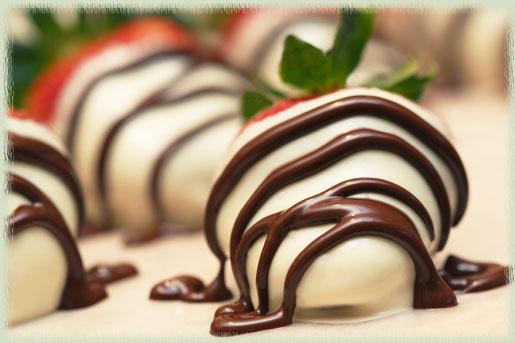 Chocolate Dipped Strawberries

16 ounces white, semisweet or milk chocolate
8 ounces of additional chocolate (for decorating)
1 pound very fresh strawberries with leaves

To create the look of the strawberries in the above photographs, you will need more white chocolate than dark. If the chocolate you are using is from a block or bar, chop it up. This will help it to melt more quickly and evenly. Melt it by either tempering it or melt it in a small bowl in a microwave oven (my preferred method). Don't forget to stir the chocolate into a smooth consistency during the melting process.
Take a strawberry and hold it by its green top. Plunge it into the bowl of melted chocolate so about 3/4 of the strawberry is covered.
Pull the strawberry from the chocolate, twisting it to catch the chocolate back onto the strawberry.
Briefly turn the strawberry upside down to settle the chocolate and then lay it on the waxed paper–lined cookie sheet. Repeat this procedure with the other strawberries, leaving an inch or two of space between each.
Once all of the strawberries have been dipped and placed on the sheet, move the sheet to the refrigerator so the chocolate will harden more quickly.
Melt the dark chocolate in a plastic bag in the microwave (follow the same procedure as you would with a bowl, but instead of stirring the chips as they melt, squish them in the bag). Once the chocolate is melted and smooth, snip off a small piece of one of the bag's corners. Now you're ready to stripe, squiggle or doodle away on your coated strawberries!
Note: It is best to serve the dipped strawberries the day you make them. Storing them in the refrigerator dries out the strawberries' green tops and also causes the strawberries to ooze juice (see the photo of the all–dark chocolate strawbs). They were in the fridge for only one day…definitely not the picture of freshness).
Serving suggestions: Place the strawberries on a paper doily–topped plate if serving as a dessert. If giving as a gift, put each strawberry in a foil cupcake liner (or paper candy liner if you have smaller strawberries) and line them up in a basket or decorative box (tap into your inner–Martha for this one).
Comments (7)
May 6, 2009 at 7:40 pm
Diana
said:
You know what sucks? Giving away chocolate covered strawberries. You know what also sucks – waiting for the chocolate to harden in the fridge before you eat them.

May 6, 2009 at 11:38 pm
Lynn said:
I love this idea! I think my mom will love getting chocolate covered strawberries. I don't know what Diana is talking about. These are so simple to make and they look great (and taste delicious, too!).

May 7, 2009 at 2:35 pm
darya
said:
Beautiful photo!!!!

May 7, 2009 at 2:56 pm
Eléonora
said:
Your blog is super. So are your photographies. They make me hungry. I have spent a nice moment when seeing them. Thanks a lot.

May 7, 2009 at 11:16 pm
Amrita
said:
Those strawberries look picture perfect! YUM!

May 8, 2009 at 7:18 am
Hillary
said:
Thanks for reminding us that simple is key! For some more Mother's Day brunch recipes, check out our Mother's Day meal planner!

May 18, 2009 at 9:44 pm
sandla
said:
Those strawberries look so delicious and perfect!