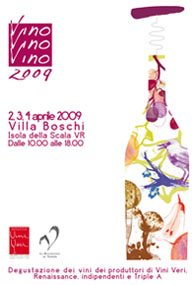 About two weeks ago, I wrote about the Vinitaly wine show that took place in Verona during the first week of April. In that post, I mentioned that our group spent Saturday morning at the Vini Veri Vino Vino Vino 2009 show featuring organic wines and foods. In fact, that show was co–hosted by the Vini Veri Group (formed in 2004) and La Renaissance Du Terroir (formed in 2001). Furthermore, to say that the show featured organic products is to give only part of the story.
This show was much, much smaller than the Vinitaly show, but the energy and enthusiasm of the exhibitors were more intense. The two hosting organizations share a passion for a way of farming and living that I am hesitant to label. Both groups have statements of their beliefs (one calls it their Charter of Quality; the other, its Manifesto). They differ in emphasis and detail, and no single term adequately describes them.
"Organic" farming is a term coined by Lord Northbourne in 1939 and it relies on certain farming procedures, including crop rotation, composting, biological pest control and mechanical cultivation. It excludes the use of synthetic fertilizers, synthetic pesticides and genetically modified organisms. Other terms used by various producers include "natural" farming and "biodynamic" farming. Natural farming is different from organic farming, although there is some overlap between the two. Masanobu Fukuoka, the father of natural farming, advocated a farming method that reproduced natural conditions as closely as possible. Though natural farming is generally "organic" in nature, it doesn't apply the science of organics to improve yield or control pests. It is sometimes referred to as "do nothing" farming in that there is no weeding, tilling or application of any pesticides or fertilizer (even organic ones).
Biodynamic farming (pioneered by Rudolf Steiner, who sought a synthesis of science and mysticism) includes organic agriculture's emphasis on manures and composts and the exclusion of artificial chemicals, but it also includes the use of fermented herbal and mineral preparations as compost additives and field sprays and the use of an astronomical sowing and planting calendar. The related concept of sustainable farming refers to the ability of a farm to produce food indefinitely, without causing severe or irreversible damage to ecosystem health.
This show advances an amalgam of these concepts and more. There are certification standards for organic products, but they vary from country to country. For wine, growing organic grapes is only a piece of the puzzle. Whether a wine is organic, natural, biodynamic, sustainable or some combination thereof, the processes used for growing the grapes and creating, bottling and storing the wine need to be understood carefully. Limits on the use of sulphur dioxide and exclusion of non-indigenous yeasts and bacteria during wine production are very important. Some guidelines even prohibit the use of mechanical harvesting and certain filtering and cold treatment techniques. As you can see, the classification of wines in this area is no simple task. Yet, the important point is that these producers, in general, ascribe to a philosophy that keeps the wine much closer to its grapes' natural state (color, bouquet and flavor) and, the reasoning goes, results in a truer expression of terroir or "sense of place". While American consumers are increasingly aware of the benefits of eating organic foods, they now seem to be realizing that organic wines are important, too.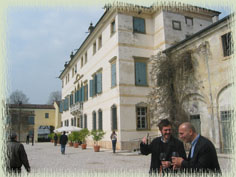 Which brings me back to the Vino Vino Vino 2009 show. Appropriately, the show's venue was Villa Boschi, a stunningly beautiful 16th century villa in a pristine pastoral setting just outside Isola della Scala, about a 30–40 minute drive from Verona. Approximately 150 wineries and a couple dozen food producers came together to exhibit the best of what Italian organic farming has to offer. We had limited time at the show, so we couldn't sample every wine and food product. Those we did taste were generally very good, with a fresh, honest taste, and some of those we tasted really shouted out to me.
Ezio Trinchero of Antica Azienda Agricola Trinchero from the Asti area of Piemonte poured a particularly good 2004 Trabic (100% Merlot) and 2005 Trinchero Grignolino d'Asti (100% Grignolino d'Asti). Faye Lottero of Fattoria Lavacchio from the Rùfina zone of Tuscany treated us to their wonderful DOCG Chianti (both their base wine and their Riserva), a delightful Vin Santo Riserva and one of the freshest, greenest extra virgin olive oils I have ever tasted (a four–olive blend with an herbacious flavor and a pepper aspect that starts after the oil has been on your palate for about 10 seconds and then begins to swell until the pepper takes over completely). Faye's family acquired Lavacchio (farm, lodging, ristorante and winery) in 1977 and rescued and restored it from a state of disrepair and neglect to become a producer of delightful wines, oils and cereals. Of course, we also enjoyed the wines produced by Dr. Alessandro Sgaravatti of Castello di Lispida—the Amphora Bianco (produced in underground amphoras, the way the Romans made wine), Montelispida (100% Merlot), Terraforte (a Sangiovese/Merlot blend) and his Brut and Rosato Spumante wines. (See our earlier post about Lispida's use of natural farming techniques.)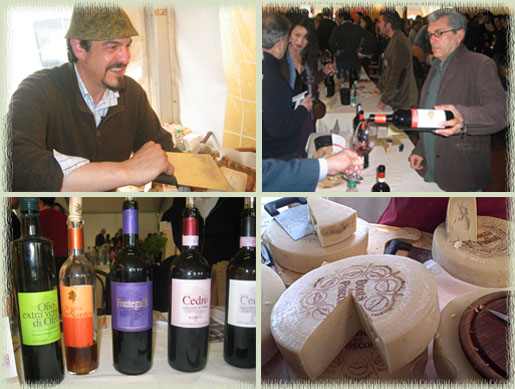 There were some wonderful organic foods at the show as well. One highlight was the cheese booth staffed by an animated fellow named Beppo for Rugo of Friuli. Among their fantastic cheeses was a pepper cheese that was so good we bought a round of it on the spot. (Historically, pepper was put in the cheese to keep mice away from the cheese.) There were also several exhibitors showing their organic rices, olive oils and farro (an ancient grain cultivated by the Romans from which all other grains derive). Farro is often confused with spelt, but it is different—you purists can check the label for triticum dicoccum to make sure you are getting the right stuff.
I heard a rumor that, for next year, there is some consideration being given to the idea of holding this show at the site of Vinitaly in Verona, but giving the wines and foods from this show their own pavilion to set them apart. If true, this would be a welcome development, because it would give these products greater exposure, but with the focus they deserve. Let's hope the show organizers are listening.