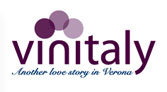 What happens when 45,000 professionals representing 4,200 exhibitors of Italian (mostly) wine and spirits meet up with more than 150,000 wine and food lovers for a five day bacchanal in a city that is the very symbol of romance? The answer—almost anything! This year's Vinitaly show (held April 2-6 in Verona) was entitled "The World We Love". Well, as they say, what happens in Verona stays in Verona, except what I (and about 2,400 other journalists from 50 countries) caught on camera. Of course, I can't share everything on the Internet—after all, I promised. Naturally, I was hard at work the entire time. It's a dirty job, but someone has to do it.
I hadn't made plans to attend the Vinitaly show. It was only a week prior to the show, as I was setting up meetings to take place in my absence at Vinitaly between some Italian winemakers and a US importer, that I received the call. "Hey, I was thinking, Rich, why don't you come to Vinitaly with us?" That was all it took to convince me and get my instincts to kick in. Ten minutes later, my flights were booked. Arriving in Milan on a rainy morning one week later, our group spent the first two days eating and drinking our way through a good chunk of Lombardia and a heavenly piece of Piemonte until we finally nested in the picturesque town of Bardolino on Lago di Garda, a mere 30–45 minute drive to Verona. Not a bad command post for our planned attack.
I don't sleep much on planes, and the group I was with (a mix of Americans and Italians) doesn't sleep much while in Italy (read: party time), so we were well into the swing of things when we arrived at Vinitaly on the second day of the show. The weather had cleared, so I took a long walk along Lake Garda early that morning to try to work off the wonderful dinner from the night before (which lasted until the wee hours of the morning), not remembering that you do a lot of walking at the show anyway. Vinitaly is the largest international wine exhibition in the world. There are about a dozen large convention hall buildings at the Verona Fiere (the show site), each representing one or more regions of Italy and housing about 91,000 square meters (about 980,000 square feet) of exhibition booths welcoming everyone to stop and taste from 9:30 a.m. to 6:30 p.m. daily (not counting the various conferences going on at the same time).




You need to choose a region to start you off (Toscana, for example) and work your way along. Italy is about relationships, so you stop and chat and swirl and sniff and sip and swish and, if you want to actually taste the wines and make it through the day, you spit (in a spit bucket, of course). Yet, you know you'll never get through everything at the show, so you need to choose your stops with some care.
We attended the show on Friday, Saturday afternoon and Sunday (we spent Saturday morning at the nearby Vini Veri Vino Vino Vino 2009 show featuring organic wines and food, but that's material for a future post). Over the course of the three days, I recorded notes on about 200 different wines and had a great time. The people are wonderful and most of the wines are pretty good—and many of them are very, very good. (A lot of them aren't available in the US, but hopefully some of them will be in the near future if the economics work out and if US distributors can see past the broader consumer market).
You don't need to worry about stopping for lunch at Vinitaly because there's a lot of excellent food (salumi, cheese, bread, fruit, vegetables) served as you taste the wines—remember, most Italian wines are meant to be enjoyed with the food of their regions, so many wineries use local foods to complement their wines—but you need to leave room for a long and leisurely dinner with friends each night and a lot of fine wine (and, at dinner, you definitely swallow the wine) and aged grappa. Then, off to bed for a few hours sleep before starting all over again. What a country!
On Monday morning, April 6th, we departed Lake Garda en route to Tuscany for two final days of winery tours and tastings. Earlier that morning, the terrible earthquake had rocked the area around L'Aquila, the capital of the Abruzzo region, about 120 kilometers (50 miles) northeast of Rome and close to the quake's epicenter. While we didn't feel the quake up near Verona, we shared the concern of everyone else around the world as the news of damage and death developed during the days to come. We saw firsthand how much the Italian people appreciated the concern and support expressed worldwide.
In upcoming posts, I'll give the details of some of the wine, winery, food and lodging discoveries I made throughout the trip. For now, however, I'll leave you with a little video and pictorial composition to whet your appetite. Ciao for now!