TJT: Strawberry Vanilla Cake with Limoncello Cream Cheese Frosting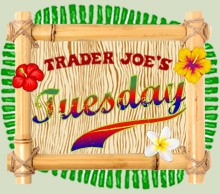 I love Trader Joe's baking mixes. I find the Vanilla Cake and Baking Mix to be their most versatile. I've used it for making coffee cakes, trifles and most recently, a frosted strawberry cake. With strawberries being at their juicy best right now, I wanted to bake something that would showcase their flavor. Since I still have a lot of Meyer lemons hanging on my tree (and a bottle of Limoncello in my freezer), I decided to use one of my favorite frosting recipes that I've previously posted. (You might still be able to find a few stray Meyer lemons at TJ's, but if not, go ahead and substitute regular lemons). At least you should have no trouble finding Limoncello in their liquor section.
Don't worry about the lemon flavor competing for attention with the strawberries in this recipe. The lemon actually enhances the strawberry flavor, making it taste like a mouthful of springtime. The vanilla cake creates a pleasantly neutral base that allows the fruit flavors to combine into a treat for the taste buds. I also appreciate the little vanilla specks that are visible throughout the cake, giving it an old–fashioned, home–baked appeal. No one will ever suspect this cake came from a box!
WI wine recommendation: A Champagne or sparkling wine pairs well with this cake, or just enjoy it with more Limoncello.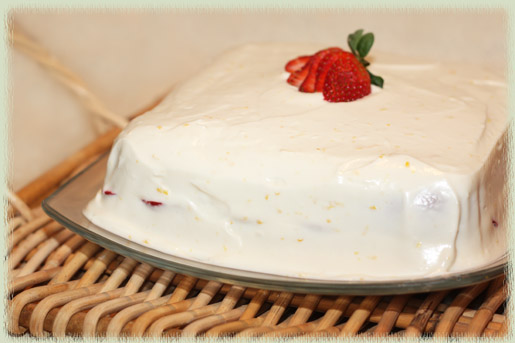 Strawberry Vanilla Cake with Limoncello Cream Cheese Frosting


Cake:
1 box TJ's Vanilla Cake & Baking Mix
(plus ingredients listed on box to complete recipe)
2 tablespoons Limoncello
Frosting:
16 ounces cream cheese, at room temperature
1/2 stick (4 tablespoons) unsalted butter
4 cups confectioners' sugar
1–1/2 tablespoons freshly grated lemon zest (preferably Meyer lemon)
1 tablespoon fresh lemon juice
2 tablespoons Limoncello
Fresh strawberries (as many as you like), hulled and chopped

Cake:
Mix cake mix and other ingredients listed on box together with the Limoncello. Pour into a well–greased pan and bake according to directions on box.
Remove baked (and cooled) cake from pan and place on serving platter. Using a long, serrated knife, carefully split the cake into two layers. Frost the cut side of the bottom layer.
Layer desired amount of chopped strawberries onto the frosted layer. Place the other cake layer (cut side down) on top of the strawberries.
Continue frosting the entire cake. Or, finish by frosting just the top of the cake for a more rustic look. Add a strawberry fan on top for decoration and you're done! Note: This cake should be refrigerated (due to the cream cheese in the frosting).
Frosting:
Beat the cream cheese and butter together with an electric mixer until softened. Add the sugar (one cup at a time), zest, juice and Limoncello and continue beating until creamy, about 3 minutes.
Comments (4)
April 28, 2009 at 8:28 pm
Diana
said:
You make your own limoncello – that's so cool. It's too cold in Ohio for those trees darn it. This cake sounds great. I love fruit in my cake.
Hey, my son's relay teams came in first for the 4X4 and the 4X2. How are your kids doing?

April 29, 2009 at 3:08 pm
Leah said:
Hey Diana…They're doing great. We're off to the semifinals this weekend. One of them is doing long jump and 4X2 and the other is doing 4X4 (the third one just missed qualifying). Finals next week (time for frozen dinners again!)

May 1, 2009 at 9:53 pm
Esi
said:
This looks really lovely and since I trust TJs boxed mixes, definitely looks like something I will have to try. The limoncello must add amazing flavor.

May 1, 2009 at 11:39 pm
Leah said:
Esi…You're oh so right about the limoncello adding amazing flavor. We've been known to use the leftover frosting as a dip for strawberries and other fruit (it's that good and very addictive).