Perfectly Good Easter Cookies
Our weekly giveaway winner for last week is Jessica. Congratulations, Jessica!


You can tell it's almost Easter when the candy aisles in grocery and drug stores turn pastel–colored. All the same candies from Halloween and Valentine's Day are available; only now they have chick and bunny themes printed on their wrappers. For me, it just wouldn't be Easter without Peeps, jelly beans, and my most favorite of all…Robin Eggs. I just love the different layers of flavor and texture you get with Robin Eggs. The crunchy candy–coating takes regular Whoppers to a whole new level. They come in different sizes and flavors now, so they make versatile baking decorations for Easter.
But enough about Robin Eggs. I'll be posting more about them after the holidays (when our house is overflowing with an excess of candy that is second in quantity only to trick–or–treat time). This week, I'm going to share a cookie recipe that uses another candy that is popular for holiday baking and is a variation of an old favorite—M & M cookies. This one is named Perfect M & M Cookies (and rightly so, I might add) as the person who created the recipe was looking to make a cookie with a perfect balance of crispy chewiness and chocolaty sweetness. The baking technique also creates perfect looking cookies as well. Check here to read more about them. These cookies have become one of my daughter's signature cookies (she baked the ones pictured here) and she likes to make them at Christmastime for gifts. No matter which holiday you adapt the M & M's to, they look and taste as perfect as their name states! Note: Be sure to read ALANNA'S TIPS and LATER NOTES in the above article for important instructions and useful ideas.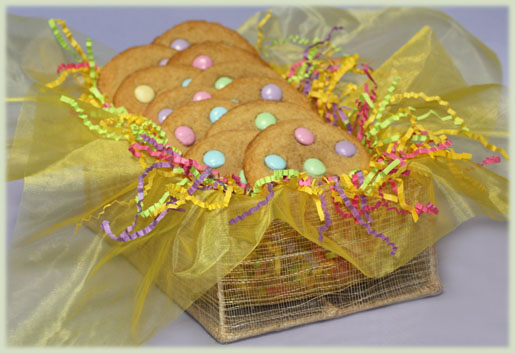 Perfect M & M Cookies
(adapted from kitchenparade.com)

2–1/4 cups all-purpose flour
1 teaspoon salt
1–1/8 teaspoons baking soda
1 cup (2 sticks) unsalted butter (room temperature)
1 cup white sugar
1/2 cup brown sugar, golden or dark
1 generous teaspoon vanilla
2 eggs (room temperature)
M & M's (about half a bag)
Preheat oven to 375° F.
In a small bowl, stir together flour, salt and baking soda. Set aside.
In a large bowl, cream together butter and sugars with an electric mixer until creamy. Add vanilla, then the eggs (one at a time), mixing well after each addition. Beat in flour mixture until fully combined. The dough will be very sticky, so we recommend refrigerating it until it stiffens up (about 5–10 minutes).
Spray a baking sheet with cooking spray (we use Silpats instead). Form dough into balls (a little smaller than golf balls) and space well apart on a baking sheet. These do spread (6 dough balls is the maximum we place on a sheet). We also use an ice cream scoop to measure out the dough and keep the cookies consistent in size.
Place sheet in oven for about 9 minutes. Remove the sheet and lightly place six M & M's (don't push them in!) on top of each of the partially baked cookies. Return the sheet to oven for another 3–5 minutes. The cookies are done when the edges just start to turn golden brown.
Remove from oven. Allow cookies to sit on sheet for 2 minutes before transferring them to a rack to completely cool.
Comments (2)
April 10, 2009 at 8:42 am
food librarian
said:
These look just like spring! They look very yummy.

April 13, 2009 at 10:16 am
Jeanette said:
Love M&M cookies! Like the idea of placing one candy per bite. They actually do look perfect that way!