Gru–Vee Chicken
This recipe appeared in Gru–Vee, Baby! on 06 Apr 2009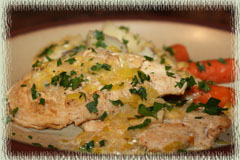 4–5 (2 lbs) boneless, skinless chicken half breasts
1–1/4 teaspoon salt
3/4 teaspoon pepper
3 tablespoons olive oil
3 tablespoons unsalted butter, divided
2 cups (about 4 medium) leeks
2 tablespoons finely chopped shallots
8–12 medium carrots, halved diagonally
1 cup Grüner Veltliner wine
1–1/2 lbs red potatoes, quartered
1/2 cup créme fraîche (or heavy cream)
Fresh lemon juice (1/2 lemon)
2 tablespoons Italian parsley, finely chopped

Preheat oven to 350° F with rack in middle.
Lightly pound chicken to about 1/4 inch thick (or cut in half lengthwise to make thinner). Pat chicken dry and sprinkle with 1 teaspoon salt and 3/4 teaspoon pepper.
Wash leeks and pat dry, making sure all sand and grit has been removed. Using only the white and pale green parts, finely chop the leeks.
Heat olive oil and 1 tablespoon butter in a 5–8 quart (at least 5) Dutch oven (or heavy ovenproof pot) over medium–high heat until foam subsides, then brown chicken in 2 or 3 batches, turning once, about 2–3 minutes per side. Transfer chicken to a plate.
Add leeks, shallots, potatoes and 1/4 teaspoon salt and remaining 2 tablespoons butter to pot and cook, covered, over medium–low heat, stirring occasionally, until leeks are pale golden, about 5 minutes. Add chicken, carrots and wine and boil until liquid is reduced by half (about 3–4 minutes). Cover pot and cook in oven until cooked through (about 20–25 minutes). (Note: You'll know it's done when you can easily pierce the potatoes with a fork.)
Remove chicken, potatoes and carrots to platter or plates. Stir crème fraîche into pot and season to taste with salt, pepper, and lemon juice. Pour sauce over chicken, carrots and potatoes. Top with parsley.
Note: I use boneless chicken because that's what our family prefers (but you could use a cut–up, bone–in chicken and add maybe 15 minutes to the cooking time).
WI wine recommendation: Obviously, this dish cries out for Grüner Veltliner wine. There are many good ones at all price points, so you can pretty much pick one up at the store at random and you'll be fine. In a pinch, you can substitute a Pinot Grigio or Pinot Gris or even a dry Riesling.