Gru–Vee, Baby!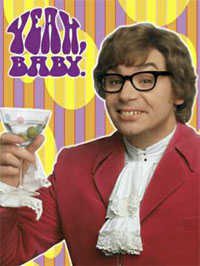 What is crisp, sometimes tart, European, exciting and currently taking the USA by storm? What is that international wine of mystery? It's Gru–Vee, baby (more formally known as Grüner Veltliner from Austria)! Not being Austrian (and even though we live pretty close to the Governator of California), I'm not an expert on its pronunciation. I've seen it suggested as "GROO-ner VELT-lee-ner" and "GREW-nuhr Felt-LEEN-her", so naturally, I think it is "GREW-nuhr VELT-lee-ner", but don't count on me. Maybe that's why people are referring to it simply as "Gru–Vee" (or sometimes "Gru–Ve"). The next time I run into AH-nold, I'll let you know for sure which pronunciation is correct.
Grüner Veltliner is the most commonly grown grape varietal in Austria, representing about 35–50% of their plantings. The Austrians, Swiss and Germans consume most of the Gru–Vee produced today, but America is quickly sucking up whatever is available on the market. If you like Pinot Grigio or Tocai Friulano (which Italians can no longer call Tocai as an earlier post explains), you'll love Grüner Veltliner, because it is also a fresh, medium–bodied, unoaked wine with vigorous acidity and a pleasant bouquet. Gru–ner is German for "greener", which matches the Gru–Vee grape. Gru–Vee is a very versatile, food–friendly wine. Like Tocai Friulano (or now Friulano or whatever), it is one of those rare wines that pairs well with asparagus and artichokes. It is a great wine to have on a warm day outside with some cheese, honey, nuts, olives and crusty bread with olive oil, and it is also terrific with sushi!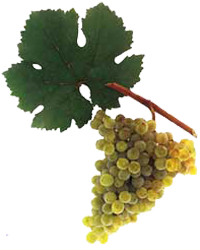 The Grüner Veltliner available in the US market today is very good and hits a wide range of price points. There are good ones around the $10 retail price point and several good ones in the $15-30 range. You can also find some at $70 and higher. As a very general rule, the higher the price point, the more complexity you usually find in the wine. But I have to tell you that Fred Loimer's 2007 Grüner Veltliner Lois at around $13 and Berger's 2007 Grüner Veltliner (a whole liter per bottle) at under $12 are quite good and priced well for the current economy. We've also enjoyed the Markus Huber's 2007 Grüner Veltliner Obere Steigen (which we found for around $17) and the Martin Nigl's 2008 Grüner Veltliner Kremser Freiheit (for around $19). My suggestion is that you go into your favorite wine shop and ask them what they have in the way of Gru–Vee. Then, pick up two or three bottles at different price points and give them a try. (If your shop doesn't know what Gru–Vee is, you are in the wrong place.)
So, what better to serve with a nice bottle of Grüner Veltliner than a dish based on the wine itself. I couldn't find a recipe that used Gru–Vee, so I decided to create one. The result was what I call Gru–Vee Chicken. To get there, I took some of the techniques of cooking Chicken Piccata and meshed them with some of the concepts from Coq au Vin. I love onions and garlic, but I decided to use leeks in the recipe because they come from the same family, but are milder and have an interesting aroma and taste that seem to match very well with this wine. The recipe below serves about six hungry people (that's what I have to deal with, but you can easily scale it down) and is actually pretty easy to make, taking no more than an hour from start to table. The aroma of the leeks wanders through the house and the flavor goes exceedingly well with a crisp glass of the wine. Try it and let us know what you think!
WI wine recommendation: Obviously, this dish cries out for Grüner Veltliner wine. There are many good ones at all price points, so you can pretty much pick one up at the store at random and you'll be fine. In a pinch, you can substitute a Pinot Grigio or Pinot Gris or even a dry Riesling.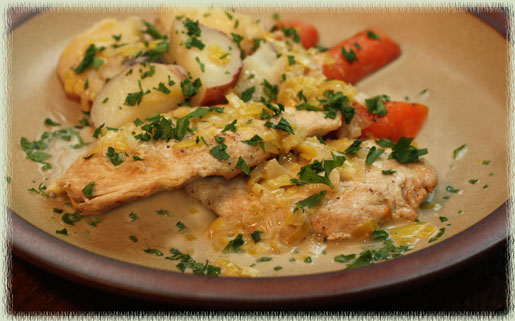 Gru–Vee Chicken

4–5 (2 lbs) boneless, skinless chicken half breasts
1–1/4 teaspoon salt
3/4 teaspoon pepper
3 tablespoons olive oil
3 tablespoons unsalted butter, divided
2 cups (about 4 medium) leeks
2 tablespoons finely chopped shallots
8–12 medium carrots, halved diagonally
1 cup Grüner Veltliner wine
1–1/2 lbs red potatoes, quartered
1/2 cup créme fraîche (or heavy cream)
Fresh lemon juice (1/2 lemon)
2 tablespoons Italian parsley, finely chopped

Preheat oven to 350° F with rack in middle.
Lightly pound chicken to about 1/4 inch thick (or cut in half lengthwise to make thinner). Pat chicken dry and sprinkle with 1 teaspoon salt and 3/4 teaspoon pepper.
Wash leeks and pat dry, making sure all sand and grit has been removed. Using only the white and pale green parts, finely chop the leeks.
Heat olive oil and 1 tablespoon butter in a 5–8 quart (at least 5) Dutch oven (or heavy ovenproof pot) over medium–high heat until foam subsides, then brown chicken in 2 or 3 batches, turning once, about 2–3 minutes per side. Transfer chicken to a plate.
Add leeks, shallots, potatoes and 1/4 teaspoon salt and remaining 2 tablespoons butter to pot and cook, covered, over medium–low heat, stirring occasionally, until leeks are pale golden, about 5 minutes. Add chicken, carrots and wine and boil until liquid is reduced by half (about 3–4 minutes). Cover pot and cook in oven until cooked through (about 20–25 minutes). (Note: You'll know it's done when you can easily pierce the potatoes with a fork.)
Remove chicken, potatoes and carrots to platter or plates. Stir créme fraîche into pot and season to taste with salt, pepper, and lemon juice. Pour sauce over chicken, carrots and potatoes. Top with parsley.
Note: I use boneless chicken because that's what our family prefers (but you could use a cut–up, bone–in chicken and add maybe 15 minutes to the cooking time).
Comments (2)
April 6, 2009 at 8:13 pm
Diana
said:
Well, not a very warm day outside today, but I will take a look around and see if I can find your gru-vee wine and maybe try out your chicken recipe. My husband loves anything chicken, so this would be a good choice.

April 20, 2009 at 6:09 pm
paty said:
Made this chicken dish for 9 adults (recipe and a half). I made it with chicken tenders, many had seconds. Because I almost doubled the recipe and had it in the largest casserole dish, the gravy settled to the bottom. The next time I would thicken the gravy with that amount so that it would stick to the veggies and the chicken pieces. Very nice flavor using the Lois Grüner Veltliner from Austria. Thanks for the recipe idea.