Gina
April 2009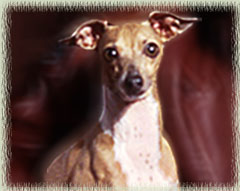 Gina of Palmaz Vineyards is quite a ham and loves the camera. Her demure smile and diminutive size, however, should not deceive you—she is quite demanding and has the whole Palmaz family wrapped around her little paw. Is she pampered? Dr. Palmaz, who founded the winery with his wife, has a dog bed mounted in the vineyard truck for Gina's comfort and Mrs. Palmaz is known to telephone home when out of town just to hear Gina's voice. Gina's most pressing needs are to be fed from the table and to stay warm. During the winter months, Gina can be found snuggled up in her hamburger bed near the fire. In summer months, Gina can be spotted sun bathing on the stones in front of the winery's cave.
Gina is an Italian Greyhound, which is the smallest of the sighthounds and is in the "toy" group of dogs because of their light weight. They are affectionate dogs and are very good with families, particularly children. They are fast, agile and athletic and also intelligent and mischievous. They are very good watchdogs, so beware if you visit the winery after closing hours. While Gina is clearly the favored canine at the vineyard, she has several canine friends who are also much loved—Fraiser the beagle (age 9), another Italian Greyhound named Nelson (age 6), and Petra the Black Russian Terrier (Petra won't reveal her age). Although Gina turns 8 years old this month and is a bit older than Nelson, the coveted "baby" designation is clearly reserved for Gina.
Many thanks to Florencia Palmaz for collecting the photos of Gina and helping us with her story. You can learn more about Gina, including her favorite wine, by visiting her personal webpage.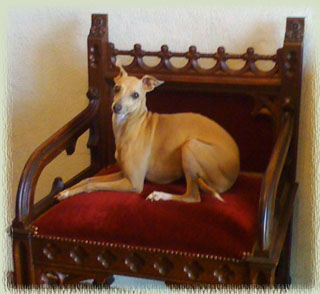 Gina on her throne.















Gina on guard duty at the winery.