27th Annual Vintners' Festival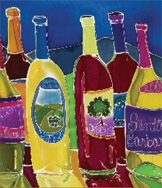 This past Saturday, April 18th, we made the trek up to Santa Barbara County for the 27th Annual Vintners' Festival, which took place from 11–4 pm at Lompoc's River Park. We left home early that day so we could visit a few wineries prior to the actual Festival. We stopped at some of our old favorites, including Melville (fantastic hors d'oeuvres with, among others, their 2008 Verna's Viognier and unoaked 2008 Clone 76 Inox Chardonnay—"inox" is French for "stainless steel") and Palmina (artisan Italian varietal wines, such as their 2007 Honea Vineyard Lagrein and many other greats, served with Italian meats and cheeses), as well as two that we had never visited—Roblar (a delightful 2006 Susich Syrah in a beautiful tasting room with an adjacent cooking school) and Rusack (a welcoming 2008 Rosé and 2006 Estate Syrah in a stunning vineyard setting)—though we had enjoyed some of their wines on earlier occasions. On a tip from a friend at Palmina, we also visited Nicolaysen Family Vineyards, a small–production winery that offers some delicious wines. More about that later, but first the Festival details.
This year's Vintners' Festival was as good as last year's in terms of wine and food, but the weather this year was absolutely perfect the entire day—clear skies, temperature in the 80's and a very slight breeze. More than a hundred local wineries and a host of local chefs and specialty food purveyors were on hand. This year, we decided not to progress methodically down the rows from one booth to the next. Instead (partly because we arrived a bit late), we primarily stopped at names we didn't instantly recognize so we could make some new discoveries. Of course, we did visit a few wineries that we've known for awhile. Still, we didn't get to visit every winery at the Festival.
One very interesting development was the growing number of wineries offering a Grenache at the Festival. Coincidentally, Dorothy J. Gaiter and John Brecher of The Wall Street Journal had published an article on Grenache just that morning, explaining that Grenache has historically been a blending grape, but a growing number of winemakers are now experimenting with Grenache to produce a varietal that can stand on its own. In their article, they mentioned a few Grenache wines being produced by Santa Barbara County vintners. While we were unable to find the ones mentioned in their article, we found some that were not mentioned (presumably because Dorothy and John didn't have those to taste). We particularly enjoyed the 2006 Grenache poured by Stolpman Vineyards and the 2005 Syrache (a Syrah/Grenache blend) that Ampelos Winery & Vineyards had on hand.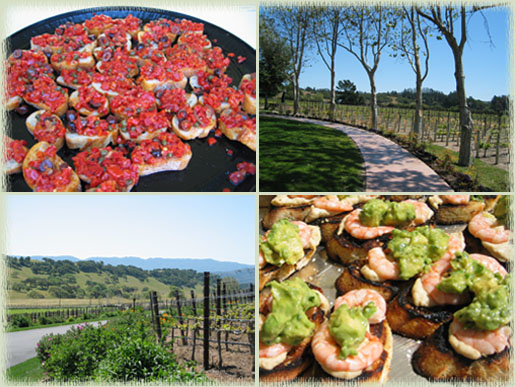 For us, the highlight of the Festival was artisan micro–producer Baehner Fournier Vineyards' barrel sample (complete with mini–barrel and wine thief) of their Solus 2007 Estate Grown Cabernet Sauvignon. Judging from the barrel sample, this one's another winner, following the success of their award–winning 2005 V3 (a Cab, Merlot & Petit Verdot blend that we first tasted at the Santa Barbara County Vintners' Fall Celebration of Harvest). We inquired about futures on the spot!
So, flash back to Nicolaysen Family Vineyards, the reason we arrived late to the Festival. Like Palmina, Nicolaysen is located in Lompoc's "wine ghetto"—a collection of sheet metal warehouse structures located between N. 7th and N. 12th Streets and Industrial Way near the intersection of Highways 1 and 246 in Lompoc (a stone's throw from River Park, the site of the Vintners' Festival). These warehouse structures have been subdivided into separate office and storage units that house a growing population of wineries and wine tasting rooms. Don't be fooled by the appearance or the unofficial name of the area. There are some very high–end wines coming out of this "ghetto", such as Brewer–Clifton (which has or at least had some space there), Palmina and others. It is also now home to the Nicolaysen tasting room.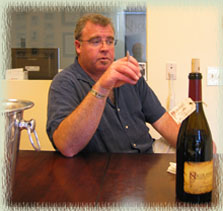 Bob Nicolaysen (a genuinely nice guy) greeted us as we entered his tasting room and poured the five wines he is currently offering—a 2001 Edna Valley Pinot Noir (200 cases produced), a 2002 Bien Nacido Vineyard Pinot Noir from G–block (100 cases produced; the T–block release is sold out), a 2001 Catherine's Vineyard Syrah (200 cases), a 2002 ALisos Vineyard Syrah (150 cases) and a 2002 Bien Nacido Late Harvest Pinot Blanc (375 cases). In short, they were all wonderful. Bob ages his wines until he feels they are approaching their peak for release (i.e., late release), which explains why you don't find more recent vintages on his current offering. Notably, for those who follow points, Robert Parker gave his G–block Pinot Noir 90 points, but we think it rates even higher. Also, even if you aren't a fan of dessert wines, you have to experience the Late Harvest Pinot Blanc. Bob's website is still pretty basic, but if you want more information, you can email him through his website and he'll gladly send you any information you need.
We were fortunate to drop by Nicolaysen when we did. Before our tasting was completed, the room was over–filled with eager tasters. The word had spread quickly, so don't wait too long to visit Bob and sample his wines. We had lingered a long time and so we were late to arrive at the Vintners' Festival. Next year, we'll have to leave home a little earlier!
Comments (4)
April 20, 2009 at 1:55 pm
Bettie Infante
said:
I love reading about your travels and festivals you attend. I only wish I would have known about them before you go. We too live in California and would like to know ahead of time about Festivals like the Vintners festival. May I suggest you list these events ahead of their happening? Love your website, very interesting blogs. Thank you,Bettie

April 20, 2009 at 2:06 pm
Rich
said:
Thanks, Bettie. FYI, while we don't have a "calendar" as such on our site (maybe we should), we do try to publicize events in our "SpotLight" box in our sidebar on the home page at http://www.wineimbiber.com. We did, in fact, have a notice there about the Vintners' Festival for a few weeks prior to the event. I guess this tells me we need to find a better way to notify folks. I know you are one of our email list subscribers (which other people can join from the entry box in the website sidebar). We can try to give email notices to our subscribers about upcoming events. We'll look into that. Thanks for the input. We appreciate it!
Rich

April 20, 2009 at 7:32 pm
Diana
said:
Sounds like a nice day and a nice experience. I don't live in California, so an email notice would only add to my inbox. I do like reading about your suggestions and trips though. Thanks for that.

April 20, 2009 at 10:19 pm
Rich
said:
Maybe the best thing is to have a prominent link to http://www.localwineevents.com/. People can use it to check on wine events in their area (or any area in which they are interested).