TJT: Flatbread Bianco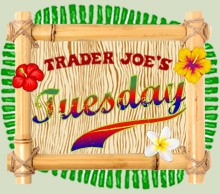 I've wanted to write this post for a long time. We've been enjoying Trader Joe's Garlic Parmesan Flatbreads since they were introduced. They are the equivalent of pre–baked pizza crusts (like Boboli) in my book, except I like this flatbread's texture better. They also taste great warm from the oven all by their lonesome or served with cheese and wine.
For this installment of TJ's Tuesday, I'm going to share my version of Pizza Bianco. I prefer to reduce my prep load by using frozen flatbread from you know where, so it will be easier than making a homemade pizza crust and just as easy as using a pre–baked crust. Since TJ's carries a multitude of convenience items (like shredded cheese and sliced meats and olives) you can slap one of these together in no time. Our kids have even mastered this recipe and have great artistic freedom with all of the prepared topping choices available at TJ's.
Bianco toppings are exactly as the word translates—white. Instead of slathering a tomato sauce foundation on the crust, a combination of white cheeses is used. One cheese that is almost always used is ricotta, which is wetter than the others that are mixed in with it. It helps meld all the cheeses together into a creamy base. Otherwise, the taste wouldn't be much different from a slice of bread topped with melted, stringy cheese.
There are many variations to this recipe—limited only by your own tastes and preferences. I once ran out of fresh basil while preparing this, so all I did was find my jar of TJ's prepared pesto in the fridge and spread a little of it on the flatbread before I layered on the other toppings. TJ's fresh produce department is brimming with all kinds of potential toppings right now. Heirloom tomatoes aren't usually available this time of year, but TJ's currently has mini heirloom tomatoes that are so colorful and flavorful that I just had to buy them for this recipe. I couldn't resist photographing them as they lay there waiting to be deployed to a flatbread crust!

I've made this with the flatbread straight from the freezer (still frozen) and also after totally defrosting it. In both cases, the baking time was the same in my oven. I used our new Cuisinart countertop Brick Oven, which has brick inserts built into the sides of the oven and a removable baking stone to intensify the brick oven cooking effect. It baked them perfectly, but I suggest you use the baking time I listed as a guide only as my little oven seems to bake things quickly.
WI wine recommendation: The mild white cheese in this recipe calls for a light to medium–bodied white wine, such as Sauvignon Blanc, Pinot Grigio, or Arneis. If you've never tried an Arneis (from either the Roero or Langhe zones of Piemonte, Italy), this is a prefect opportunity to do so. Palmina, a California winery, has a nice 2007 Arneis, Honea Vineyard Santa Ynez Valley for around $22. In the below–$20 range, the 2006 Porello Roero Arneis Canale (we haven't tried the 2007 yet) and the 2006 Pio Cesare Arneis Langhe are also nice.


Flatbread Bianco

1 package frozen Garlic Parmesan Flatbreads
1 cup ricotta cheese (TJ's version is traditional fresh ricotta)
1/2 cup fresh parmesan cheese, grated
1/2 cup mozzarella cheese, shredded
1/2 cup fontina cheese, shredded
2–3 tablespoons green onion, chopped
1 large shallot clove, thinly sliced into rings
1/2 cup black olives, sliced
1/2 cup mini heirloom tomatoes, halved
2–3 tablespoons fresh basil chiffonade
Freshly grated pepper to taste
Olive oil spray

Preheat the oven to 425° F.
Remove the flatbreads (2 per package) to a baking sheet. Combine the four cheeses and mix thoroughly.
Divide the cheese mixture in half and spread onto each flatbread.
Layer your choice of topping ingredients onto the cheese layer. I used shallots, tomatoes, green onion and basil for one flatbread and black olives, green onions and basil for the other. Note: I recommend putting the fresh basil shreds on the flatbread after it is removed from the oven (otherwise it gets too dried out during baking and the fresh–factor is lost). Grate fresh pepper on top. If you have any leftover shredded mozzarella or fontina cheese, you can sprinkle it on as a top layer if you like extra cheese.
Bake for 10–11 minutes (or until cheese is bubbly and just starting to brown).
Remove to board and cut into wedges.
Comments (4)
March 31, 2009 at 9:50 am
Hillary
said:
That pizza looks out of this world! I love the mini heirloom tomatoes. I'm so excited for tomato season here.

March 31, 2009 at 11:16 am
Jeanette said:
Love the baby heirlooms! Looking at that photo makes me anxious for summer to come so I can get some grown up heirlooms and make a caprese salad! Yum!

March 31, 2009 at 6:22 pm
Diana
said:
I'm so jealous, this is so delicious looking and we had some boring sandwiches for dinner. I would have preferred your pizza.

March 31, 2009 at 8:55 pm
Laura Flowers
said:
Those little tomatoes are so beautiful!!! I want to grow my own now.