Lotsa Lime & a Lil' Bit o' Lemon Loaf
This recipe appeared in Leprechauns, Tooth Fairies & the Easter Bunny on 16 Mar 2009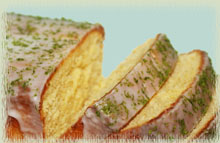 Loaf:
1–2/3 cup superfine sugar
1 cup of unsalted butter, melted & cooled
2 eggs
1 cup Greek style plain yogurt (or drained regular style)
1/4 cup lime juice
1–1/2 tablespoons lime zest
1 tablespoon lemon zest
2 cups all purpose flour
2 teaspoons baking powder
Glaze:
1–1/2 cups confectioners' sugar, sifted
1–1/2 tablespoons lime juice
1–1/2 tablespoons water
Lime zest

Preheat the oven to 325° F. Grease a 9 x 5 inch loaf pan and line the bottom with wax or parchment paper.
Put the sugar and butter in a bowl and beat with an electric mixer until combined. Add the eggs (one at a time) and beat until fully blended. Beat in the yogurt, lime juice and zest. Sift together the flour and baking powder and beat it into the batter until completely incorporated.
Pour the batter into prepared pan and bake for 1 hour and 15 minutes or until a skewer inserted in the center of the cake comes out clean. Remove pan from oven and allow the loaf to cool in the pan.
Meanwhile, make the glaze by mixing the sugar, lime juice and water together until smooth. If a thicker glaze is desired, add more sugar. To thin out the glaze, add a few drops of water.
Once loaf has cooled completely, remove from pan and place on serving plate. Drizzle the glaze over the top, collecting excess if it pools too much at the bottom of the loaf. You can then re–drizzle it on the top of the loaf. Sprinkle desired amount of lime zest on top to finish.