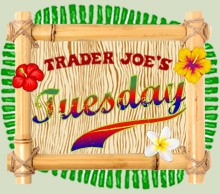 Things are hoppin' here at the Wine Imbiber! Did you notice the logo we designed for Trader Joe's Tuesday? I was inspired by the Unauthorized Commercial for Trader Joe's that I posted a couple of weeks back. If some guy can go out and film a commercial with his cell phone and write a song about TJ's, certainly we could pay homage by creating a look for our monthly TJ's Tuesday post. We've also added the logo to the sidebar for quicker access to the TJ's Tuesday archives. I've been getting great feedback on the recipes that I have posted so far for the column.
I'm amazed at how Trader Joe's products really inspire others to get creative in the kitchen (especially those who normally don't cook or bake). So now I'm extending an open invitation to anyone (bloggers and non–bloggers alike) who would like to share their original Trader Joe's recipes and discoveries. Remember, the concept behind Trader Joe's Tuesday is to share recipes that use ingredients available at TJ's, taking advantage of TJ's unique food products. Email your recipe (or a link to the recipe on your blog or website) by pasting it (the recipe or the link) into the contact form on our Contact Us page and we'll post the link or recipe in one of our upcoming TJ's Tuesday posts. I've really enjoyed sharing product–drool stories with others, and even discovered many items I never knew about. Hopefully, this offer will coax a few of you TJ's fans to contribute your stories so that more discoveries can be made by all of us.
Thanks to all of you who have been participating in our winery resource prize giveaway. Swirl, Sniff, Sip, Spit has nearly quadrupled in size since we began just a few weeks ago! We are really impressed with the unique wineries and tasting experiences that people have been submitting. Our vision for the resource has really come to fruition, and we hope you will all continue to "support the cause" with your submissions and by telling others about it. We are in the process of putting together a more extensive prize list that winners will be able to choose from, so be on the lookout for our new and enlarged weekly prize giveaway in the coming weeks.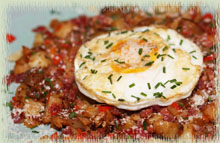 In the meantime, I am dedicating this installment of Trader Joe's Tuesday to a recipe that fits the subject matter of this week's prize—hangovers. I suspect most everyone out there has experienced at least one hangover in their lifetime. Whether it was too much beer at a fraternity party or cheap champagne at your cousin's wedding, hangovers suck. Wine tasting doesn't exactly promote responsible drinking either, especially since most people don't pay attention to the last step of the four "S's" of wine tasting: Swirl, Sniff, Sip, Spit. I know, it's hard to spit when you're tasting a good wine. So, for those wine tasting tours where you discovered more good wines than bad, I offer this recipe. It brings me back to the days when groups of tired, bleary–eyed college students could be found gathering at local dives and cafes wolfing down anything made with eggs or potatoes.
WI wine recommendation: A Bloody Mary is really the only true way to go on this one! Trader Joe's offers a variety of vodkas and also its own brand of Bloody Mary mix.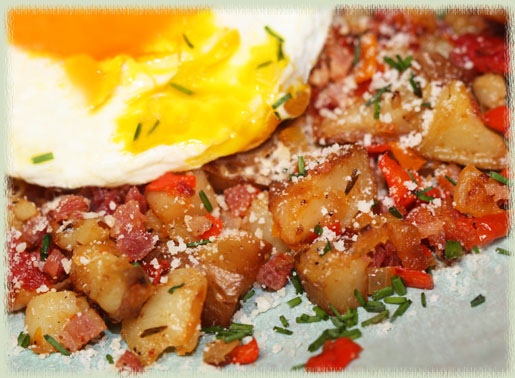 Egg–Topped Hangover Hash (Italian Style)

One 4–ounce container pancetta (mini–cubes)
3 minisweet bell peppers (red, yellow, orange), diced
1/2–1 cup diced onion
1–2 tablespoons Trader Joe's julienne sliced Sun–Dried Tomatoes, roughly chopped
4 frozen Home Browns (skillet–ready potato patties), defrosted and cut into cubes (or 1–1/2 cups cubed red potatoes)
Freshly grated parmesan cheese
Finely chopped chives
2 eggs

Fry the pancetta in a pan over medium–high heat. Cook until most of the fat has been rendered. Be careful not to make it too crisp or it will become hard and chewy. Remove the pancetta from the pan and set aside. Drain most of the fat from the pan, leaving just enough to sauté the peppers, onion and tomatoes.
Add the vegetables to the pan and sauté until onions are translucent and the peppers and tomatoes have softened slightly.
Add the potatoes to the pan and continue cooking for 5–6 minutes. Note: I used some leftover red potatoes that were tossed in olive oil, garlic and fresh rosemary and then oven–roasted. Trader Joe's offers many kinds of potatoes that can be used in this recipe (including the fresh reds I used). The Home Browns are the easiest to use, but they also have garlic fries in their freezer section that can be defrosted and cut–up just like the Home Browns. You can easily control the garlic flavor (if you choose to use it) as it comes in a separate packet.
Just before the potatoes have browned to your liking, add the pancetta back to the pan and stir. Cook for 1 minute longer.
Meanwhile, fry the eggs any style you want. Remove the hash to serving plates and top first with the eggs, then the grated parmesan cheese and chopped chives. Serve immediately.
Trader Joe's has some great items in their freezer section that are perfect accompaniments for breakfast dishes. Try their buttermilk biscuits or mini–croissants. You won't be disappointed!