Napoleon
February 2009
Napoleon holds court with his older female friend, Lola, at the charming 16th century farmhouse on the countryside estate of Podere Terreno in Volpaia, right in the heart of the original Chianti Classico zone of Tuscany, Italy. Napoleon and Lola start barking whenever a car approaches the house, but drop their defenses as soon as they recognize the appproaching guest. We experienced their welcome greeting when we visited Podere Terreno and instantly fell in love with them and their wonderful Chianti Classico wine.
Napoleon is only two years old, but clearly in command. He is a Bolonese, a member of the bichon dog family, named after the city of Bologna, Italy, and thought to have descended from bichon–type dogs in southern Italy, around the 11th or 12th century. Bolonese dogs were featured in the paintings of Goya and Titian and, historically, were popular companions for royal families, particularly for a young princess. Perhaps, that is why Napoleon was a wedding gift to Frederica, the wife of Francesco, who operates the estate with his parents. This past year, Napoleon has a new princess to care for—Jacqueline, the first child of Frederica and Francesco. We are sure he is up to the job!
Podere Terreno sent us the additional pictures below (taken by one of their guests from France), for which we are very grateful. We provided the captions.







Napoleon strikes a ferocious pose.












Napoleon & Lola inspect the grounds.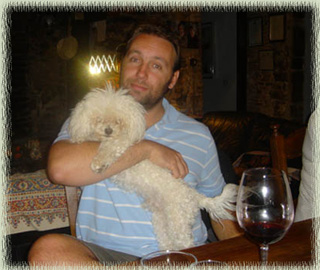 Napoleon stops Francesco from drinking his Chianti too quickly.










Napoleon stands guard while Lola rests.








To learn more about Podere Terreno, read Our First Day in Chianti.
Comments (1)
February 2, 2009 at 8:12 am
pierfrancesco said:
Fantastic work my dog it's so funny….. thank you from Napoleon and Francesco.