Iced Lavender Lemon Tea Cookies
This recipe appeared in Happy V–Day! on 13 Feb 2009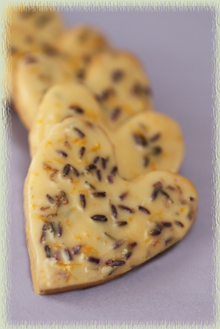 Cookies:
1 cup unsalted butter, at room temperature
3/4 cup confectioner's sugar
1/4 teaspoon lemon extract
1–1/2 tablespoons freshly grated lemon zest (about 2 large lemons, preferably Meyer)
1/8 teaspoon salt
1/3 cup cornstarch
2–1/2 cups all purpose flour
2 tablespoons dried lavender flowers
Optional: Colored sugar for decorating
Icing:
1 cup confectioner's sugar
3 teaspoons dried lavender flowers
2 teaspoons freshly grated lemon zest (about 1 large lemon, preferably Meyer)
1–2 tablespoons lemon juice

Cookies:
Cream together the butter and confectioner's sugar until smooth. Mix in the lemon extract and zest. Set aside.
Sift together the salt, cornstarch and flour. Add this to the butter mixture and stir until the flour coats the butter but isn't completely worked in. Add the lavender flowers.
Using your hands, lightly rub the ingredients together until the mixture is no longer dry. You will know it's done when it forms easily into a dough ball. Try not to overwork the mixture or you will end up with tough cookies.
Flatten the dough out into a disc and place in a plastic re–sealable bag. Refrigerate for 30 minutes (or up to three days).
Preheat the oven to 325° F.
Take the fully–chilled dough and place it on top of a piece of parchment or a Silpat. Using a rolling pin, roll the dough out to a thickness of 1/4 to 1/3 inch. Cut into desired shapes with cookie cutters. (This dough barely spreads, so don't worry about leaving a lot of space between each cookie.) Remove the scraps from between each cookie and re–form into a flat disc. (If dough has become too soft or warm, re–refrigerate it for a few minutes before attempting to roll it out.) Note: If decorating the cookies with colored sugar, sprinkle it on now (after you've cut the dough into shapes and removed the dough scraps).
Lift up parchment paper or Silpat and place on top of cookie sheet. Transfer sheet to upper third of oven and bake for about 15 minutes (or until the edges of the cookies just start turning golden on the edges). Allow to cool before icing. If you already decorated the cookies with colored sugar, you won't need to ice them (although I did both to some of my cookies and they turned out extra–special!).
Icing:
Whisk together first three ingredients. Start mixing in lemon juice by using one tablespoon at first, then continue adding in only enough to produce a smooth, fluid icing.
It is easiest to ice the cookies by dipping the tops into the icing and turning them over onto a wire rack (that has a paper towel under it to catch the drips). You can also sprinkle colored sugar on top of the icing at this point. Don't wait too long or the icing will dry and the sugar won't adhere.

WI wine recommendation: A Champagne or sparkling wine pairs best with these cookies. We enjoyed them with a bottle of Bailly Lapierre's Crémant de Bourgogne Brut Réserve sparkling wine.
Comments (1)
August 6, 2009 at 10:31 am
kimberleyblue
said:
wow, these are sooo beautiful! and they sound absolutely delicious – i can't wait to try them!