Egg–Topped Hangover Hash (Italian Style)
This recipe appeared in Trader Joe's Tuesday on 24 Feb 2009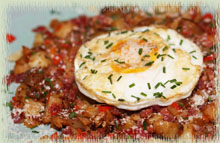 One 4–ounce container pancetta (mini–cubes)
3 minisweet bell peppers (red, yellow, orange), diced
1/2–1 cup diced onion
1–2 tablespoons Trader Joe's julienne sliced Sun–Dried Tomatoes, roughly chopped
4 frozen Home Browns (skillet–ready potato patties), defrosted and cut into cubes (or 1–1/2 cups cubed red potatoes)
Freshly grated parmesan cheese
Finely chopped chives
2 eggs

Fry the pancetta in a pan over medium–high heat. Cook until most of the fat has been rendered. Be careful not to make it too crisp or it will become hard and chewy. Remove the pancetta from the pan and set aside. Drain most of the fat from the pan, leaving just enough to sauté the peppers, onion and tomatoes.
Add the vegetables to the pan and sauté until onions are translucent and the peppers and tomatoes have softened slightly.
Add the potatoes to the pan and continue cooking for 5–6 minutes. Note: I used some leftover red potatoes that were tossed in olive oil, garlic and fresh rosemary and then oven–roasted. Trader Joe's offers many kinds of potatoes that can be used in this recipe (including the fresh reds I used). The Home Browns are the easiest to use, but they also have garlic fries in their freezer section that can be defrosted and cut–up just like the Home Browns. You can easily control the garlic flavor (if you choose to use it) as it comes in a separate packet.
Just before the potatoes have browned to your liking, add the pancetta back to the pan and stir. Cook for 1 minute longer.
Meanwhile, fry the eggs any style you want. Remove the hash to serving plates and top first with the eggs, then the grated parmesan cheese and chopped chives. Serve immediately.
Trader Joe's has some great items in their freezer section that are perfect accompaniments for breakfast dishes. Try their buttermilk biscuits or mini–croissants. You won't be disappointed!
WI wine recommendation: A Bloody Mary is really the only true way to go on this one! Trader Joe's offers a variety of vodkas and also its own brand of Bloody Mary mix.