Rex
January 2009
We first met Rex in June 2008 on the picturesque grounds of Ciacci Piccolomini D'Aragona in the Montalcino area of Tuscany, Italy. We contacted Ciacci this past November to ask if we could honor Rex as an upcoming "Wine Dog of the Month", only to learn that he had very recently passed away. So, we decided to begin 2009 with this tribute to Rex and his guardian, Lucia, who provided us with the story of Rex.
Rex was born 12 years ago with his four siblings, Nikita, Oscar, Chicca, and Lupin. His parents, Drago and Margot, were Lucia's two German sheperds. Rex was always very reserved and very kind, even when he asked for his "portion" of cuddles. After 8 years of "village life", Lucia, Rex and the rest of the family moved to the countryside where Rex accepted the job of the Ciacci cellar's night watchdog, together with Lucia's two Czechoslovakian wolfdogs, Lapo (4 years old) and Priska (1 year old). Rex really enjoyed wandering around the property, but he never crossed the gate! He always happily welcomed the winery's guests, but only those who visited during the day. Rex only had one dubious habit—he used to mark every single car!!! (Perhaps, he had watched the parking police during his days in the village.) Rex passed away with the same kindness and discretion that characterized his life. Lucia expressed it well by saying, "Thank you, Rex, for how much you gave us without pretending anything."
Ciacci sent us the first three of the additional four pictures below, for which we are very grateful. We provided the final picture and the captions.






Rex in the winter snow.













Rex romping with his friend, Lapo.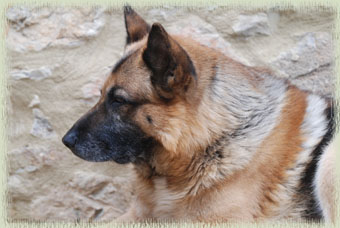 Rex strikes his regal pose.











Rex discreetly guards the winery entrance.









Comments (1)
January 1, 2009 at 2:09 pm
food librarian
said:
What a sweet dog. Sorry to hear he has passed on…I'm sure he is in doggie heaven running around.
Wishing you a Happy New Year!