The Art of Food & Wine (part 1)
In a previous post, we mentioned that we had just returned from The Art of Food & Wine Palm Desert which took place November 6–9 at the Desert Springs JW Marriott Resort & Spa in California's Coachella Valley. Leading chefs, sommeliers, winemakers, food purveyors and artists came together for an event that took the wine and food festival concept to another level entirely. We promised a series of posts about the festival, and this is the first in the series.
We left Los Angeles early on Friday afternoon as our schedule didn't permit us to attend the Thursday evening "Food Flight" featuring local chefs and bartenders or the Friday morning outings—shopping, art exhibition and golf tournament. We did arrive in time to check in, enjoy an early dinner and attend the Friday evening "Sweet Dreams", featuring a host of decadent desserts, champagne and specialty beverages.
The centerpiece of the extended weekend is the Grand Tasting event—two days of upscale food and wine tastings and seminars presented by master sommeliers and celebrity chefs—from 11am–4pm on Saturday and Sunday. A giant corkscrew sculpture (which seemed about 8 feet tall) met us at the entrance to the event and set the tone for the day. The weather Saturday was picture perfect late autumn desert climate—warm, dry and inviting. A series of large tents cover the various wine and cooking seminars taking place throughout each day, while the main tent houses several rows of upscale food, merchandise, wine and other beverage samples, with background music provided by a live band. The main tent became our base camp, and we periodically wandered over to the other tents to attend a seminars on topics including wines from Tuscany, matching wine with spicy food and discovering new grapes and regions with a panel of master sommeliers. We also caught cooking demonstrations by a range of celebrity chefs, including Sara Moulton, Rick Tramonto and Benjamin Ford, and a seminar on creating food art by John Gargone. We wanted to attend some other programs, but there was just too much to experience in the available time; and we just had to spend some time gorging on the hundreds of food and wine samples being offered in the main tent.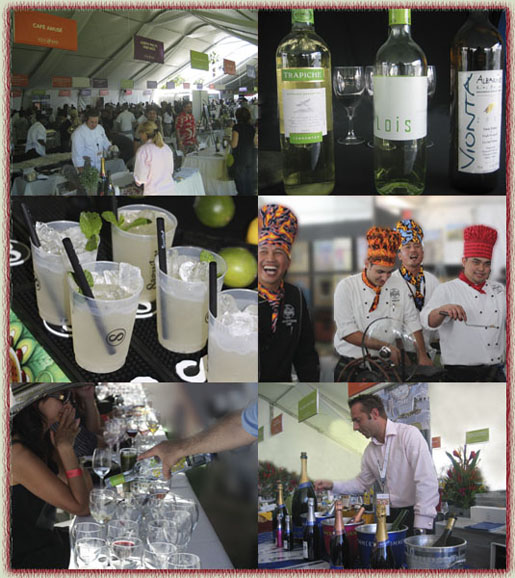 The event manager did a wonderful job of intermingling the food, wine and merchandise purveyors, so we rarely had an empty glass or plate in hand. As you can see from the pictures (which only show a handful of samples), the food was beautifully presented and really quite good.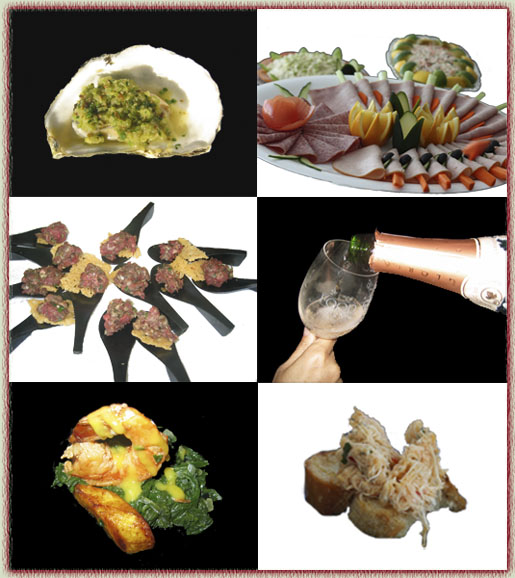 The Friday night "Sweet Dreams" event featured more beautiful and delicious treats for the eye and palate than we had a right to expect. The pictures only show a few of our favorites. We enjoyed the event so much, we couldn't bring ourselves to attend the after&#8211party at the nightclub next door (although, by then, we certainly could have used the exercise).

In 2006, the City of Palm Desert set out to produce a high–quality art, food and wine festival, while spotlighting several of the attractions that make Palm Desert unique. The idea was to create a signature event that would attract visitors from all over the country and, ultimately, become the premier food and wine festival on the West Coast. This year's event attracted nearly 5,000 people, of which over 25 percent were from outside California (some from outside the USA). The Saturday Grand Tasting event alone drew nearly 1,300 people; Sunday attendance was a little lighter due to travel schedules and some early morning clouds that might have scared off some people who don't realize that the desert weather can change quickly. Overall festival attendance was up nearly 30 percent from last year (recession—what recession???).
The City of Palm Desert handled the event on its own in 2006, but invited an event manager to attend and offer suggestions to improve the four–day festival. The City selected KemperSports (a marketing agency and golf management operation affiliated with KemperLesnik) as their event manager and marketer for the past two years, and that turns out to have been a wise decision in our opinion. The event marketing was tastefully done. The festival activities flowed well and provided a good fit for people of varying interests. The events were well–attended, but not uncomfortably crowded. The seminars were fun and educational. The cooking demonstrations were inviting and interesting. A highlight for us was talking at length with some of the celebrity chefs—the subject of a future post.
We highly recommend this annual event. The 2009 Art of Food & Wine Palm Desert is scheduled for November 5–8, 2009, and we've already put it on our calendar.
See also The Art of Food & Wine (part 2) (our interview with Chef Rick Tramonto) and The Art of Food & Wine (part 3) (our interview with Chef Sara Moulton).
Comments (1)
December 18, 2008 at 1:02 am
Reny said:
Wow! I can't believe I live in S. Callie and I've never heard of this event. It looks/sounds like something my friends and I would love to attend. Maybe next year!