Crispy, Crunchy & Nutty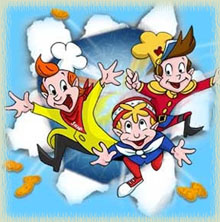 No, these aren't the names of Santa's elves. They're another category of cookies that I'm baking this year. I'll bet Santa likes finding these types of cookies left out for him the most on Christmas Eve. They are perfect for dunking in milk or hot cocoa or just stuffing in your mouth whole.
I'm trying three new recipes this year. The first one is in honor of our trip to Italy this past summer. Pignoli Cookies, also known as Pine Nut Cookies or Pignoli Amaretti Cookies, are traditional Christmas treats in Italy. The predominant flavor of this cookie is almond; the texture comes from the pine nuts.
Almond paste (not marzipan—see this for more details) is used for the cookie base with very little flour added. I've seen other recipes that don't use any flour or ground up pine nuts in the dough, which I'll be trying next time for comparison. The recipe I used was from Martha Stewart. I figured that she (or someone on her staff) always does her recipe homework before releasing a recipe to the public. It wasn't until after I made these that I discovered the other versions, which seemed to be more authentically Italian. Don't read me wrong…Martha's version was quite good. I love almond–flavored things and pine nuts are one of my favorite types of nuts. So these hit the spot for me. A few words of warning when making these: The dough is very sticky (keep your hands slightly wet when rolling the dough into balls) and be careful not to over–bake these (the pine nuts will become bitter–tasting). I found 20 minutes baking time to be way too long (8–10 minutes was enough in my oven).
Triple–Chocolate Cranberry Oatmeal Cookies are like a fruit–enhanced deluxe chocolate chip cookie. The fresh (not dried) cranberries lend tartness to the cookie that contrasts nicely with the three varieties of chocolate chips. In fact, I liked the flavor so much that I'm going to up the cranberry quantity next time I make them. Option: Cut the cranberries in half and press three or four halves onto the tops of the cookie dough balls (instead of mixing them into the dough). The redness of the cranberries will show more prominently this way. I also added orange zest to complement the cranberries. To make the chocolate drizzle more easily, I added a touch of coconut oil. It also gave the white chocolate a subtle coconut flavor that I really liked. A sprinkling of coarse decorating sugar adds extra crunch and color. These cookies really have it going on in both the flavor and texture departments. If you bake them for the right amount of time, they turn out both crunchy and soft.
Almond Shortbread Wafers is a recipe that was created by Kellogg's kitchen. It's basically a shortbread recipe with Rice Krispies cereal added. I don't know if the addition of the cereal to this recipe really added any extra crispness to these cookies, but they were nice and crisp. I chose to cut them into star shapes instead of circles and dip my cookies in the chocolate (rather than drizzle) for a more interesting look. Glitter sugar sprinkled on top of the chocolate makes them sparkle! Both white and semi–sweet chocolate work well. I didn't need the shortening since I was dipping instead of drizzling.

For more holiday cookie ideas from around the world, check out Food Blogga's Eat Christmas Cookies event. Check out the roundup page for some pretty incredible–looking cookies.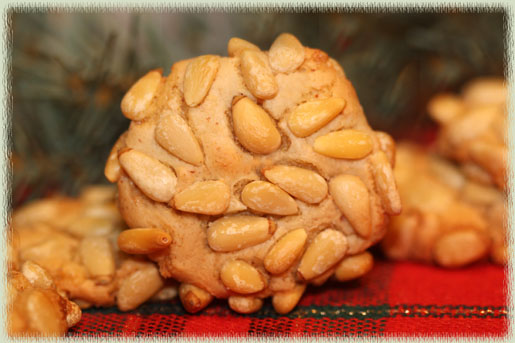 Pignoli (Pine Nut) Cookies
(from MarthaStewart.com)

2 cups pine nuts
1 cup confectioners' sugar
1/4 cup almond paste
1 teaspoon pure vanilla extract
1 large egg
1/2 cup all–purpose flour
1/4 teaspoon baking powder
1/4 teaspoon salt

Preheat oven to 350° F. Process 3/4 cup pine nuts, the sugar, almond paste, and vanilla in a food processor until fine crumbs form. Add egg; pulse to combine. Add flour, baking powder, and salt; process just until dough comes together.
Roll dough into 3/4–inch balls. Roll balls in remaining 1–1/4 cups pine nuts, gently pressing to coat. Space 2 inches apart on parchment–lined baking sheets.
Bake until cookies begin to turn golden brown, about 20 minutes. Let cool completely on sheets on wire racks.


Triple–Chocolate Cranberry Oatmeal Cookies
(from epicurious.com)

1 cup all purpose flour
1/2 teaspoon baking soda
1/2 teaspoon cinnamon
1/4 teaspoon salt
10 tablespoons (1–1/4 sticks) unsalted butter, room temperature
1/2 cup sugar
1/2 cup (packed) golden brown sugar
1 large egg
1 teaspoon vanilla extract
1 cup old-fashioned oats
1/2 cup semisweet chocolate chips
1/2 cup milk chocolate chips
1/2 cup white chocolate chips
1/2 cup coarsely chopped fresh or frozen cranberries
2 ounces milk chocolate or white chocolate, chopped (for drizzling)

Position rack in center of oven and preheat to 350° F. Line 2 large rimmed baking sheets with parchment paper. Whisk flour, baking soda, cinnamon, and salt in medium bowl to blend. Using an electric mixer, beat butter and both sugars in large bowl until smooth. Beat in egg and vanilla.
Add flour mixture and oats and stir until blended. Stir in all chocolate chips and cranberries.
Drop batter by rounded tablespoonfuls onto prepared sheets, 2 inches apart. Bake cookies, 1 sheet at a time, until edges are light brown, about 16 minutes. Cool on sheets 5 minutes. Transfer to rack; cool completely.
Stir chopped milk chocolate in top of double boiler until melted and smooth. Using small spoon, drizzle melted chocolate over cookies in zigzag pattern. Let stand until milk chocolate sets, about 1 hour. (Can be made 2 days ahead. Store in airtight container at room temperature.)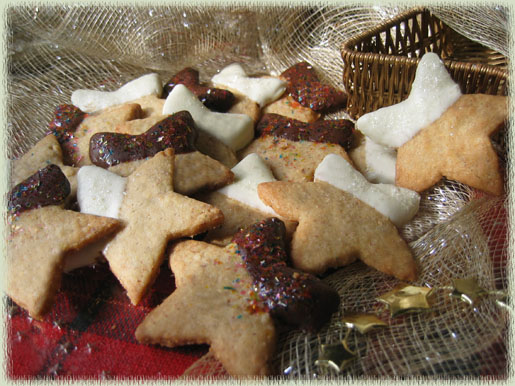 Almond Shortbread Wafers
(from allrecipes.com)

Wafers:
1 cup butter, softened
2/3 cup sugar
1 teaspoon vanilla
1 1/2 cups all-purpose flour
3/4 cup crushed Kellogg's Rice Krispies cereal
1/2 cup ground almonds, toasted
Drizzle:
1 cup semi-sweet chocolate morsels
1 tablespoon shortening

To toast the almonds, spread them evenly on a baking sheet. Bake at 350° F for 5–10 minutes or until light golden brown, stirring once or twice. To grind the almonds, place the cooled toasted almonds in a food processor bowl. Cover and process until finely chopped. Stop processing before the mixture forms a paste.
In large mixing bowl beat butter, sugar and vanilla on medium speed of electric mixer until creamy. Reduce speed to low. Add flour, Kellogg's Rice Krispies cereal and almonds. Beat until combined.
On lightly floured surface roll dough, one half at a time, to 1/8–inch thickness. (Keep remaining dough refrigerated until needed.) Cut with 2–inch round cookie cutter. Place on ungreased baking sheets.
Bake at 375 ° F for about 7 minutes or until edges begin to brown. Transfer to wire rack. Cool completely.
In small saucepan combine chocolate morsels and shortening. Cook and stir over low heat until melted. Place in cake decorating bag fitted with straight tip or in plastic sandwich bag.
Cut off small corner of plastic bag, if using. Pipe or drizzle designs of various holiday shapes, over cooled cookies. Let stand until set. Store in airtight container.
Comments (3)
December 20, 2008 at 8:46 am
food librarian
said:
Happy Holidays! I love the pignoli cookies! Super duper yummy. All your cookies look great.

December 21, 2008 at 4:36 am
Susan from Food Blogga
said:
I adore pignoli cookies. They're so easy to make and so unbelievably delicious. Yours look perfect! Thanks for sharing.

December 21, 2008 at 5:13 am
susan
said:
All your cookies look terrific- but your pignoli are perfect. I can almost taste it. I have to try to make that cookie even if it's after Christmas!