December 2008
Alba romps the spacious grounds of Castello di Lispida in the vicinity of Monselice (near Padova) in the Veneto province of Italy with her young companion Blanco. Alba, at ten years old, is a pure Labrador Retriever and Blanco, at one year old, is equal parts Golden Retriever and Bernese Mountain Dog. The history of these two dogs is intertwined with the romantic history of Lispida's owner, Dr. Alessandro Sgaravatti, and his wife, Domizia. They met on the Internet and agreed not to exchange photos of themselves ahead of their first meeting in person, but they did share photos of their dogs, for whom they shared a passion. When they finally met in Padova in 1999, Alessandro brought Alba along and Domizia brought Alice (Blanco's mother) as well. It turns out that the dogs fell in love and so did their keepers. Now you know for sure why a dog is man's best friend!
Alba and Blanco love to swim in the lake to fend off those warm Italian summer afternoons. But life is not all about playtime for these two winery dogs. They also contribute to the winemaking process. Both Alba and Blanco love to eat grapes before the harvest. So, Alessandro always asks them if it's the right time to begin picking the grapes. Judging from Lispida's recent releases, these dogs know their grapes!
To keep things interesting, Lispida has a new canine arrival—a Labrador Retriever named Uva (Italian for "grape"), five months old. From the sound of her name, we can expect some more great wines from Lispida in the coming years.
See the story of our visit to Lispida in June 2008.
Lispida sent us the picture above and the additional pictures below, for which we are very grateful. We provided the captions.







Alba & Blanco at play.














Alba returns from a swim in the lake.












Alba, Blanco & Uva take a break from their winery duties.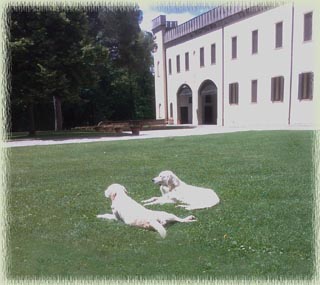 Alba & Blanco sun themselves in front of the castello.









To learn more about Castello di Lispida, read Lispida From Ispida.