TJT: Pumpkin Banana Bread with Lemon Sage Ice Cream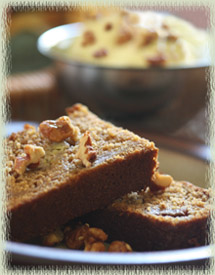 It's so amazing to me how fast time flies this time of year. I just barely made it through October, only to find myself faced with the hoopla of the Presidential election and the bustle of this past weekend's The Art of Food & Wine Palm Desert. Thanksgiving is a mere two weeks away and I haven't yet settled on a menu for the day. I've collected another pile of new recipes to consider (of course!), but I haven't found the time to deal with it. One thing that is helping me to focus on the task at hand is the arrival of all the seasonal items at Trader Joe's. Some of them started appearing in October, but the bulk of them seemed to have just magically stacked themselves on the shelves this week at my local TJ's. They have so many new products this year that they didn't even mention a lot of prior years' faves in the Thanksgiving edition of their Fearless Flyer. No matter though, they promote them nicely in the sample booth so we won't forget about them! In fact, I was so impressed with a recent tasting (Wine Imbiber lingo) that I decided to come up with my own version to placate the kids (since we recently confiscated what was left of their Halloween candy).
The sample booth we grazed at on this particular shopping venture did a good job of combining a seasonal item with two things they carry throughout the year. It tasted all the better being served hot from the oven (and cold from the freezer). The diametric delight I'm referring to was a piece of freshly baked pumpkin bread served with vanilla ice cream and a caramelized walnut piece. It was fantastic! The bread was lightly spicy and moist; contrasting nicely with the smooth sweetness of the ice cream and the crispy crunch of the caramelized walnut. It was perfect served up TJ's way, but I created a way to make it more of an appropriate finale to a Thanksgiving meal.
Epicurious recently featured their own version of pumpkin bread (though they called it cake) served with ice cream on their website. They also included a recipe for Pumpkin Cherry Compote to accompany it all, but I enjoyed the caramelized walnuts enough not to mess with TJ's combination. Besides, who has the time to make three different components for one dessert presentation? I did like their idea of serving Sage Ice Cream, though, and it didn't require an inordinate amount of work to create like a lot of other ice cream recipes do. Sage is one of the herbs I tend to use a lot in holiday cooking, but I never considered using it as a flavoring for ice cream. I've tried garlic ice cream before and was pleasantly surprised, so I thought maybe Epicurious was onto something here.
Well, I was right. I'll never be afraid to combine a savory herb with sweet cream again. I'm going to rename it Lemon Sage Ice Cream, though, as that would be a better taste description. The sage flavor was enhanced by the lemon rind that the recipe called for, but it became more of a mellow undertone to the lemon flavor. Also, the ice cream turned out a very appealing lemony yellow color because of the dark yolk eggs I used. I thought it was a great combination with the pumpkin bread. It received mixed reviews, though, from the family. Some preferred to eat the ice cream only in combo with the bread (they didn't like the ice cream flavor enough by itself). I also added a sliced–up banana into the pumpkin bread mixture. The banana/pumpkin combo was a hit with our banana–obsessed group. TJ's also has caramelized pecans that would complement this recipe equally as well as the walnuts; suit your own preference.
WI wine recommendation: Of course, Champagne is a great accompaniment to most desserts, but this recipe presents another great opportunity to pair with a nice Riesling, because it can really stand up to the spices. The Riesling can be a sweet or dry one, depending on your personal preference; if you don't have a preference, try one on the sweet side.


Pumpkin Banana Bread with Lemon Sage Ice Cream

1 box Trader Joe's Pumpkin Bread & Muffin Mix plus
additional ingredients listed on Pumpkin Bread box
1 large, ripe banana cut into slices (optional)
1 recipe Sage Ice Cream (or 1 container of Trader Joe's Vanilla Ice Cream)
1 bag Trader Joe's Caramelized Walnuts (or Caramelized Pecans)

Preheat the oven (refer to box for temperature). Combine mix with the additionally called–for ingredients listed on the box. Add in the banana slices, if using. Pour into baking pan (I used an 8″ x 8″ pan instead of the size mentioned on the box) and bake for suggested time. My baking time was actually about 10 minutes less than the suggested time.
Coarsely chop as many of the walnuts (or pecans) as you'd like to use. Set aside until plating time.
Remove pan from oven and allow bread to sit until cool enough to handle. Slice the bread into fairly thick slices. I highly recommend serving this warm. You can always reheat the slices individually in the microwave if they cool down too much.
Place the warm pumpkin bread slices on plates. Add a nicely–rounded scoop of the ice cream to each of the plates (or do as I did and serve separately in a bowls). Sprinkle the chopped nuts over both and serve immediately.
Comments (1)
November 12, 2008 at 1:02 am
Lauren said:
Mmmmm! This looks great! I think I've found an alternative to pumpkin pie this year.