Sergeant
November 2008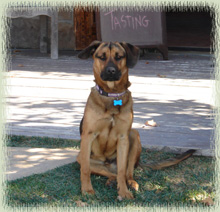 Sergeant is the newest addition to the Palumbo family of wine dogs. He's 10 months old and guards the Palumbo Family Vineyards & Winery wine tasting room in Temecula, California, with his colleagues, Lucky and Chopper (who are 12 and almost 15 years old, respectively&#8212measured in human years). Nick and Cindy Palumbo adopted Sergeant at age 4 months from the Animal Friends of the Valleys (at an adoption event at the local PetSmart) for their son Ryan's 13th birthday and what a gift he turned out to be! Ryan wanted a pup that could run, ride bikes and play with him. Nick and Cindy wanted a mellow pup that would lay in the tasting room and get along with the other dogs and a lot of visitors to the tasting room. After a long search and adoption process, Sergeant proved to be the perfect combination of qualities for the family.
Sergeant is a Shepard/Hound mix (known to be energetic, loyal, courageous and protective). Cindy remarked, "He digs and barks and chews up shoes and does all the wonderful things that puppies do, but when the tasting room is open, he takes his 'winery dog' job very seriously. We are thrilled that our visitors enjoy our animals as much as we do and he is a blessed addition to our family." You can't ask for better than that!
Palumbo sent us the picture above and the additional pictures below the next one, for which we are very grateful. We provided the captions.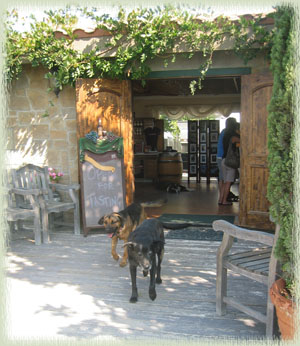 Lucky trains Sergeant in the fine points of being a greeter.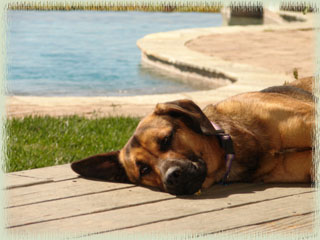 Sergeant stays cool by the pool at break time.












Sergeant bonds with Chopper on the tasting room floor.






Comments (8)
November 3, 2008 at 11:09 am
Michel' said:
Seargent is such a handsome guy! What a great winery to be a part of. A beautiful setting with a personal feel from the Owners!

November 3, 2008 at 5:10 pm
William said:
We have always been fans of the Palumbo dogs. Its nice to see them get some recognition. Great winery, great family, great dogs!

November 3, 2008 at 10:30 pm
Lynette said:
Sergeant is a great Wine Dog! I remember him well (and his 2 buddies Chopper and Lucky) from one of the many wine tastings we've done at Palumbo. Rescue dogs rule!

November 4, 2008 at 3:24 pm
ellen
said:
what an uplifting photo story! The Wine dog of the Month happens to be a shelter dog from Animal Friends of the Valleys where I work as an event coordinator. What a difference to see an animal outside the shelte, happily enjoying a day at the winery.
Congrats to the Palumbo family for making a difference in giving an animal a second chance on life.
Sergeant sure looks content.
Thank you for sharing this 'happily ever after' part.

November 24, 2008 at 2:20 pm
Cristina said:
I've never been to California, but if I do go, I will definitely go and taste wine at your winery and meet your dogs! I greatly admire people who rescue homeless animals. Kudos to you! (By the way, I love the turkey recipe. Will definitely try….=)

November 25, 2008 at 8:07 pm
Jennifer said:
Wow what a wonderful story. I am so happy for Sergeant (he hit the jackpot!) ! Im so happy you decided on a shelter dog, there are so many wonderful dogs just waiting for a chance at a home. I have never had the pleasure of visiting your winery, but after I give birth (april) I will be making a much needed visit. And I have many friends that love wine & dogs to bring!!!!

January 24, 2009 at 9:50 am
Romy said:
My husband and I moved out here in August 2008 and I was just cruising the website for Animal Friends of the Valley, when I came across your story about Sergeant. What a beautiful Dog, it brought tears to my eyes and my heart goes out to the wonderful people who rescued him, just like my husband and I have been doing for the last 22 years.
We need more people like you!

January 24, 2009 at 11:19 am
Rich
said:
Romy,
Thanks for your comment and the kind words. If you are near Palumbo in Temecula, drop by and pet him and his buddies for us!
Rich