Santa Barbara Harvest (part 3)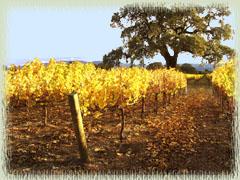 After enjoying ourselves at the Santa Barbara County Vintners' Association Celebration of Harvest festival last month, we wanted to see more of what was going on elsewhere in the Santa Barbara countryside. In part 2 of this series, we described the activities taking place at a local vineyard and winery. The Santa Ynez Valley offers many varieties of farms, ranches and (of course) vineyards and wineries, and we've visited and experienced many of them. The kids have even joined us on some of these in the past; picking apples at an apple tree farm, feeding the ostriches at Ostrich Land, and mingling with miniature horses at Quicksilver Ranch. One place that we passed by often but have never ventured into—until now—is Clairmont Farms, which is a family–owned lavender farm located in Los Olivos.
I'm a big fan of lavender; the Wine Imbiber—not so much. In fact, he's not much into using his nose for sniffing anything but wine. I still wanted to check it out, so he obliged. Off we drove, up the olive tree–lined driveway to the main farmhouse. We were greeted in the parking lot by Spike, one of the two farm dogs. Spike is a Rat Terrier and apparently likes to spend his days digging for gophers and chasing rodents (perfect attributes to the breed). His buddy, Jack (a Jack Russell Terrier), must have been busy holding down the couch (which I'm told he does well). We never saw Jack, but we did observe Spike checking out one of them refined Beverly Hills Chihuahuas that was visiting the farm that day. He seemed quite taken aback by the fancy duds Ms. Chihuahua was sporting!
The farm is beautiful, even without the purple–blue lavender blooms covering the fields. Glenn (one of the owners) told me that the crop blooms mid–June to mid–July, with bud–cutting beginning in June when the buds are at their bluest. That is when their harvest cycle actually begins. They rubber band the lavender and put it away in a dark barn to sell later as dried bunches. After they have cut, dried and stored the bunches, they begin cutting for loose lavender, sachets and distillation. They finish all of this in early October, which was just about the time of our visit. They only harvest once per year, as the variety they grow (Lavendula Intermedia or "Grosso") blooms only once anually. After the harvest, the plants go dormant for the winter. Glenn commented that one of the nice things about lavender is that it doesn't penalize you for taking time with the harvest. The dried buds will retain their oil for many years to come. This year, they were able to harvest about 3,000 pounds of buds!
One of the most popular lavender products they sell is the essential oil, which they distill right at the farm with their handmade distiller. People are aware of its various properties and buy it for its many uses. Hand lotions, Linen water and sachets also sell very quickly. They even have a line of lavender pet products, for which Jack and Spike serve as the poster children
on the packaging (no wonder they have their own thrown in the shop!). I'm going to have to try the culinary side of lavender soon, as I just found a recipe for pumpkin bread that recommends lavender as a great flavor combination with pumpkin.
Check out their website for more information about the farm and the products they sell. You can also find some really scenic photos there. It makes me want to return for a visit when the place is in full bloom!

(Lead photo courtesy of Clairmont Farms.)
Comments (1)
November 3, 2008 at 1:51 pm
Claudia R said:
What a great site you have here! I discovered it when I was googling things to do in Santa Barbara for families (we'll be making a trip there over the holidays). Who'd have thought there were so many diverse things for our kids and us to enjoy at the same time. Thanks for all the great info. Love all of the the dog photos too!