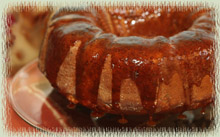 How do you like them apples? We like them just fine around here! To continue with October's ingredient o' the month theme that I've imposed on myself, I dug into my apple file and found a recipe from Better Homes and Gardens (September 2005) that I somehow never tried. It's easy to accumulate recipes very quickly around here these days, with TV cooking shows and foodie blog sites currently leading the pack of preferred recipe suppliers for my hoarding habits. So I decided to try the Magazine Mondays approach that Ivonne over at Cream Puffs in Venice uses to tackle her dog–eared magazines. Am I ever glad I did! What a jewel of a recipe I've re–discovered…one that has now been promoted to a special file of favorites that I'll actually make again (you know, sooo many recipes to try—too little time for repeats). It's also perfect for Sugar High Friday, hosted by Anita over at Dessert First. She chose Spices as this month's theme, which suits this recipe just fine, thank you.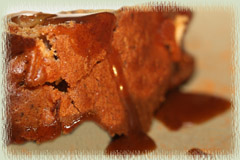 Chipotle Apple Pecan Cake isn't one of your typical apple cakes, as you can tell by its title. In fact, the best part of this recipe isn't even mentioned in the title. The spicy caramel glaze that is included with this cake recipe is out–of–this–world good! In fact, I'd go so far as to declare it heavenly! It's reminiscent of an old childhood candy favorite of mine—Red Hots—but with a little added heat. I found myself licking up the excess drips of the glaze like a toddler racing with a melting ice cream cone. Speaking of ice cream, this would make a fantastic topping for it, too!
I've digressed; back to the cake. The theme of the BH&G article was livening up desserts with a kick of heat by combining fiery and sweet. The two sources that add culinary heat in this recipe are ground chipotle chile powder and ground peppercorns. When you combine them with traditional spices that complement apples you'll create a deliciously intense flavor. Chipotle pepper lends a very distinctive smoky flavor to the cake and glaze, while the peppercorn contributes a delightful pungency. I'm starting to sound like the Wine Imbiber describing one of his wines! It's very easy to get all adjective–y when you have something this spicy filling your kitchen with the most wonderful aroma as it bakes. The glaze smell is equally mesmerizing as it boils on the stove.
I've made a few changes to the recipe to satisfy my need to find healthier ingredient alternatives. When you've been collecting recipes as long as I have, you can really begin to trace the dietary trends that have evolved over the years. For instance, the one–and–a–half–cups of cooking oil on the ingredients' list is quite excessive to me. Most people these days try to avoid using such a large amount of fat in their recipes that is called for just for the sake of achieving moistness. Substituting apple sauce for some (or all) of the oil would work just as well (after all, this is an apple cake recipe). I'm not against using fat in a recipe, but the right kind of fat is just as important as the quantity. I rarely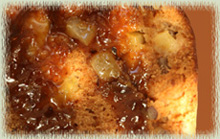 use vegetable oil in recipes. I prefer to use coconut oil whenever possible (check this out to find out why). Not only is it a healthier fat to use, it adds a very subtle layer of coconut sweetness to recipes. It's usually the one unidentifiable ingredient in my baked goods that really makes a difference to the taste and texture of the finished product.
The other major change I made was to swap out some of the white sugar for brown sugar. Brown sugar isn't any healthier for you than white sugar, but many make the mistake of thinking it is (must be because of its brown color—sort of a white bread vs. whole wheat bread thing). Adding the brown sugar will give some moistness to the cake and also enhance the apple flavor with a bit of caramel sweetness. When you're making a dessert like this, don't even bother trying to find a sugar substitute. Accept it for the sweet treat that it is and enjoy it (but do so with small servings!).
I also added a little cinnamon to the glaze. Cinnamon is my favorite spice, so whenever I can add it to something, I will. It worked beautifully with the chipotle flavor. Cinnamon is also getting touted these days for its potential health benefits. Not that I'm trying to get all healthy on you for this recipe (that would be impossible!). I just try to look for the silver lining when indulging in rich desserts such as this one (hey, let's not forget there are apples in this, too!).
I highly recommend serving this cake warm and warming the leftover glaze in the microwave (for extra drizzling). The earthy taste of the chipotle combined with the spicy warmth of the cinnamon really comes alive when the glaze is heated up. Whipped cream is an excellent accompaniment (with a spattering of ground cinnamon) as well as vanilla or cinnamon ice cream. You are going to love this South–of–the–Border take on apple cake!
WI wine recommendation: While Champagne is a great stand-by for pairing with most desserts, this recipe presents one of the great opportunities to pair with a nice Riesling, because it can really stand up to the spices. The Riesling can be a sweet or dry one, depending on your personal preference. If you prefer a red wine, try a Recioto from the Valpolicella area of Italy.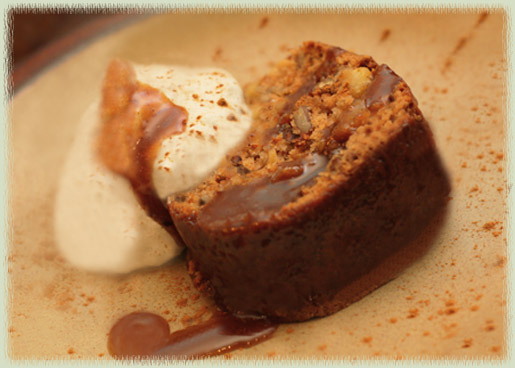 Chipotle Apple Pecan Cake
(adapted from Better Homes and Gardens, September 2005)

Cake:
3 cups all-purpose flour
2 teaspoons ground cinnamon
1–1/2 teaspoons ground nutmeg
1 teaspoon baking soda
1 teaspoon ground chipotle pepper
3/4 teaspoon ground ginger
1/2 teaspoon ground white pepper (I used freshly ground black peppercorns)
1/4 teaspoon salt
1/8 teaspoon ground cloves
1–1/2 cups cooking oil (I used 3/4 cup coconut oil plus 3/4 cup apple sauce)
1–3/4 cups sugar (I used 1 cup white plus 3/4 cup brown)
3 eggs
1 tablespoon vanilla
3 large sweet–tart apples peeled, cored, and diced (3 cups) (I used Granny Smiths)
1 cup chopped pecans, toasted
Spicy Caramel Glaze:
1/2 cup packed brown sugar
1/4 cup butter
1/4 cup whipping cream
1/2 teaspoon ground chipotle pepper
1/4 teaspoon ground cinnamon (my addition)
1 teaspoon vanilla extract

Cake:
Preheat oven to 325° F. Lightly coat 10–inch fluted tube pan with cooking spray; lightly sprinkle with flour. Set aside. In a bowl combine the 3 cups flour, cinnamon, nutmeg, baking soda, chipotle, ginger, white pepper, salt, and cloves; set aside.
In a mixing bowl beat oil (and applesauce, if using) and sugar(s) with electric mixer on medium speed until combined. Add eggs, one at a time; beat well after each addition. Beat in vanilla and flour mixture. Stir in apples and pecans. Spoon batter into pan.
Bake for 90 minutes (mine was done in 1 hour) until wooden skewer inserted near center comes out clean. Meanwhile, prepare Spicy Caramel Glaze.
Cool cake in pan 10 minutes; invert on a rack. Place rack over a plate. Drizzle warm cake with the glaze. Scrape up the glaze drips from the plate with a rubber spatula and add back to any unused glaze. Keep the glaze for re–warming and drizzle on top of individual servings. Makes 16 servings.
Spicy Caramel Glaze:
In a saucepan, combine the sugar, butter, whipping cream, chipotle and cinnamon. Bring to a boil, stirring occasionally. Boil gently for 2 minutes. Remove from heat. Stir in the vanilla. Let stand until thickened (mine was good to go after half an hour). Drizzle over warm cake. Make sure to lick the spoon clean when you're done (this is some good stuff!).