Chipotle Apple Pecan Cake
This recipe (adapted from Better Homes and Gardens) appeared in Sugar and Spice and Everything Nice! on 26 Oct 2008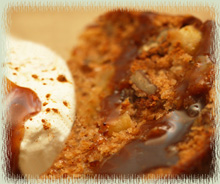 Cake:
3 cups all-purpose flour
2 teaspoons ground cinnamon
1–1/2 teaspoons ground nutmeg
1 teaspoon baking soda
1 teaspoon ground chipotle pepper
3/4 teaspoon ground ginger
1/2 teaspoon ground white pepper (I used freshly ground black peppercorns)
1/4 teaspoon salt
1/8 teaspoon ground cloves
1–1/2 cups cooking oil (I used 3/4 cup coconut oil plus 3/4 cup apple sauce)
1–3/4 cups sugar (I used 1 cup white plus 3/4 cup brown)
3 eggs
1 tablespoon vanilla
3 large sweet–tart apples peeled, cored, and diced (3 cups) (I used Granny Smiths)
1 cup chopped pecans, toasted
Spicy Caramel Glaze:
1/2 cup packed brown sugar
1/4 cup butter
1/4 cup whipping cream
1/2 teaspoon ground chipotle pepper
1/4 teaspoon ground cinnamon (my addition)
1 teaspoon vanilla extract

Cake:
Preheat oven to 325° F. Lightly coat 10–inch fluted tube pan with cooking spray; lightly sprinkle with flour. Set aside. In a bowl combine the 3 cups flour, cinnamon, nutmeg, baking soda, chipotle, ginger, white pepper, salt, and cloves; set aside.
In a mixing bowl beat oil (and applesauce, if using) and sugar(s) with electric mixer on medium speed until combined. Add eggs, one at a time; beat well after each addition. Beat in vanilla and flour mixture. Stir in apples and pecans. Spoon batter into pan.
Bake for 90 minutes (mine was done in 1 hour) until wooden skewer inserted near center comes out clean. Meanwhile, prepare Spicy Caramel Glaze.
Cool cake in pan 10 minutes; invert on a rack. Place rack over a plate. Drizzle warm cake with the glaze. Scrape up the glaze drips from the plate with a rubber spatula and add back to any unused glaze. Keep the glaze for re–warming and drizzle on top of individual servings. Makes 16 servings.
Spicy Caramel Glaze:
In a saucepan, combine the sugar, butter, whipping cream, chipotle and cinnamon. Bring to a boil, stirring occasionally. Boil gently for 2 minutes. Remove from heat. Stir in the vanilla. Let stand until thickened (mine was good to go after half an hour). Drizzle over warm cake. Make sure to lick the spoon clean when you're done (this is some good stuff!).
WI wine recommendation: While Champagne is a great stand-by for pairing with most desserts, this recipe presents one of the great opportunities to pair with a nice Riesling, because it can really stand up to the spices. The Riesling can be a sweet or dry one, depending on your personal preference. If you prefer a red wine, try a Recioto from the Valpolicella area of Italy.