Apple–Almond Upside Down Cake
This recipe appeared in An Apple a Day… on 20 Oct 2008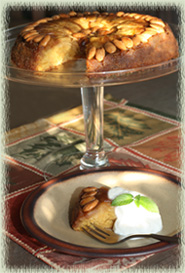 1/2 cup blanched whole almonds
1/3 cup unsalted butter, melted, plus 9 tablespoons softened
3/4 cup, plus one tablespoon light brown sugar divided
2 red apples, peeled, cored and thinly sliced
1-1/2 cups pastry flour
1/4 cup light brown sugar
1/2 cup white sugar
3/4 teaspoon baking powder
1/4 teaspoon baking soda
1/2 teaspoon salt
1/2 cup sour cream
1/2 cup apple juice or cider
3 large egg yolks
1 teaspoon almond extract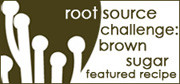 Preheat the oven to 350° F. Spread the almonds on a baking sheet and roast, shaking the pan occasionally, until lightly golden (about 8–10 minutes). Set aside to cool. Turn down the oven temperature to 325° F.
Stir together the melted butter and 3/4 cup brown sugar and evenly coat the bottom of a 9–10 inch glass pie plate with the mixture. Arrange the cooled almonds around the bottom rim of the pie plate (also arrange some of them in the center), gently pressing them into the sugar mixture.
Arrange the apple slices in a concentric pattern (slightly overlapping them) on top. You should have enough apple slices to make 2 layers. After the first layer has been created, sprinkle the 1 tablespoon of brown sugar on top, then make the second layer of apples.
In a mixing bowl, combine the pastry flour, the brown and white sugars, baking powder, baking soda and salt and mix thoroughly. Set aside.
In another bowl, whisk together the softened butter, sour cream, apple juice, egg yolks and almond extract. Add to the dry ingredients and mix with an electric mixer at medium speed for about 2 minutes, until thick and smooth. Spread the batter evenly over the apples.
Bake 40–50 minutes, until golden and a tester inserted in the center comes out clean.
Transfer the pie plate to a rack to cool 3–5 minutes (no longer!) and then run a butter knife around the inside edge of the pie plate to loosen the cake. Invert onto a serving plate. Baker's notes: You may have to coerce the cake into loosening from one side of the plate with the knife, but you will be able to see through the glass as it slowly dislodges and eventually plops onto the serving plate. Don't allow the cake to cool for longer than the suggested time as it will become more difficult to remove from the pan as the caramel sauce cools.
WI wine recommendation: Mulled wine.