TJT: Lemon Curd Butter Waffle Ice Cream Sandwiches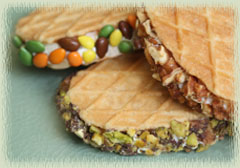 Yay! It's Tuesday! And you know what that means…time for another installment of Trader Joe's Tuesday. I recently came across a recipe for Frozen Lemon Cream Sandwiches on Food & Wine's website and instantly recognized the potential for an adaptation that would meet the requirements for a TJ's Tuesday recipe (i.e., simple to make using few ingredients that are all readily available at TJ's).
I know what you're probably thinking…not another lemon recipe! I was thinking the same thing myself, but I couldn't resist. It was so easy to whip up (literally!) and assemble and the results were unbelievably flavorful. Besides, this time of year, during the last hot days of summer, the kids are always requesting some kind of frozen treat. This recipe will satisfy the kiddies' cravings for ice cream sandwiches as well as the adult gourmands looking for something a little more exotic. It's just too easy peasy lemon squeezy not to try!
There are many different ways to change the look and flavor of these ice cream sandwiches. TJ's has a great variety of nuts and candies to choose from, so get creative when it comes time to roll the sandwich edges! I've suggested a few of our favorites, but I'm sure you could come up with more. The kids can be a great resource when it comes to this part. Ours always seem to come up with the most creative concoctions at those mix-in ice cream stores that we go to on occasion. We seem to have more fun making our own ice cream at home these days, though. This version of ice cream sandwiches will allow you to unleash your inner child ingenuity in the most flavorful way!
WI wine recommendation: We enjoyed these ice cream sandwiches with Zonin Prosecco Brut (also from Trader Joe's) and a touch of Limoncello for an added lemon zing.


Lemon Curd Butter Waffle Ice Cream Sandwiches

1 container (7.5 oz) crème fraîche (chilled)
1/4 cup lemon curd*
Grated zest of 1 lemon
12 Belgian Butter Waffle Cookies*
Dark Chocolate Roasted Pistachio Toffee* (finely chopped), or
Chocolate Sunflower Seed Drops*, or
Candied Walnuts* (finely chopped)

*Trader Joe's own brand

Line a small baking sheet with wax paper. Using an electric hand-held mixer, beat the crème fraîche with the lemon curd and lemon zest until stiff peaks form.
Place half of the cookies on the baking sheet and spoon the lemon cream mixture onto the centers of each. Top with the remaining cookies, pressing down gently to allow the cream to ooze to the inside edges of the cookies.
Move the baking sheet to the freezer and leave sandwiches to freeze for at least 4 hours (until cream is firm).
Just before serving, spread your choice of chopped candy or nuts on a plate and roll the ice cream edges of the sandwiches in them. You may have to press slightly as you roll them to get whatever you're using to stick adequately. You might even put out a variety of things and allow your eager eaters to roll their own or mix and match (sort of like a make-your-own sundae bar).
Comments (7)
September 3, 2008 at 7:58 pm
Jen said:
Wow! These look great! If they taste half as good as they look, I'll have a new recipe to add to my ice cream collection. I'm going to have to give these a try this weekend!

September 3, 2008 at 8:01 pm
food librarian
said:
Oh dear! These look sooooo good. I just love those waffle cookies. I love the one with the pretty chocolate covered sunflower seeds. Those rock!!
Have you had the Dutch ones with caramel in the center? The best!

September 3, 2008 at 8:32 pm
Hannah said:
You had me at butter waffle cookies! The simplicity of this recipe reminds me of the i.c. sandwiches I used to make with chocolate wafer cookies and store-bought ice cream. Your TJ treats trump mine by far!

September 3, 2008 at 9:28 pm
Leah
said:
Hey food librarian! I see you love TJ's as much as I do! I just left a comment about the fruit tarts that you made with TJ's puff pastry (although I think I mistakenly posted it under the pumpkin muffin section). To answer your question…No, I haven't had the Dutch ones, but you can guess what's going to be in my shopping cart next grocery day!

September 11, 2008 at 10:14 pm
Tracy said:
OMG those look good! Gotta get me some butter waffle cookies now!

September 12, 2008 at 11:54 am
Grant said:
An even easier recipe would be to buy one of TJ's ice creams (they make their own brand now) and mix the chopped nuts or candies into the ice cream and just squish it between the cookies. Voila! Instant ice cream sandwiches!

September 12, 2008 at 4:36 pm
Leah
said:
Hey Grant…Good idea. Be sure to freeze the ice cream sandwiches anyway (after assembly) or the ice cream will be too soft to hold a bite. If you like to eat your ice cream on the soft side, you'd be better off eating it in a bowl with the cookies on the side. Not as much fun as a sandwich, but still tasty!