Rosemary–Onion Focaccia
This recipe appeared in It's Rosemary Time! on 08 Sep 2008

Recipe adapted from Stephen Cooks
Baker's Notes: Baking stones produce the best focaccia, but you can use a baking sheet if you don't have a baking stone. After the focaccia came out of the oven, I brushed olive oil and sprinkled grated parmesan on top (my attempt at covering up the slightly burned onions and dark crust). Watch the baking time. Mine was already turning dark with 10–15 minutes of baking time remaining on the clock. I also made a rosemary–olive–garlic focaccia but everyone seemed to prefer the rosemary–onion combo for the BLT's.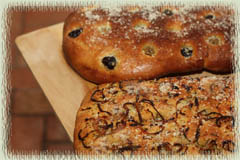 5 cups all-purpose flour
1 packet active dry yeast
1 teaspoon sugar
2 teaspoons salt
1 red onion, thinly sliced
2 tablespoons fresh rosemary (chopped) & extra for topping
Shredded parmesan for topping
1/2 cup olive oil & extra for drizzling on top
1–3/4 cups warm water

Dissolve yeast in 1/2 cup of the warm water and mix in the sugar and a tablespoon of the flour. Allow to stand for about 20 minutes, until a good head of foam has developed. Then add the remaining water to the yeast mixture.
Place the remaining flour, salt and the 2 tablespoons of rosemary in the food processor bowl. Mix by processing in a few bursts. With the processor running, slowly add the water–yeast mixture and then the 1/2 cup olive oil. Process until the dough forms into a ball and starts riding around on the blade. Turn out on a floured board and knead a few strokes. Dough should be relatively stiff but still pliable. Place in an oiled bowl, cover with plastic wrap and allow to rise in a warm place until doubled, about 1–1/2 hours.
Place the baking stone in the oven and preheat to 450° F. Punch the dough down, divide into 2 equal–sized balls and flatten each ball into a rectangle. Place on a cornmeal covered board or peel, cover with a clean towel and allow to rise in a warm place for about 30 minutes.
Sauté the sliced red onion in some olive oil until soft. Set aside to cool.
When the dough has finished the second rising, use your forefinger to poke deep dimples all over the loaf, about 1–1/2″ apart. Drizzle olive oil over the loaves. Spread the sautéed onions on top of the loaves. Then sprinkle on desired amounts of chopped rosemary and shredded parmesan.
Slide the loaves onto the stone. Bake 10 minutes, then lower the oven temperature to 375° F and bake 20–25 minutes more, until the bread is golden brown.
Allow to cool on a rack for 5–10 minutes before serving.

This focaccia recipe with the rosemary–onion is great to use for Italian BLT's on Rosemary–Onion Focaccia.