Rosemary Cherry Lemon Slushies
This recipe appeared in It's Rosemary Time! on 08 Sep 2008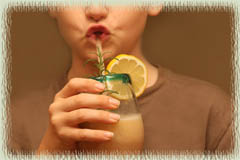 6 small lemons
Zest of 4 lemons
1/4 cup sugar
1/4 cup Rosemary Simple Syrup
5 cups ice cubes
1–1/2 cups water
3/4 cup cherry juice
Fresh rosemary sprig (for garnish)
Lemon slice (for garnish)
Cherry with stem (optional)

Note: Depending on how sweet or sour you like your drink, you can adjust the amounts of sugar/syrup and lemons. The cherry juice can also be lessened if too sweet.
Zest four of the lemons. Cut open all six of the lemons and remove the sections from the membranes, leaving behind as much of the white parts as possible (cut off the white parts if necessary).
Put lemon sections and zest into a blender with remaining ingredients. Blend in short bursts to chop first, then switch to high and continue blending until smooth. Pour into a six to eight ounce glass and garnish rim with lemon slice and stick rosemary sprig halfway into slushie. Drop cherry on top, if you have one.