Lemon Curd Butter Waffle Ice Cream Sandwiches
This recipe appeared in Trader Joe's Tuesday on 02 Sep 2008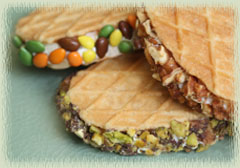 1 container (7.5 oz) crème fraîche (chilled)
1/4 cup lemon curd*
Grated zest of 1 lemon
12 Belgian Butter Waffle Cookies*
Dark Chocolate Roasted Pistachio Toffee* (finely chopped), or
Chocolate Sunflower Seed Drops*, or
Candied Walnuts* (finely chopped)

*Trader Joe's own brand

Line a small baking sheet with wax paper. Using an electric hand-held mixer, beat the crème fraîche with the lemon curd and lemon zest until stiff peaks form.
Place half of the cookies on the baking sheet and spoon the lemon cream mixture onto the centers of each. Top with the remaining cookies, pressing down gently to allow the cream to ooze to the inside edges of the cookies.
Move the baking sheet to the freezer and leave sandwiches to freeze for at least 4 hours (until cream is firm).
Just before serving, spread your choice of chopped candy or nuts on a plate and roll the ice cream edges of the sandwiches in them. You may have to press slightly as you roll them to get whatever you're using to stick adequately. You might even put out a variety of things and allow your eager eaters to roll their own or mix and match (sort of like a make-your-own sundae bar).
WI wine recommendation: We enjoyed these ice cream sandwiches with Zonin Prosecco Brut (also from Trader Joe's) and a touch of Limoncello for an added lemon zing.