It's Rosemary Time!
Since I've already admitted to having a recipe hoarding problem in a prior post, I might as well divulge another weakness of mine—contests. You name it, and I'll enter it. Until we created this website, I spent a lot of my free time entering photo and recipe contests. Now, my free time has turned into blog time. Luckily for me, bloggers love to sponsor contests and I can satisfy my contest–entering urge and my blog posts' quota at the same time (the Wine Imbiber sure knows how to crack a whip!). So, when cookthink's Root Source Challenge chose a subject for this week's contest that I was already planning to write about, I decided to go all out.
Rosemary is one thing I never have to buy at the grocery store. It grows in great abundance on the side of our house opposite the side where the Meyer lemon and lime trees grow. We used to think of rosemary as a Thanksgiving-only herb, until we began delving into Italian cooking. I say "we" because Rich always handles the preparation of the annual turkey, and rosemary is always one of the ingredients he uses. He was also the first one to get hooked on baking flatbreads and focaccia, and his favorite recipes always seem to use rosemary.
Lately, I've been noticing more exotic applications for rosemary. Two that intrigued me were rosemary–infused drinks and using rosemary stems as skewers to flavor whatever you choose to thread on them. Using rosemary sprigs to garnish the drinks or dish always seem to add a little drama to the presentation. The scent of the rosemary will prepare your taste buds nicely for the flavor explosion that's about to happen in your mouth.
To show the versatility of this herb, I've chosen some recipes that will transform from ordinary to extraordinary with the addition of rosemary. The first—a sandwich recipe—is a family favorite around here. It takes an American classic and gives it an Italian flair. I've included a focaccia recipe (since "we" are so good with them now), but certainly you could use store–bought, since there are so many good varieties available these days. Do use some sort of rosemary focaccia, though. The rosemary really does add another layer of flavor to this sandwich.
The second recipe is similar to basic shrimp scampi. I used lime juice (since I finally ran out of Meyer lemons) to add some acidity and then tried the rosemary–stems–as–skewers technique. You can either cook these in a grill pan or grill them directly on the barbecue. If you choose the latter, be careful to place the leaf end of the skewer away from the direct heat or the leaves will burn and fall off.
My last two recipes are drinks (one a libation for adults only, the other for the jealous kiddos). I devised the drink recipes by thinking of ingredients that would remind me of Italy and, in the case of the cocktail, would be a fairly straightforward variation on the spritz aperitif drinks that are so popular there. Both recipes require that you make a batch of rosemary simple syrup, which, as its name implies, is very easy to do.
WI wine recommendation: The Italian BLT's on Rosemary–Onion Focaccia pair well with an oaky Chardonnay.

Italian BLT's on Rosemary–Onion Focaccia

Bacon (3 slices per person)
1 head of butter-leaf lettuce
1 large to extra large Heirloom tomato
1 large ball Buffalo mozzarella
1/3 cup mayonnaise
1/2–1 tablespoon balsamic vinegar
One large loaf Rosemary–Onion Focaccia (see recipe below)

Cook the bacon until crisp. Separate the lettuce head into individual leaves. Slice the tomato and mozzarella into thick slices. Mix the mayonnaise and balsamic vinegar together. Cut the focaccia into sandwich–sized squares and then slice each horizontally. Slather the mayo mix onto the sliced sides of the bread.
Layer the lettuce, tomato, mozzarella and bacon on the bottom pieces of sliced focaccia. Cover with top piece of focaccia.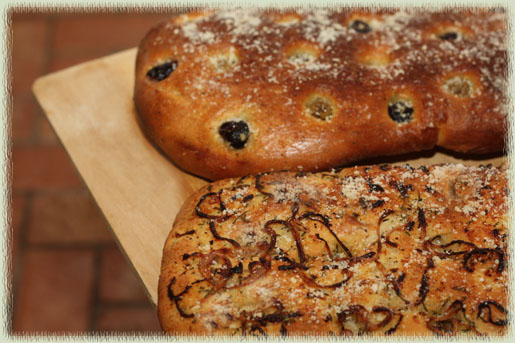 Rosemary–Onion Focaccia
Recipe adaped from Stephen Cooks

Baker's Notes: Baking stones produce the best focaccia, but you can use a baking sheet if you don't have a baking stone. After the focaccia came out of the oven, I brushed olive oil and sprinkled grated parmesan on top (my attempt at covering up the slightly burned onions and dark crust). Watch the baking time. Mine was already turning dark with 10–15 minutes of baking time remaining on the clock. I also made a rosemary–olive–garlic focaccia but everyone seemed to prefer the rosemary–onion combo for the BLT's.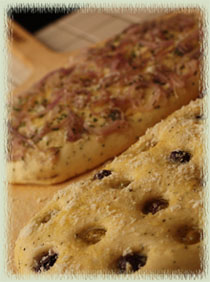 5 cups all-purpose flour
1 packet active dry yeast
1 teaspoon sugar
2 teaspoons salt
1 red onion, thinly sliced
2 tablespoons fresh rosemary (chopped) & extra for topping
Shredded parmesan for topping
1/2 cup olive oil & extra for drizzling on top
1–3/4 cups warm water

Dissolve yeast in 1/2 cup of the warm water and mix in the sugar and a tablespoon of the flour. Allow to stand for about 20 minutes, until a good head of foam has developed. Then add the remaining water to the yeast mixture.
Place the remaining flour, salt and the 2 tablespoons of rosemary in the food processor bowl. Mix by processing in a few bursts. With the processor running, slowly add the water–yeast mixture and then the 1/2 cup olive oil. Process until the dough forms into a ball and starts riding around on the blade. Turn out on a floured board and knead a few strokes. Dough should be relatively stiff but still pliable. Place in an oiled bowl, cover with plastic wrap and allow to rise in a warm place until doubled, about 1–1/2 hours.
Place the baking stone in the oven and preheat to 450° F. Punch the dough down, divide into 2 equal–sized balls and flatten each ball into a rectangle. Place on a cornmeal covered board or peel, cover with a clean towel and allow to rise in a warm place for about 30 minutes.
Sauté the sliced red onion in some olive oil until soft. Set aside to cool.
When the dough has finished the second rising, use your forefinger to poke deep dimples all over the loaf, about 1–1/2″ apart. Drizzle olive oil over the loaves. Spread the sautéed onions on top of the loaves. Then sprinkle on desired amounts of chopped rosemary and shredded parmesan.
Slide the loaves onto the stone. Bake 10 minutes, then lower the oven temperature to 375° F and bake 20–25 minutes more, until the bread is golden brown.
Allow to cool on a rack for 5–10 minutes before serving.

This focaccia recipe with the rosemary–onion topping turned out great for the sandwiches. Definitely not your ordinary BLT's!
WI wine recommendation: The Rosemary–Lime Shrimp Skewers pair well with a grassy Sauvignon Blanc.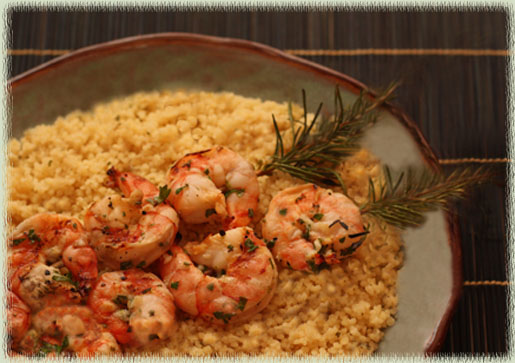 Rosemary–Lime Shrimp Skewers

2 tablespoons dry white wine
2 teaspoons fresh lime juice
1/2 teaspoon lime zest
1 tablespoon Italian parsley, chopped
1 tablespoon rosemary, finely chopped
2 teaspoons olive oil
1/4 teaspoon salt
1/4 teaspoon freshly ground black pepper
2 garlic cloves, minced
18 large shrimp, peeled and deveined (about 3/4 pound)
6 (9″) rosemary stems
Cooking spray
Lime wedges (optional)

Combine first nine ingredients in a zip–top plastic bag. Add shrimp to bag; seal and shake to coat. Marinate in refrigerator 30 minutes, turning the bag occasionally.
Working with one rosemary stem at a time, hold leafy end of stem in one hand. Strip leaves off stem with other hand, leaving one to two inches of leaves attached to leafy end of stem. Repeat procedure with remaining rosemary stems to make six rosemary skewers. Divide shrimp and thread onto rosemary skewers.
Heat a grill pan over medium–high heat. Coat both sides of shrimp skewers with cooking spray. Arrange three skewers on pan; cook two minutes on each side or until shrimp are done. Remove from pan; keep warm. Repeat procedure with remaining skewers. I served this on top of couscous and passed lime wedges with it. Tasty!

Rosemarello (Rosemary & Limoncello Cocktail)


1/4 to 1/2 ounce Rosemary Simple Syrup
1 ounce Limoncello (lemon liquor)
1/2 ounce fresh lime juice
3 dashes Angostura bitters
Prosecco (or other dry sparkling wine)
Fresh rosemary sprig (for garnish)
Lemon rind curl (for garnish)

Note: You may have to adjust the amount of syrup, depending on how dry your sparkling wine is. Use the full half ounce if using a very dry sparkler.
Shake the first four ingredients in a cocktail shaker with ice. Strain into an 8–ounce cocktail glass and fill the rest of the glass with sparkling wine. Garnish with a rosemary sprig and lemon rind curl.

Rosemary Cherry Lemon Slushies

6 small lemons
Zest of 4 lemons
1/4 cup sugar
1/4 cup Rosemary Simple Syrup
5 cups ice cubes
1–1/2 cups water
3/4 cup cherry juice
Fresh rosemary sprig (for garnish)
Lemon slice (for garnish)
Cherry with stem (optional)

Note: Depending on how sweet or sour you like your drink, you can adjust the amounts of sugar/syrup and lemons. The cherry juice can also be lessened if too sweet.
Zest four of the lemons. Cut open all six of the lemons and remove the sections from the membranes, leaving behind as much of the white parts as possible (cut off the white parts if necessary).
Put lemon sections and zest into a blender with remaining ingredients. Blend in short bursts to chop first, then switch to high and continue blending until smooth. Pour into a six to eight ounce glass and garnish rim with lemon slice and stick rosemary sprig halfway into slushie. Drop cherry on top, if you have one.
Comments (8)
September 8, 2008 at 2:12 pm
Emily
said:
Since you have a weakness, check out our chanterelle mushroom recipe contest – the prize is 2 lbs. of chanterelles and a set of biodegradable plates. I linked to the contest through my name. Thanks for sharing your rosemary recipes – I'm going to try the Limoncello cocktail first!

September 9, 2008 at 9:08 am
Leah
said:
Hi Emily! I just happen to have a recipe that includes chanterelles that is a favorite of mine (I love mushrooms!). Thanks for letting me know about the contest. I'll be sure to submit an entry.

September 9, 2008 at 10:31 pm
Jen said:
Wow, does that Rosemarello ever look refreshing! After making the ice cream sandwiches from your last post (and loving every tangy bite of them) I think I've found a good after-dinner drink to serve with them! Got any favorite brands of reasonably-priced sparkling wine you like to use ?

September 9, 2008 at 10:46 pm
Rachel said:
I bet that Italian BLT could be made with prosciutto instead of bacon. You could also use arugula instead of lettuce to make it really Italian. The rosemary-onion focaccia is what's making my mouth water, though. Looks just like the sandwiches I treat myself to when I decide my diet deserves a day off!

September 9, 2008 at 10:49 pm
Rachel said:
P.S. Love the cute little garnishes in the photo!

September 11, 2008 at 9:43 pm
Therese said:
I've just discovered your website. Wish I'd known about it before I attempted a wine-paired dinner this past summer. It's always so hard to figure out what kinds of wines to pair with different meals (esp when it comes to desserts-I just usually serve coffee and call it a night!). Thanks for the useful info (and great photos!).

September 11, 2008 at 10:20 pm
Notta Blogga said:
Who's the kid with the puckered lips? One of yours? His (?) slushie sure looks tempting! He is drinking a slushie (not the cocktail) right?!

September 12, 2008 at 11:44 am
Leah
said:
Notta Blogga, you're right. That's my youngest (and head taster in Wine Imbiber's test kitchen). He's definitely drinking a slushie, and even helped with adjusting the ingredient amounts when I was creating the recipe.