Italian BLT's on Rosemary–Onion Focaccia
This recipe appeared in It's Rosemary Time! on 08 Sep 2008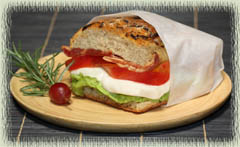 Bacon (3 slices per person)
1 head of butter-leaf lettuce
1 large to extra large Heirloom tomato
1 large ball Buffalo mozzarella
1/3 cup mayonnaise
1/2–1 tablespoon balsamic vinegar
One large loaf Rosemary–Onion Focaccia

Cook the bacon until crisp. Separate the lettuce head into individual leaves. Slice the tomato and mozzarella into thick slices. Mix the mayonnaise and balsamic vinegar together. Cut the focaccia into sandwich–sized squares and then slice each horizontally. Slather the mayo mix onto the sliced sides of the bread.
Layer the lettuce, tomato, mozzarella and bacon on the bottom pieces of sliced focaccia. Cover with top piece of focaccia.
WI wine recommendation: The Italian BLT's on Rosemary–Onion Focaccia pair well with an oaky Chardonnay.